Mumbaikars, are you craving for a luxurious weekend getaway? Well, with work from home looming around, we aren't surprised that you're craving for a change of space. And that's exactly why we we're here! From relaxing Ayurveda treatments, pet therapy, cosy forest cabin to a luxury resort by the beach, here are 6 fun weekend getaways from Mumbai, thare are perfect for a quick vacation with your loved ones.
1. Fazlani Natures Nest In Vadgaon
Fazlani Natures Nest is a luxury retreat situated 3 hours away from Mumbai. This weekend getaway promises a holistic wellness exeperience that will rejuvenate your mind, body and soul. From wellness consultants, Ayurveda therapies, guided meditations, wellness cuisines to animal-assisred therapies, there's alot in store for your well being. Animal lovers can interact with horses, dogs, birds and other animals to improve your health. Book a cosy room at this getaway from ₹11,205 per night onwards. 
View this post on Instagram
Also Read: 12 Luxury Resorts Near Mumbai To Check Out
2. Anchaviyo Resort In Palghar
Nestled 90 km away from Mumbai, amidst mango, guava and chikoo trees lies, Anchaviyo Eco Resort. Nature meets luxury here. This quick, relaxing getaway is an attractive staycationfor Punekars and Mumbaikars. Choose from an array of stay options like chalets, mud houses, cabins, deluxe rooms and even igloo pods. Enjoy a birds-eye view from the igloo pod, while you soak in the beauty of the space. The price of the rooms start from ₹20,000 per night onwards.
Also Read: 10 Best Luxury Resorts For New Year Getaways from Mumbai To Bring In 2021
3. Moonstone Hammock In Karjat
There's no better way to get upclose with nature than rustic camping or glamourous glamping. And that's exactly what you can do at Moonstone Hammock in Karjat or Pawna. Stay in a cosy forest cabin, that resembles a fairytale. Surrounded by chikoo trees, the cabin comes with a private porch, washroom, cute bed on the bunker and AC. From live music, library, indoor and outdoor games to movie nights, you're guaranteed, unstoppable entertainment. The cosy forest cabin for two at Moonstone Hammock costs ₹11,550 per night. 
View this post on Instagram
Also Read: These Forest Cabins Just 1.5 Hours From Mumbai Will Give You Bali Feels With Its Unwinding Views
4. SaffronStays Raanwaara And Aranya Vilaas In Kamshet
Want to escape your mundane city-life? Look no further as SaffronStays Raanwara and Aranya Vilaas' 10 pet-friendly Greek-Maharashtrian rooms are here to your rescue. Situated 3 hours away from Mumbai and 2 hours from Pune, in Kamshet, you can stay in pet-friendly cottages that overlooks the Sahyadris and Thokarwadi Lake. Relax in the infinity pool or lounge in the private jacuzzis. For a minimum of 3 rooms for 2 nights, this accommodation is priced at ₹72,240. 
Also Read: This Glass Prism In Mumbai With Sunset Views & Gourmet Food Is Perfect For A Romantic Date
5. Hotel Uran Plaza In Raigad
Hotel Uran Plaza in Raigad is just a 2-hour romantic drive away from Mumbai. Nestled near the Uran Nagav Beach, this palm fringed resort will give you total Goa feels. Sink into a hammock under the open sky or stay in a cute shack, surrounded by lush vegetation, the choice is yours! The sunset overlooking the Arabian Sea is another reason why you must visit this resort that's just walking distance away from the beach. Find a peaceful spot to call your own, and let the cool beach breeze, make your vacation a memorable one. Book a room here for ₹3248 per night.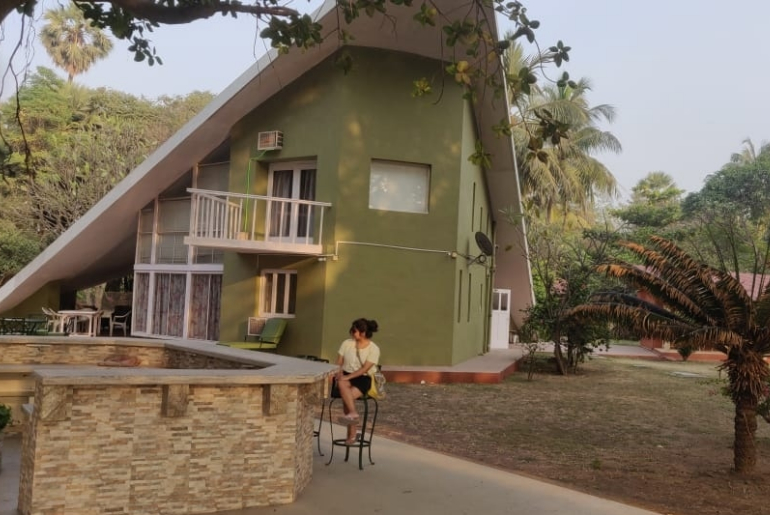 Also Read: 5 Serene Beaches Near Mumbai With Less Tourists & More Beauty
6. Tropicana Resort In Alibaug
Water babies, there can't be a better place for a getaway in Maharashtra than a resort in Alibaug. Tropicana Resort spread across 12-acres of lush green palmy landscape is a perfect blend of rustic and luxury. Enjoy the finest of facilities, soak up the golden rays and gorge on multi-cuisine specialities prepared with homegrown ingredients. There's also an in-house Spa that offers beauty therapies to soothe the body and mind. Tropicana Resort also pampers you with experiential activities like horse riding, nature walks, cycling and much more. Book a stay at this resort for ₹9440 per night.
View this post on Instagram
So, travel enthusiasts, these are some of the best places for a weekend getaway near Mumbai. Spa, horse-riding, delicious food, stunning beaches, luxurious rooms- you name and you can have it all!