Delhi is a foodie's paradise. Every street in the city has a new culinary delight to present to tease your taste buds. From high end fine dining restaurants to mouth-watering street food, everything can be found here.
And the best part? You can easily find places all over the city where you can have a good fulfilling meal without breaking the bank.
Yes you heard us right! Where you ask? Well, here are 5 places in Delhi NCR where you can have a good meal for Rs 100 or less.
1. Lakshmi Coffee House, Noida
This hole in the wall restaurant in Noida's Bramhaputra Market is a wish come true for all the connoisseurs of South Indian food. Lakshmi Coffee House is known all across Delhi NCR for it's delectable taste, quick service and cheap prices. The place is always crowded and jam packed at all times of the day, thus we'd suggest you to go there atleast half an hour in advance. Do try their specials, the butter masala dosa which costs Rs 85, and the diferent varietyof rice dishes that startat Rs 60.
Address: Brahmaputra Shopping Complex, Sector 29, Noida
Timings: 9:30 am to 10:30 pm
Price for two: Rs 200 (Approx)
2. Indian Coffee House, Connaught Place
One of the oldest places in the city, India Coffee House is located in the heart of the city. It still retains the old school charm and is a favourite hang out spot for senior citizens and youngsters alike. What better than enjoying the company of your gang along with a great pocket friendly meal. Here the coffee costs Rs 17, Cutlet costs Rs 22, and you can get a Mutton sandwich for Rs 28 only! Truely, nothing has changed here.
Address: 2nd Floor, Mohan Singh Place, Connaught Place, New Delhi
Timings: 9:00 am to 9:00 pm
Price for two: Rs 200 (Approx)
3. #Waffles
With various outlets across Delhi NCR, #Waffles is the perfect place to hang out for an evening snack post college. The tiny outlets dish delicious meals like waffles( starting at Rs 79), Maggi (Rs 65) and sandwiches ( Starting at Rs 99). They also offer five flavours of ice-cream sundaes which are priced as low as Rs 99. Could our favourite food BE any cheaper?! And the best part is it is open till 4 am!
Address: Various outlets across Delhi NCR
Timings: 9:00 am to 4:00 am
Price for two: Rs 200 (Approx)
4. Baba Nagpal Corner, Lajpat Nagar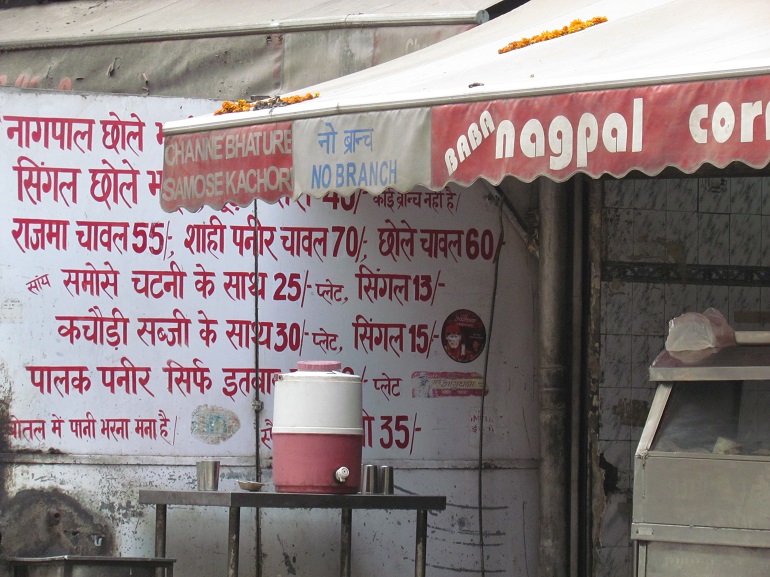 Located in Amar Colony, Lajpat Nagar, Baba Nagpal Corner is South Delhi's favourite breakfast spot. They are known for serving the best Chhola Bhaturas (Rs75)  in all of South Delhi. But that's not it. They also serve other crowd-pleasing dishes like chhola chawal (Rs80), rajma chawal (Rs70), aloo samosa (Rs25), aloo kachori (Rs 30) and more. While the outlet is small and doesn't really have any place to sit, the taste of their delectable delicacies makes up for it all.
Address: 7/25, Old Double Storey, Gupta Market, Lajpat Nagar 4, New Delhi
Timings: 8:00 am to 6:00pm
Price for two: Rs 150 (Approx)
5. Chache Di Hatti, Kamla Nagar
This hole in the wall outlet in Kamla Nagar doesn't have a very elaborate menu. Their menu consists of only Chole Bhature and Kulche; but, trust us the chhole they serve are probably one of the best that Delhi can offer. Little wonder then, that they open at 9.30 in the morning and by 2 in the afternoon, it's all sold off. A good meal here costs around Rs 60 per person.
Address: D 33, Near All Smile Dental Clinic, Kamla Nagar, New Delhi
Timings: 9:30 am to 4:00 pm
Price for two: Rs 150 (Approx)