Jingle Bell… Jingle Bell… Jingle On your Plate
Wish to eat the colourful Christmas brunch? Head to these places in Mumbai to pamper your taste buds.
1. The Good Wife
The very famous outlet in Bandra is coming up with a special a la carte menu in association with Chandon, India. This menu is definitely going to boggle your mind with choices.
The Good Wife is offering Brazilian Rib-Eye Steak, Pistachio Crusted Rack of Lamb Chops in the mains while Butternut Squash and Pecan tart also the Xmas Pudding are few to name from their menu.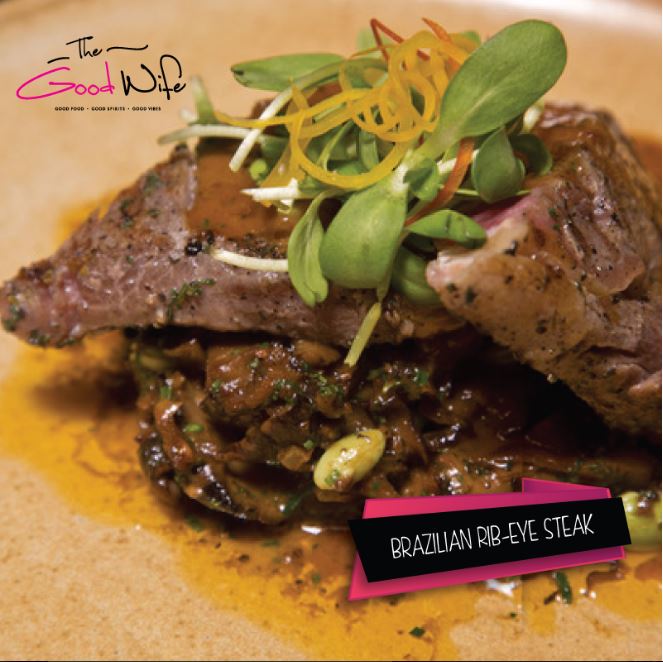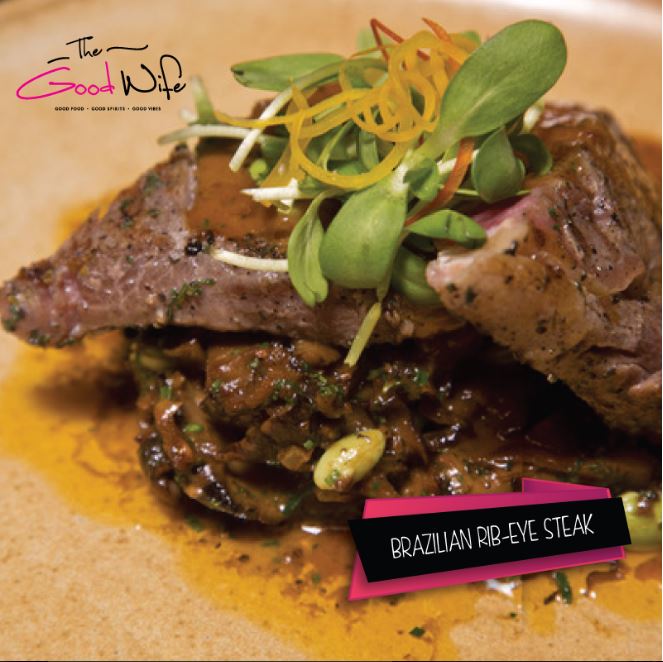 Where: The Good Wife, The Capital, G Block, BKC
When: Sunday, December 25, 12.30 pm onwards
How Much: Depends on order
2. Hakkasan
Hakkasan is taking a good care of all its patrons by creating delicacies for vegetarians and non-vegetarians. They are offering an interesting mix for vegeterians – Veg Duck Salad, Wild Mushroom Clay Pot and Spicy Edamame Fried Rice. While the non-vegetarians can hog on Chinese Chive Dumpling with Prawns, Hakka Braised Pork Belly, Steamed Indian Salmon and the list is endless.
Where: Hakkasan, Krystal Building, 2nd Floor, Waterfield Road, Bandra West
When: Sunday, December 25
How Much: Rs. 3,000 (plus taxes)
3. Four Points by Sheraton
Go empty stomach to have Smoked Salmon Potato and Leeks Soup, Smoked Turkey Salad and much more. The hogging party begins on christmas eve but if you miss that, hop by for a christmasy and a scrumptious brunch, the next day.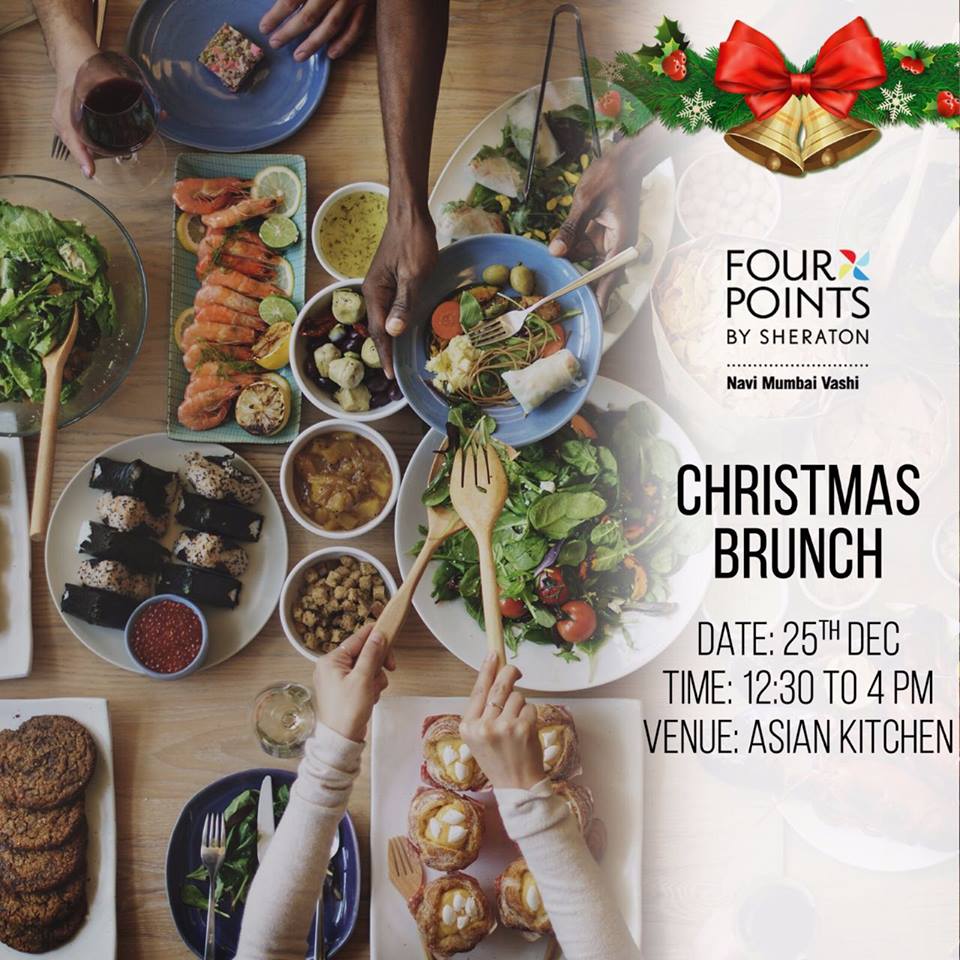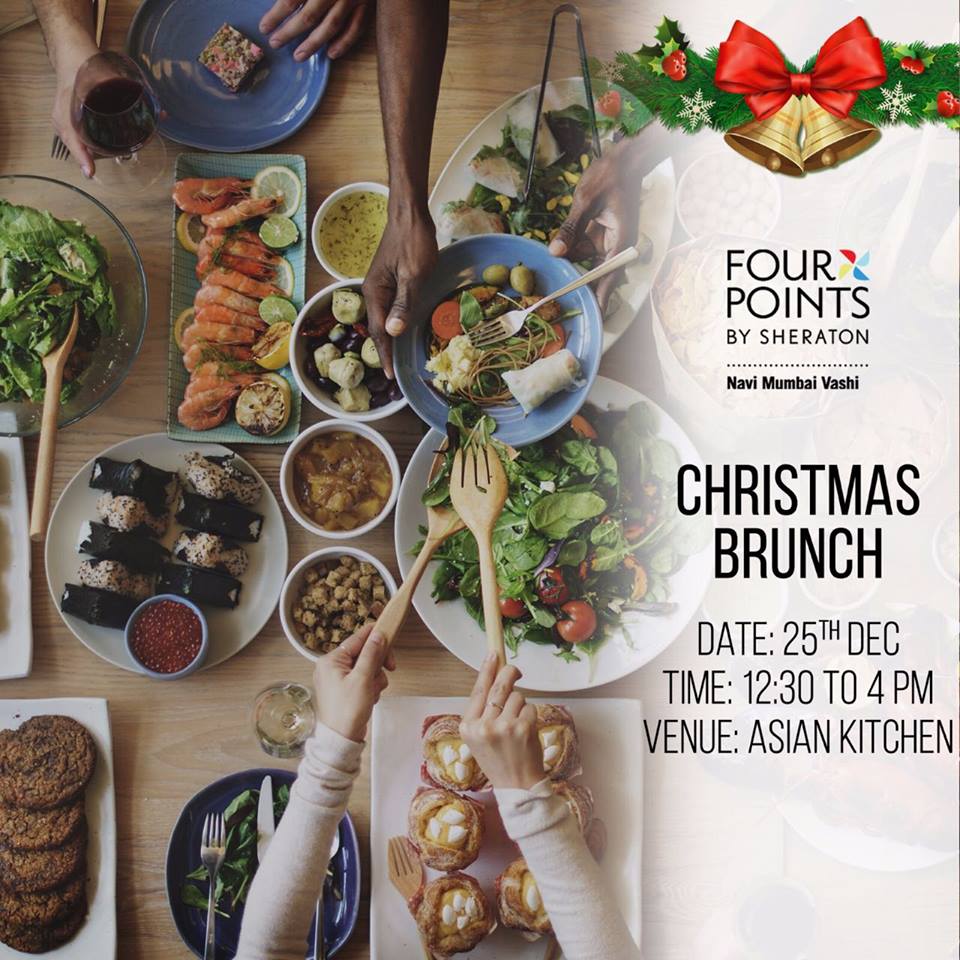 When: Four Points by Sheraton, Plot No. 39/1, Sector 30A, Vashi
When: Saturday, Dec 24 (7.30 pm onwards) & Sunday, Dec 25 (12.30 to 4 pm)
How Much: Rs 1,250 (plus taxes)
4. The Irish House
This one is for those who love to sing and make merry, quite literally. Christmas at The Irish House all across Mumbai means a fun karaoke brunch. The specially customised menu has Honey Glazed Roasted Chicken and Turkey Ham, Savoury Thyme Waffles, Classic Waffles and Fresh Crepes. (6 Best Karaoke Scenes in Mumbai)
Hold on! They are also offering a range of cheese and salad, pickled zucchini, red wine with braised lamb, prawn cocktail salad and lot more.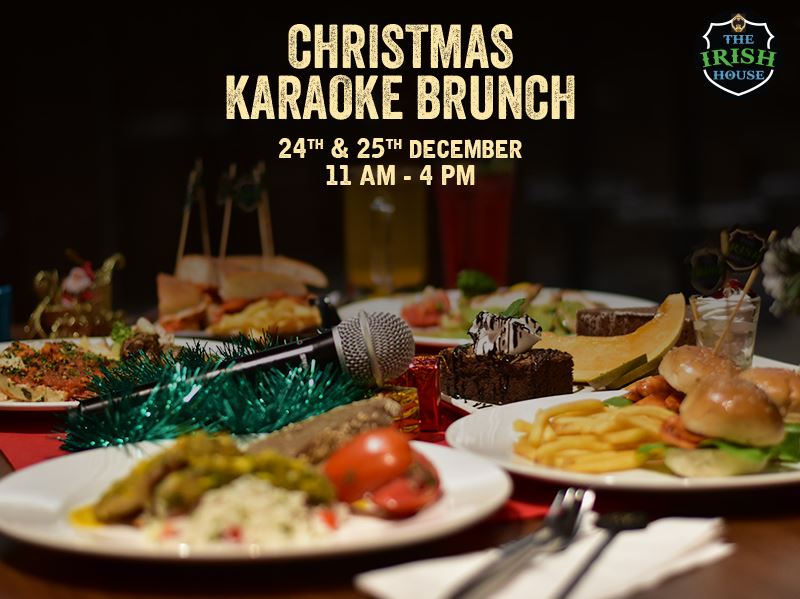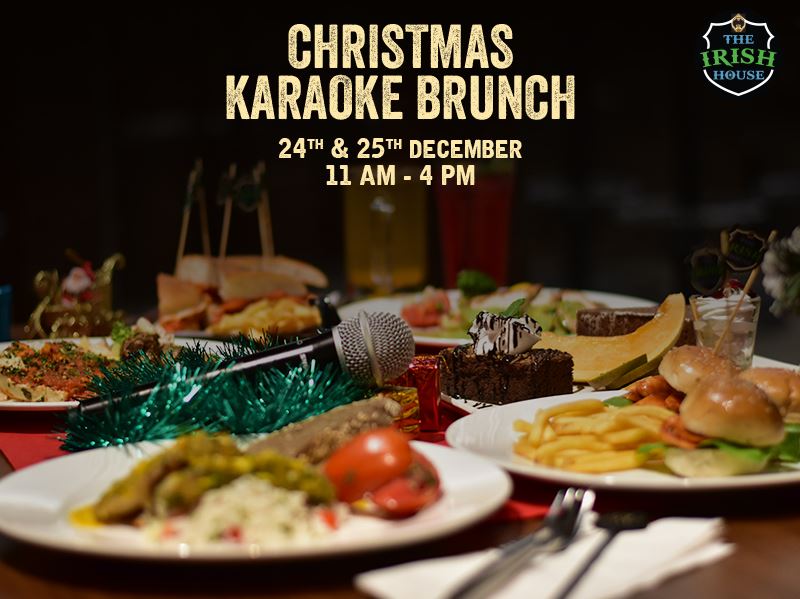 When: Saturday, Dec 24 and Sunday, Dec 25
Where: The Irish House outlets across Mumbai
How Much: Unlimited Food- Rs. 1,095 (plus taxes)
Unlimited Alcohol- Rs. 695 (plus taxes)
For Kids- Rs. 495 (plus taxes)
5. Mirabella Bar & Kitchen
Love seafood? Hit the Mirabella Bar & Kitchen for your craving. They are serving Seafood Platter, Crab cakes with Garlic Aioli and not just that, there is Fried Chicken with Waffles, Croquettes, Chessy Arancini, Baked Cannelloni, Pork Vindaloo, Varela Chicken and even Potato Sliders.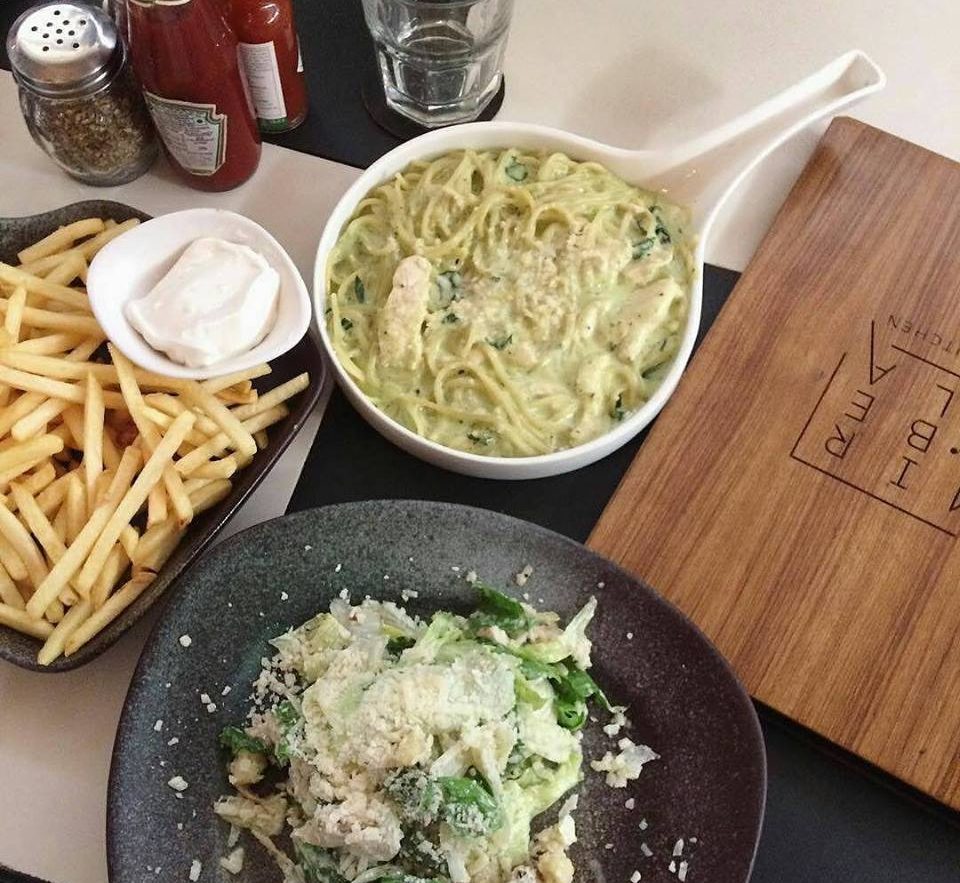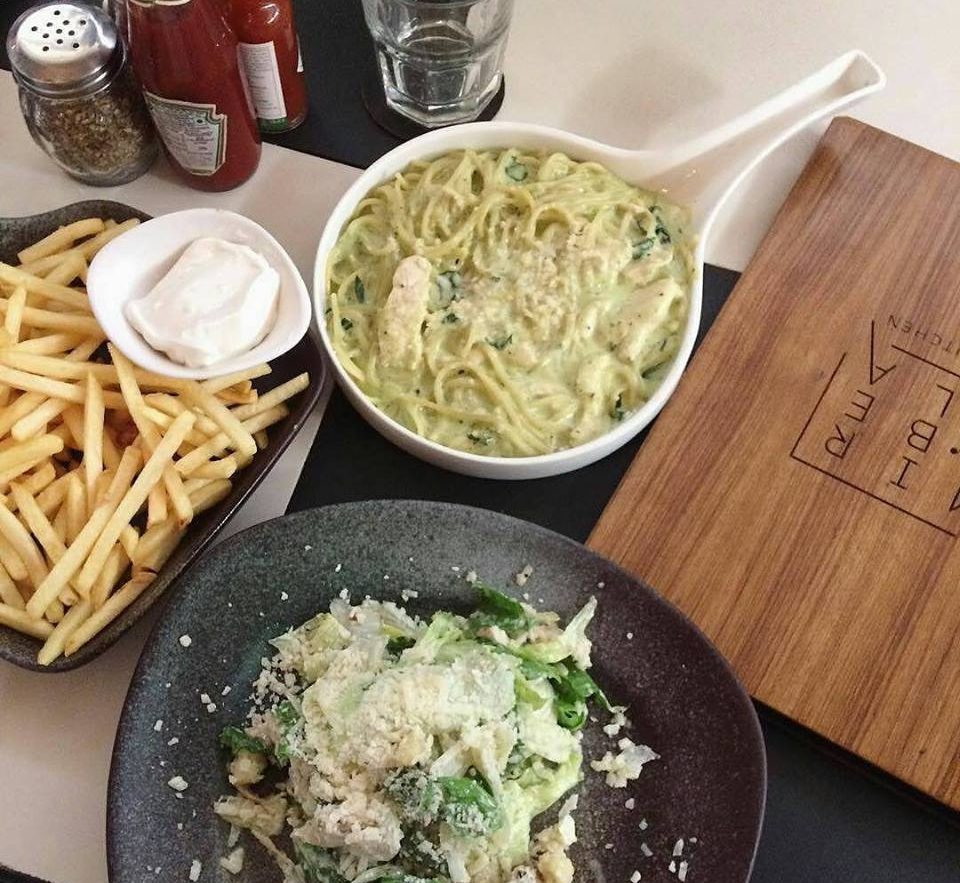 When: Saturday, Dec 24 and Sunday, Dec 25; 11 am to 4 pm
Where: Mirabella Bar and Kitchen, Remi Bizcourt, opposite Supreme Chambers, Veera Desai road, Andheri
How Much: Rs 1,399 (for food) and Rs 1,850 ( for food and alcohol)
6. Yauatcha
Yauatcha will be serving their signature Dishes for Christmas Eve and Lunch in La Carte. They have specially curated music for this Christmas. You must go there for their cocktails and spirits. As the music will create a festive mood for you.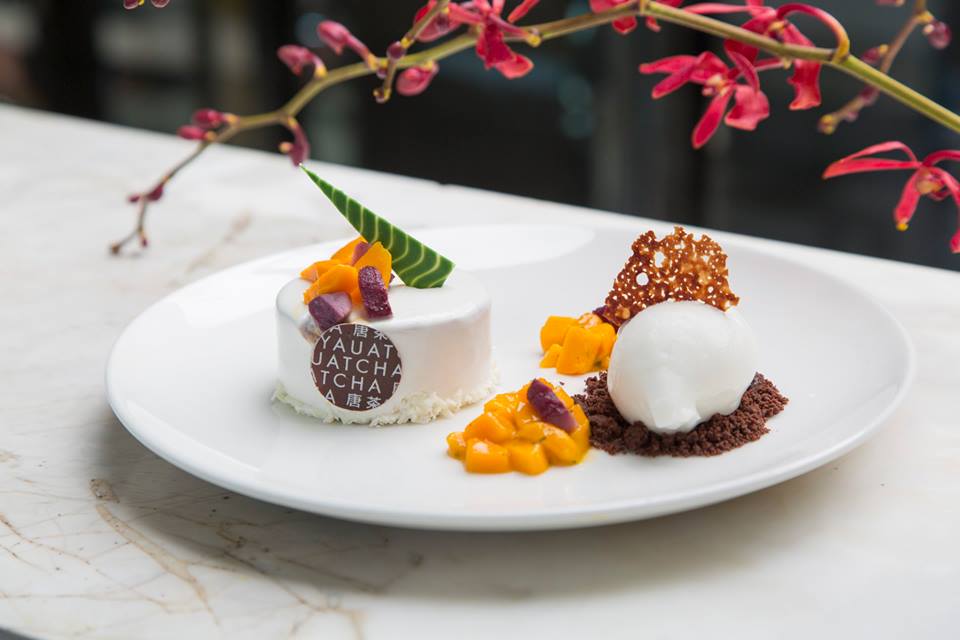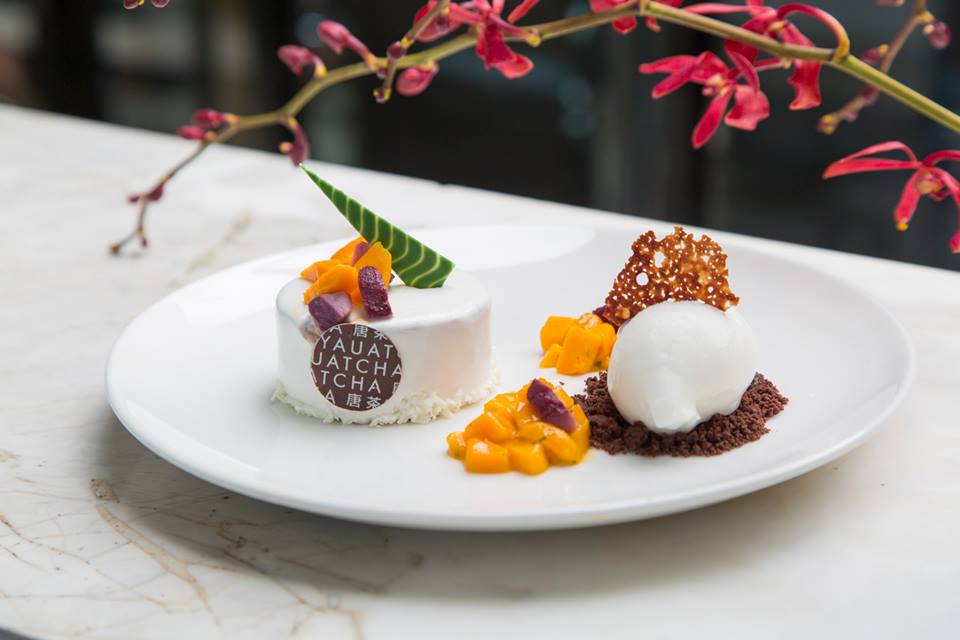 When: Friday, Dec 2 to Sunday, Dec 25
Where: Raheja Towers, BKC
How Much: Depends on Order
7. Renaissance
When you are planning to celebrate Christmas in the traditional way, Renaissance is your place. They have classic Roast Turkey and Suckling Pig with a wide variety of wines to get you drunk. If you are too lazy to dress up on weekend, you can go in your flip flops as the party is happening on the poolside.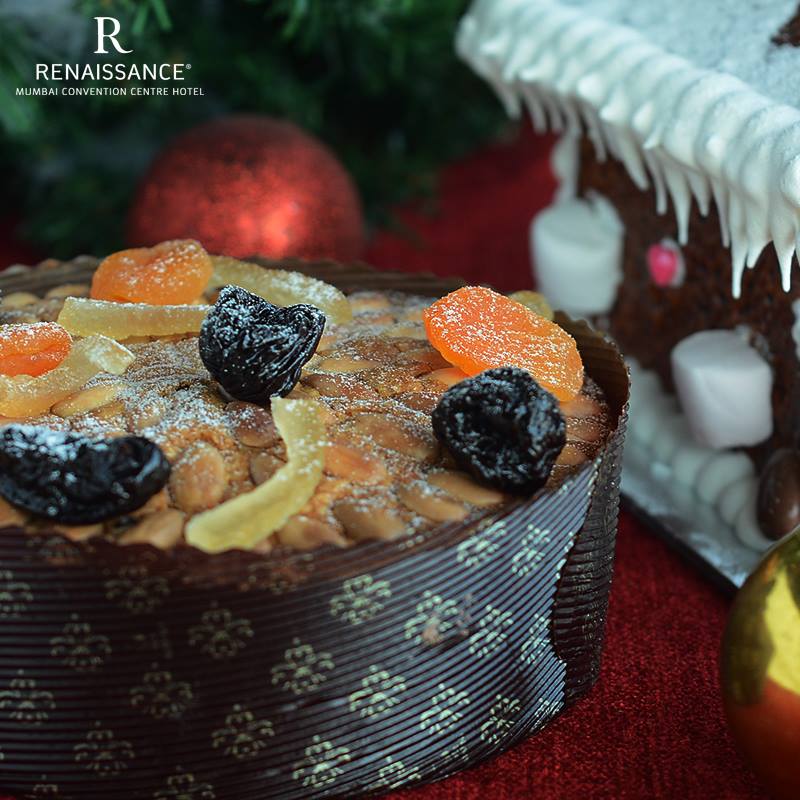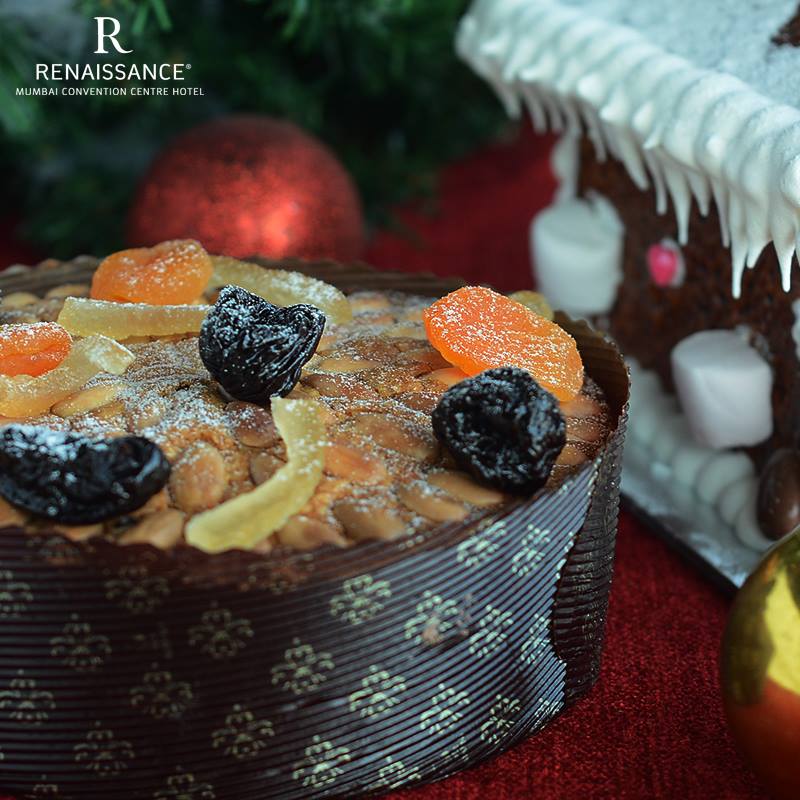 When: Saturday, Dec 24 and Sun Dec 25
Where: Renaissance, 2 and 3B, Near Chinmayanand Ashram, Powai
How Much: Rs. 2,200 (plus taxes) for Dinner Buffet
Rs. 4,000 (plus taxes) for alcohol brunch
Didn't you get too many options to choose from? Yeah.. so don't wait and make your reservations in advance.
Merrier Christmas awaits you.
If you wish to be at home here is How To Throw A No-Fuss Christmas House Party or you can take inspiration from Bollywood Stalwarts
LIKE Curly Tales on Facebook | Instagram | Twitter
You can subscribe to our newsletters.