Sharjah is known as the cultural capital of the UAE. Right from delicious street food to picturesque gardens and spiritual Mosques, there's everything in Sharjah that makes it so special. And with time, the city is booming with tourists and expats from all over the world. And if you are planning to visit Sharjah and want to more about this Emirate city before visiting it, then here are interesting facts that you must know about it.
Interesting Facts That You Must Know About The Cultural Capital Of The UAE
Also read: 7 Lengendary Spots In Sharjah That Are Basically The Mecca Of Perfect Photoshoots
1. Many expats live in Sharjah
About 1.5 million people live in Sharjah, and from that, around 1.2 million people are expatriates. Yep, only 175,000 are Emiratis. And even in Emiratis, the population of females outnumber males. However, there are significantly more male expats than female expats. And people who live in Sharjah are very young, between the ages of 20 and 39.
2. Sharjah is known for its protected nature reserve
In the UAE, Sharjah is one city which has Wasit Nature Reserves. It is a 4.5 square kilometre area that was used as a dumping ground. It was then converted into a beautiful nature reserve, with birds flocking in from around the world. The Wasit Nature Reserve was declared a guarded area in 2007 by Dr Shaikh Sultan Bin Mohammad Al Qasimi, Supreme Council Member and Ruler of Sharjah. The nature reserve houses four natural lagoons attracting around 150 species of birds, both migratory and resident, throughout the year. 
Also read: 5 Places In Sharjah Selling Best Kebabs That Would LITERALLY Melt In Your Mouth
3. Sharjah is the cultural capital of the UAE
People who visit the UAE, often only visit Dubai and Abu Dhabi. But did you know that the city stands as the cultural capital of the UAE and the Gulf countries? It represents the culture and traditions of the Middle East through its heritage sites, mosques and traditional old souks. Under the wise leadership of His Highness Dr Shaikh Sultan Bin Mohammad Al Qasimi, the emirate was also promoted as the Cultural Capital of the Arab World by Unesco in 1998.
4. Sharjah shares borders with other Emirates
Sharjah is the only city that shares a border with all other Emirates. It is also the only city with beaches on both sides of the Arabian Gulf and the Gulf of Oman. 
Also read: Best Places To Enjoy Delicious Dosas In Sharjah
5. Sharjah has a history of more than six thousand years
Yep, you read that right! Sharjah's presence was documented early in the second century BCE in a map drawn by the Greek geographer Ptolemy. The earliest evidence of human life in the UAE was discovered on Sharjah's Jebel Faya, which dates back to around 8,500 BCE.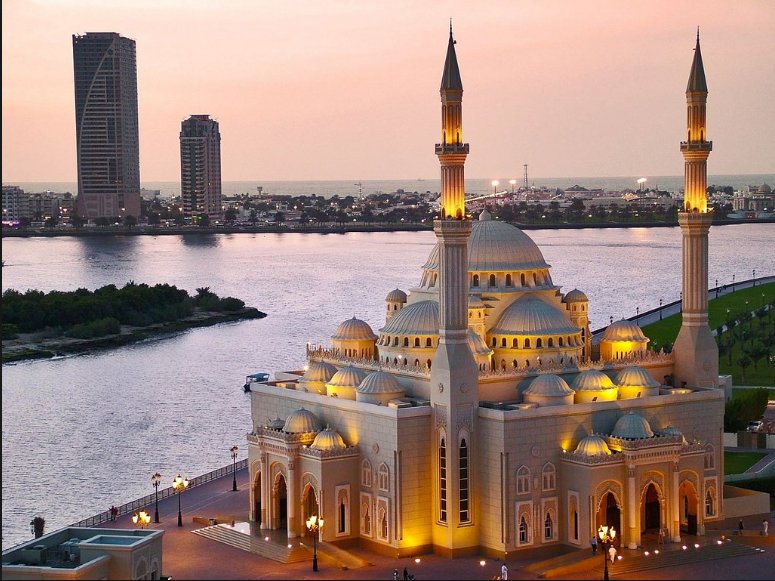 6. Sharjah is a heaven for foodies
Are you craving some delicious biryani or Kebabs in the UAE? Then you have to visit Sharjah once. The city is known for its street food, specifically if you are looking for really authentic stuff. They have hundreds of little restaurants that serve cuisine that's unique to regions all over the Middle East, India and Pakistan.
7. People love living in big spaces
Residents of Sharjah have large apartments, which are built, with high-quality materials. They have big bedrooms, a big living room and spacious kitchens. They love big homes and spacious rooms, where they can just enjoy with their families.