Varanasi or Benares – call it what you want, but if you want to experience the fervour and the mayhem that is India, if you want to experience the rawness and the depth of India, or if you just want to experience the real India in all its true colours, then Varanasi should be on your bucket list. In a singular moment, it defines everything that is India and yet it is nothing like the rest of India. I have to warn you though Varanasi is not for the faint-hearted. It is not for the people who see the photoshopped images of India and it is most definitely not for people who don't like crowds. I've been raised in India and I was still taken aback by the sheer number of people in Varanasi.
I'm Natasha Monteiro and I travelled to Varanasi for 2 days with Kamiya Jani for what was one of my most memorable trips. Here is my 48 hour itinerary to India's spiritual capital, Varanasi.
Travelling To Varanasi By Road, Train & Flight
I was travelling to Varanasi with one more person and we took a flight from Mumbai to Lal Bahadur Shastri Airport in Varanasi. The flight time is about 2 hours, 20 minutes. Varanasi is also easily accessible by road and by train. Varanasi Junction, also known as Banaras Junction, Varanasi Cantt Railway Station and Banaras Cantt Railway Station, is the main railway station which serves the City of Varanasi. It is pretty well connected to the rest of India.
Also read: My 8-Day Solo Trip Itinerary To Portugal For ₹1 Lac Including Flight Tickets
Day 1 In Varanasi
Kashi Chat Bandar
On Day 1, we touched down at about 2.30 pm and having already lost half the day Kamiya and I rushed to our hotel, dropped our bags and set out to explore Varanasi. Our first stop was the iconic Kashi Chat Bandar on Dashashwamedh Road. Serving some of Varanasi's finest street food delicacies for over 50 years, this is a landmark as iconic as the Ghats itself. Even celebrities pay their visits to this iconic stop-over. After climbing a narrow alley of stairs, we settled down onto wooden benches and ordered the Tamatar chat, Chura Matar and the Palak Chat. With a myriad variety of flavours, each of these dishes are like a mini-explosion in your mouth. My personal favourite though was the Palak Chat. if you're a fan of chat, check out the 7 Best Papdi Chaat Places In Mumbai For 2020.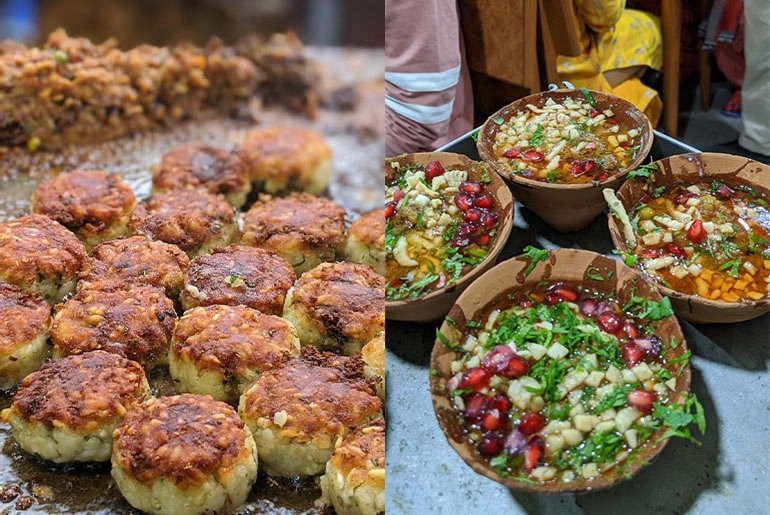 Address: Kashi Chat Bandar, D.37/49 Godowlia Road, Girja Ghar Chauraha, Badadev, Godowlia, Varanasi, Uttar Pradesh 221001
Ganga Aarti At Dashashwamedh Ghat
If Varanasi were to be described as a wedding, then the Ganga Aarti At Dashashwamedh Ghat would be the bride. The star highlight of Varanasi, the Ganga Arti is a vision that must be beheld – irrespective of your religious choices. The Ganga Aarti literally translates to worshipping the Ganges/Ganga river. The Ganga is considered to be the holiest river in India. The purpose of the aarti is to show humility and gratitude to God's divine form. Ganga aarti is a devotional offering to the River Goddess and in a strange way, everything comes to a standstill and the only thing you can hear is the chants that fill the air.
The fervour, the theatrics, the sheer energy that reverberates through the crowds is unlike anything I've ever witnessed.
There are 2 ways to witness the Aarti:
Be seated on plastic chairs and watch the aarti being performed in front of you. The upside is that you are present right where the aarti is being performed. The downside is that you can only see the backs of those performing.
Watch the Ganga Aarti from a boat. You get to watch the whole performance in front of you, without the crowds and there's something wonderfully serene about the setting. I was lucky enough to visit on a full moon night and the moon reflection rippling on the river and the synchrony of the aarti happening right in front of you is a sight to behold. A single seat on the about ride costs about ₹200 and this is bargainable. Depending on the type of boat, you can also rent out an entire boat for about ₹2000 (once again, bargainable).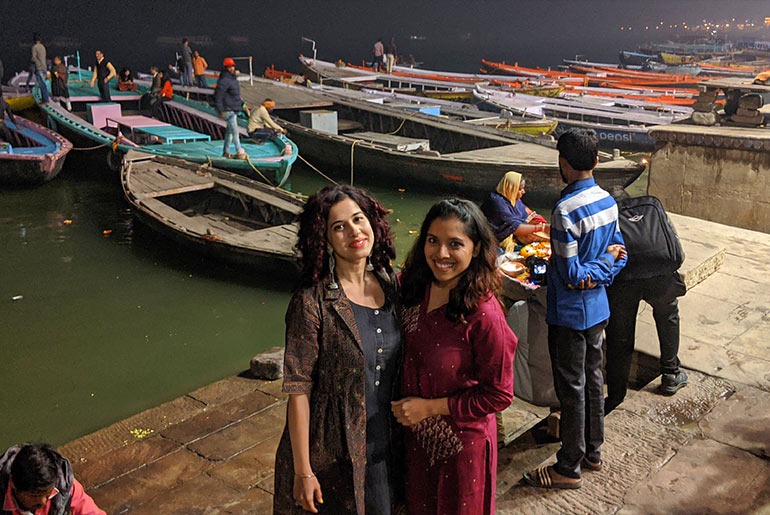 Dinner At Pizzeria Vaatika Cafe
After the Puja, it was time for some pet puja, and basis a lot of recommendations we decided to visit Pizzeria Vaatika Cafe. I wasn't too sure though, thinking pizzas in Varanasi? To reach the pizzeria, you do have to walk through a winding maze of the ghats and climb & descend plenty of steps but believe me, it's totally worth it.
The pizzeria is completely vegetarian. Kamiya and I opted for an aubergine and spinach pizza & a veg Indian thali, along with 2 glasses of honey ginger lemon juice! OUR MINDS WERE BLOWN! We absolutely loved the pizza and the warm honey, ginger lemon juice on that cold night was just wonderful. I would totally recommend this place for dinner.
PS: Did you know that Gurudwaras In Punjab Have Included Pizzas And Burgers In Their Langar?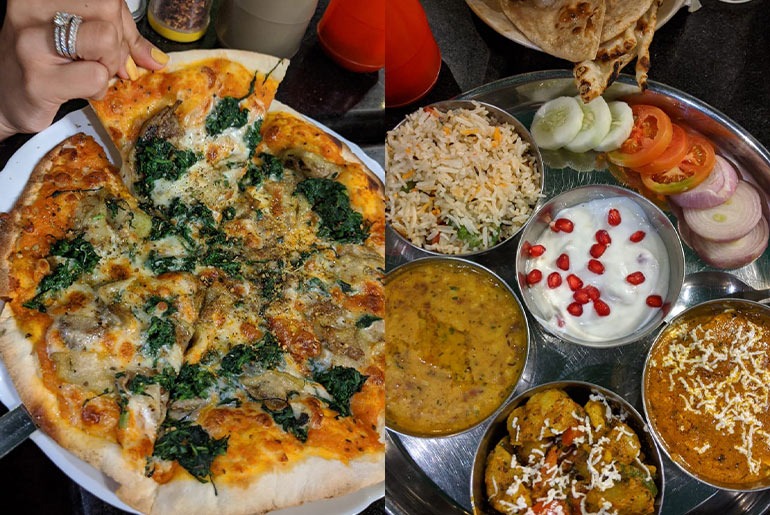 Address: B-1/178, Assi Ghat Rd, Shivala, Varanasi, Uttar Pradesh 221005
Day 2 In Varanasi
We started day 2 bright and early to make up for the lost time of day 1. Day 2 was just as exciting, if not more! Read on.
Boat Ride On The Ganges
A morning boat ride on the Ganges is definitely a must-do. Opt for a guide and as they take you along the waters they relay the history of Varanasi, right from the origins of Kashi. I have to give you a fair warning though, and that is for being one of the most worshipped rivers in India, it is also among the dirtiest. A lot of people throw old offerings in plastics into the river, people have a bath (with soap and all) and spit into the river. There was a time when dead bodies were also thrown into the river but the government has prohibited this now.
All the same, when you're in the boat with the gentle morning sun as your backdrop it is wonderful to watch. A boat ride on the Ganges is a definite must-do.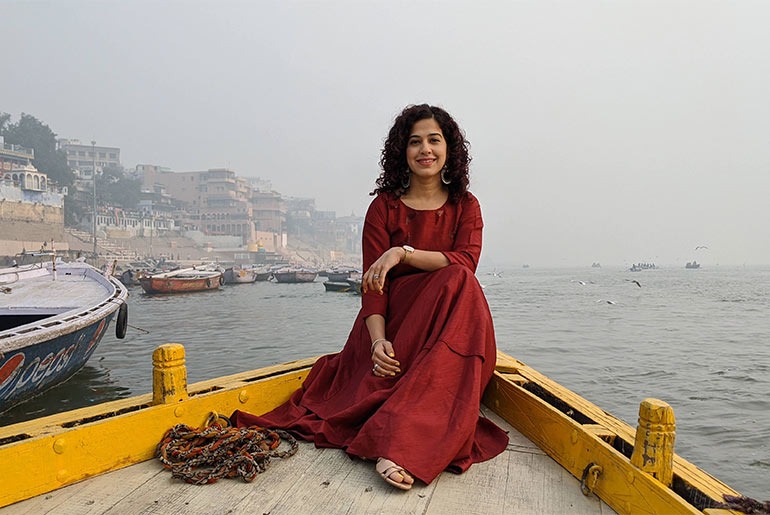 Breakfast At Ram Rori Bhandar
In one of the tiny lanes of Varansai lies a tinier shop called Ram Rori Bhandar that clearly does some 'rori-ng' business. The place sells kachori, jalebis, samosas and more. We tried the choti kachori chat (₹15), badi kachori chat with sabzi (₹30) and a plate of steaming hot jalebis (₹15). With our tummies full and our hearts fuller, we set out to our next spot.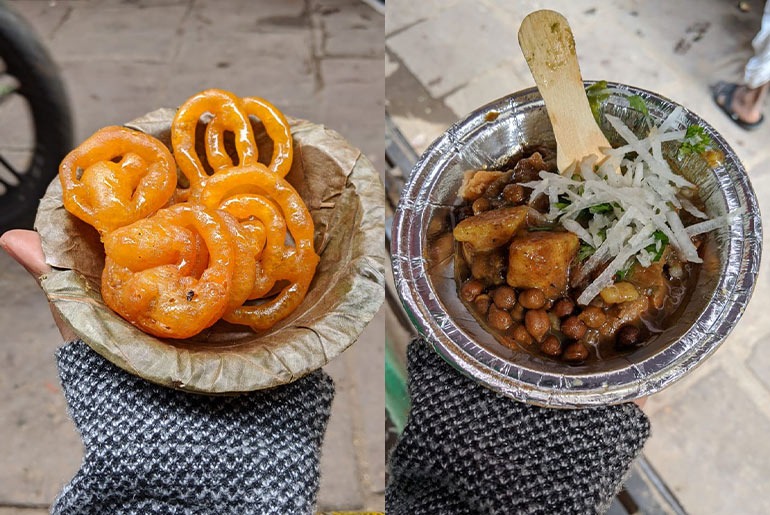 Visit The Kashi Vishwanath Temple
The Kashi Vishwanath Temple is considered to be among the oldest and one of the holiest temples, dedicated to Lord Shiva. Despite being destroyed and reconstructed several times, it still stands proud. Not only is it the 5th richest temple of India, but it is also fully managed by the government of Uttar Pradesh. Also, Did You Know That World's Highest Shiva Temple Is Located In Uttarakhand?
The lines to enter the temple start as early at 6 am and although there are several entrances, it's almost always crowded. Note: You are not allowed to wear shoes or carry bags into the temple and there are plenty of locker facilities along the way. So make sure you pick one 3/4th of the way down to the temple. They are cheaper and ALWAYS BARGAIN.
Address:  Lahori Tola, Varanasi, Uttar Pradesh 221001
Malaiyo From Sri Ji Sweets & Mithai
After battling the temple crowds, it was time to get one of Varanasi's most iconic dishes in our tummies. Our next stop for the day was the iconic Sri Ji Sweets & Mithai that serves the infamous Malaiyo.
Now, I have to warn you that the Maliyo is served all over Varanasi and it's also a popular breakfast choice. The one sold at Shriji is considered to be the best. With great expectation, I gobbled a spoonful of the Malaiyo, only to be slightly disappointed. It tasted like sweetened air. But then again, that could just be me. Kamiya had a cup full and was quite okay with it. Given the popularity of the dish, I think it would be fair to say that not liking the Malaiyo could be more a personal thing. I'd say give it a try and tell me for yourself.
Another version of the Malaiyo is Daulat Ki Chaat in Delhi and here's where you can have them – Places to have DKC in Delhi
A Banarasi Saree Experience At Weaver's Village
Amongst everything popular, Varanasi is probably most known to the outside world for its Banarasi Sarees. Each saree is made of pure silk and crafted by talented artisans. The craft of creating the sarees is almost as intricate as the sarees itself. Take a tour through the weaver's village to know the story behind the craft.
Address: C–7/34G, Senpura, Lahurabir, Jaitpura, Varanasi, Uttar Pradesh 221001
Lunch At Baati Chokha
Baati Chokha in Varanasi is a traditional Bihari restaurant that has an almost village-like relaxed ambiance. The best part is that this restaurant has parking, which in itself is quite a relief in Varanasi. The plates are made of dried leaves sewn together and we decided on the Punjabi Kadhi with chawal and a plate of traditional baati chokha. Both dishes were quite delicious and this restaurant is a must-try.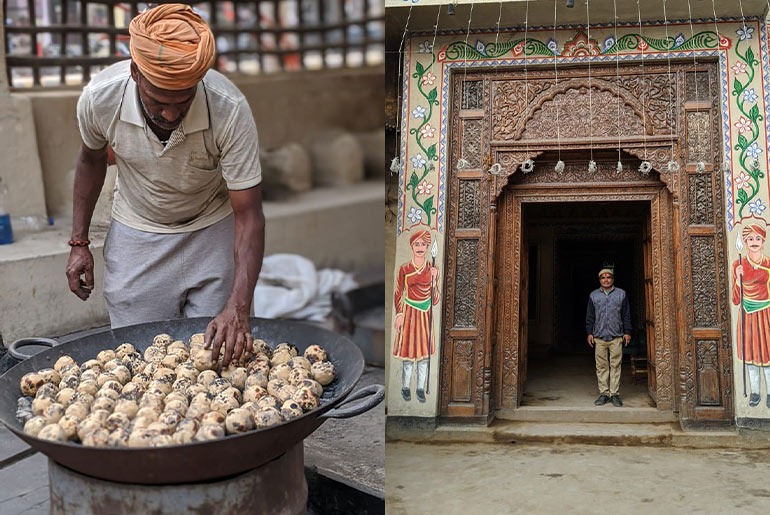 Address: Aanand Mandir Cinema Hall, Raja Bazar Rd, Andhrapull, Teliyabag, Varanasi, Uttar Pradesh 221002
A Walk Through Kabir Math
Another thing Varanasi is famed for is its arts, culture and music scene. And watching a Kabir Chaura Math show should definitely be on your to-do list. Make sure you book your tickets in advance for this classical musical extravaganza. We were lucky enough to be invited into the home of Padmavibhushan Rajan Sajan Mishra, a musician born into a family of immense talent. His great grandfather was a famous musician and the entire family followed suit. We got a live session on the tabla and the sitar – both of which were absolutely perfect against Varanasi as a backdrop.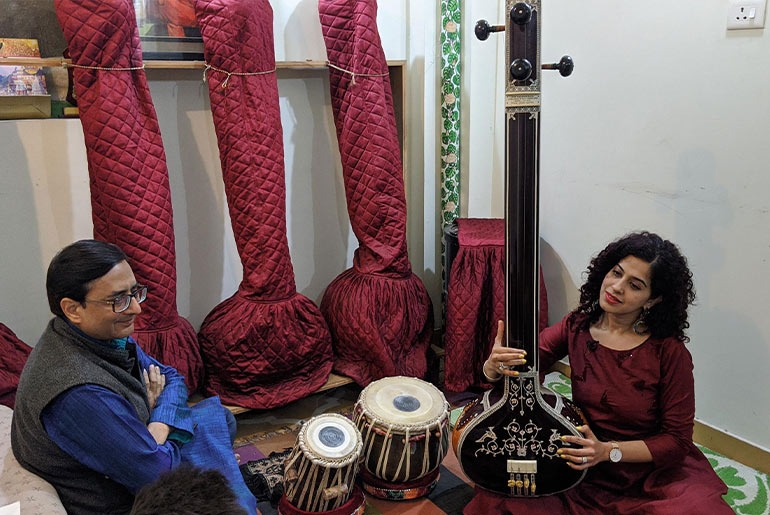 Things To Note In Varanasi
Varanasi is not for the weak-hearted. Expects crowds and lots of it.
You will have to walk – a lot. Wear comfortable shoes
Very few places have parking. So drive accordingly.
There are 2 other forms of transport. The cycle rickshaw and auto rickshaws.
Arrive early for the Ganga Aarti to get the best spot
If you have a weak stomach, don't risk the street food at Varanasi
BARGAIN – everywhere you go. From the tiny lamps to the Benarasi sarees, you will have to bargain a lot.
A lot of people will more than willing to talk to you and help you out. Know who to trust.
Varanasi is a place of reverence and tradition. Respect the culture of the locals