Xline Dubai Marina, the world's longest urban zip line is open again for all the adrenaline junkies in Dubai. The zip line closed in March in line with the maintenance work and related upgrades. Once open, the attraction will operate four days per week, from Wednesday to Monday, between 3.20 pm and 6.20 pm each day. However, Tuesday, the activity will not be available so please check your bookings accordingly.
What To Expect In XLine Dubai?
For the first-timers who aren't aware of what this whole fuss is about let us give you a short trailer to understand the basics of XLine. You'll get a chance to soar across the sky tied up in a fully safe harness enjoying the views of Dubai Marina. Anyone between the age of 12-65 can enjoy this activity. But it's very important to check in with your doctors before performing this activity in case you have fear of heights or any medical condition. The ticket prices range from AED 499 for children between 12-15. Rest above will have to pay AED 650 to indulge in this activity.
Also Read: Take The XLine Dubai Marina For A Cause #DaretoDonate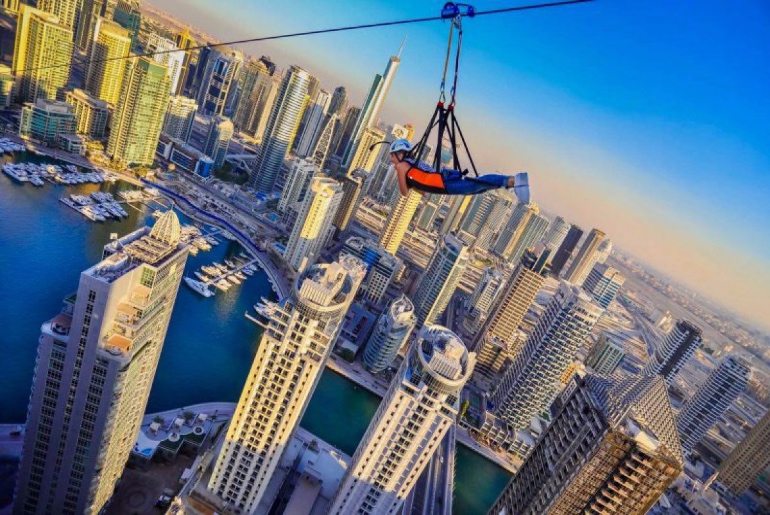 The Activity Details
First and foremost, trained staff will weigh you to match you with the appropriate harness, helmet, and trolley. Then there will be a quick safety briefing.
You'll take off from one of the Amwaj Towers at a height of 170 metres and soar across the Marina to the Dubai Marina Mall.
Along the 1km-long zipline, you will witness an exhilarating speed from 0 to 60 km/h in just 2.5 seconds, reaching speeds of up to 80 km/h.
As you fly over land and ocean and zoom between high-rise buildings, you'll get a bird's eye view of the harbour below.
A Go-Pro will be attached to your helmet to record the journey and you can collect the footage if you wish after your ride.
View this post on Instagram
Also Read: Xline Dubai Marina Reopens With Additional Precautions