Dubai is the land of gold, sky scrappers, glitz and glamour! So, where else in the word can you find menus dripping with gold plated dishes! From 24 karat coffee to baklava and karak, Dubai restaurants have given a 'shiny' makeover to some of the most humble dishes. Here are five gold plated dishes Dubai has to offer. Get ready for a royal meal!
1. Gold Baklava At Zou Zou, Jumeirah
Zou Zou, Dubai's favourite Turkish restaurant has a special 'Gold' Baklava on its menu. The layered dessert is made of filo pastry, which is then filled with chopped nuts and finished with sugar syrup. And, it does not end there. The Baklava is then given a final makeover with a 20 gram-gold-sheet. Now, that's quite a royal makeover, isn't it? The gold baklava is part of the restaurant's menu and can be ordered at any time. The dessert is priced at AED 90.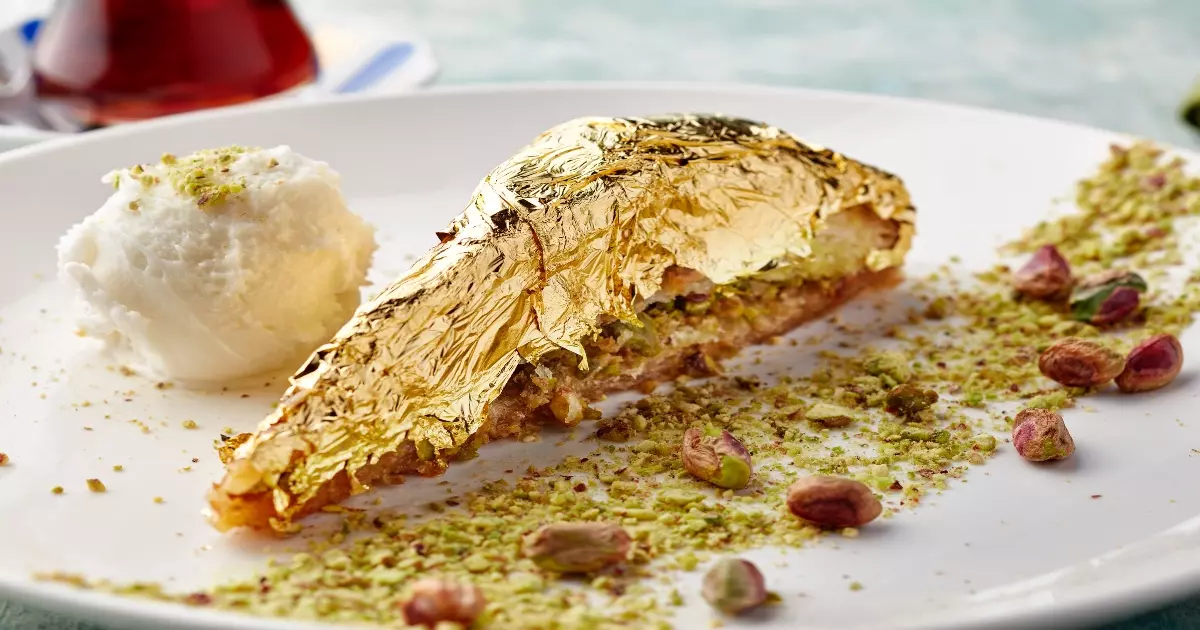 2. Black Diamond At Scoopi Cafe, Jumeirah
Speaking about 'over the top', how can we forget Dubai's most expensive ice cream! Scoopi Cafe in Dubai serves an ice cream scoop priced at AED 3000. The Black Diamond is made of edible 23-carat gold flakes, Madagascar vanilla ice cream, Iranian saffron and is topped with slices of black Italian truffles. Talk about fancy! And the best part- it is served in a Versace bowl and spoon – which you get to keep.
And if that's not exotic enough, try the edible gold ice cream burger. The three-tier burger is packed with two flavours of liquid nitrogen ice cream, topped with white and dark chocolate sauce. This is then finished with a layer of 24K edible gold leaf. The ice cream burger is priced at AED 199. Lastly, the cafe also serves charcoal ice cream. The jet-black ice cream is topped with an intricate gold leaf foil and costs AED 99. So, in case the Black Diamond is too over the top, you know there's more!
Location: Scoopi Cafe, Jumeirah Rd, Umm Suqeim 2 – Dubai – United Arab Emirates
Cost: AED 3000
Contact: 04 279 0300
View this post on Instagram
3. 24-Karat Gold Infused Karak Tea At Food Ka Mood, Karama
Food ka Mood – a new fusion cuisine restaurant launched a 24K gold tea for AED 51. Filles with rich spices and gold flakes, this cuppa is not going to be an ordinary one. Speaking about this innovative recipe, the creator of this recipe- Zankar Uchat said: "I whipped up this recipe during the Covid-19 lockdown. It took me two months to figure out the right blend of flavours that would enhance the metallic flavour of gold. I only prepare the tea with fresh cow's milk."
Where: 19 Zaa'beel St – Al Karama
Contact: 04 380 2424
Also read: Dubai On A Budget: Here's How To Enjoy An Activity-Packed Day In AED 15
4. Gold Burger, Hard Rock Cafe
Dubai's Hard Rock cafe has a glittery new addition to its menu! The legendary restaurant has a new range of award-wining steak burgers, with the highlight being the 24-Karat Gold Leaf Steak Burger. The star of the menu, the gold burger is packed with all things exotic, giving you a taste of 'royalty' in every bite.
The burger weighs 226 grams and is topped with 24-Karat edible gold leaf, Tillamook cheddar cheese, leaf lettuce, vine-ripened tomato and red onion. And the good thing about this royal burger is that it will benefit a noble cause. Hard Rock is donating a percentage of every order to Action Against Hunger, a charity that fights against world hunger. The new burger is available at Hard Rock cafes in Dubai Festival City and at DXB.
Where: Hard Rock Cafe, Dubai Festival City
Timings: 12pm to 2am daily
Contact: (04) 232 8900
5. Gold Coffee At Sahn Eddar, Burj Al Arab
Its no surprise that the world's most iconic 7-star hotel has gold items on its menu. At Sahn Eddar, you can sip on 24k gold cappuccino, where gold is blended into the foam and then heaped on top.
Where: Sahn Eddar, Burj Al Arab, Jumeirah Beach Road, Dubai
Timings: 6 pm to 2 am Monday to Saturday, 6 pm to 12 am, Sunday
Contact: (04) 301 7600