On my last trip to Shillong, we hit up a tiny place Kim Pou known for its spicy noodles, those famous long noodles topped with a hearty oyster sauce and bits of shredded chicken. The restaurant guys behind the counter shouted a counting rhyme as they assembled each element of each serving, and when my teeming plate appeared before me, I was more than thrilled to see a pile of seasoned bamboo shoots atop the noodles. If you are bamboozled by this North-East Indian Delicacy, keep reading to know more.
Also read: Pork Ribs And North Eastern Thalis In South Delhi! Mizo Diner Is A Hidden Gem In The Tiny Lanes Of Safdarjung
What Are Bamboo Shoots?
The new growth sprouts of bamboo plants are called bamboo shoots. They are harvested as soon as the plant breaks through the ground. They become way too tough once the stalks begin to grow, so they need to be harvested on time. Thotrin Cafe In Kalina Is Your Fix For A Filling North Eastern Meal
Where Do You Find Bamboo Shoots?
Bamboo shoots are commonly available in Northeast India and some Asian countries, but they otherwise come dried, canned or vacuum, sealed in plastic. Did you know Tripura's Agartala is The Top Smart City In Northeast India?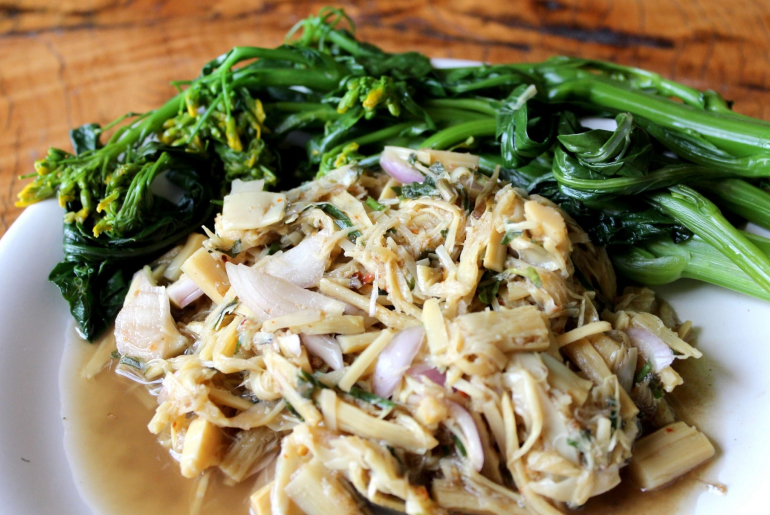 How To Use Bamboo Shoots In The Kitchen?
The fresh bamboo shoots must be cooked before eating because of their bitter taste. However, the canned and vacuum-sealed varieties are typically precooked. Simply simmering fresh bamboo shoots in sauce or water is the best way to release the bitter flavour. Regardless of whether you use bamboo shoots fresh or canned, they can add a delightfully crunchy texture to many dishes. The shoots eagerly absorb the flavours in which they are cooked. Here are just a few ideas:
You can simmer sliced bamboo shoots in soy sauce, and chilli flakes for crunchy noodles topping or any other yummy side dish.

You can also add sliced bamboo shoots to Indian curries. If you like Thai curries, bamboo shoots can be a great addition too.

How about stir-frying sliced bamboo shoots with your favourite combo of vegetable and meat?

Another great way to use bamboo shoots is to pickle them in rice vinegar, a splash of fish sauce, and sugar.

For a yummy salad, top spring greens with chilled julienned bamboo shoots, carrots, radish and green onion. Drizzle with a sesame oil-rice vinegar dressing.
Also read:  Five States In Northeast India Have Been Now Declared Coronavirus-Free. 
Most Popular Bamboo Shoot Dishes Of North East
Arunachal Pradesh's Apong With Bamboo Shoots: Apong is another name for rice beer, one of the essential traditional drinks of Arunachal Pradesh. Bamboo shoot with a very delicate flavour is a perfect snack to enjoy with Apong. 
Nagaland's Smoked Pork With Bamboo Shoot: The famous smoked pork of Nagaland is best combined with bamboo shoots to accelerate the taste of the dish and bring out an intense smokiness. The perfectly cooked pork goes well very well with steamed rice and can be enjoyed with a piquant dry fish chutney and boiled veggies on the side. Here are 5 Reasons Why You Need To Visit The Hornbill Festival In Nagaland.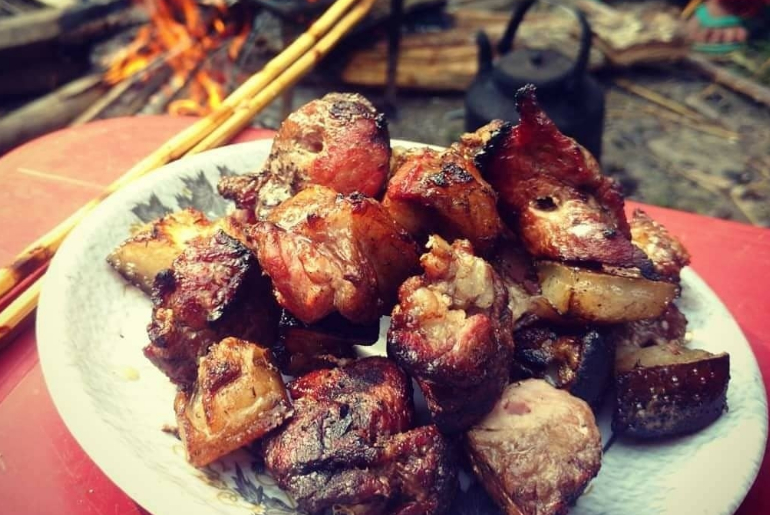 Meghalaya's Bamboo Shoot Fry: This is one of the yummiest vegetarian dishes to come out of the state, the main ingredient of which is bamboo shoots. However, bamboo shoots are pretty common in the state, and natives use it in the preparation of achaar and other dishes as well. To cook, a one-foot tender bamboo shoot is skinned and cut into smaller pieces. It is then simmered with fenugreek and dry red chillies and served with traditional liquor or molasses tea. 8 Reasons To Visit Meghalaya Once In Your Life
I hope to visit my hometown Shillong in spring next year which means that the crunchy shoots will once again be in season, and I can't wait to simmer my own batch of bamboo shoots for some seasonal stir-fries and soups.