Not all superheroes wear capes, some drive an Uber! And a Bangalore Uber driver's heartwarming gesture for a passenger has proved the same. A recent viral post from a LinkedIn user Harsh Sharma is creating noise on social media of late. The post has Harsh writing about his pleasant encounter with an Uber driver in Bangalore. According to Harsh Sharma, the uber driver named Ravi helped him with sleeping inside the car and eating at a restaurant once he got to know the passenger was exhausted from his flight. Well, in this fast-paced world, people like Ravi keep proving that humanity is still alive and thriving.
The Bangalore Uber Driver Ravi Helped Passenger Harsh Inspite Of Language Barrier
The Bangalore Uber driver Ravi was so attentive while driving that he didn't ignore the exhausted state of his passenger. Harsh Sharma was barely holding up after his flight and Ravi in spite of the language barrier went ahead to talk to Harsh and care for him. Later talking about the pleasant incident, Harsh Sharma wrote on LinkedIn, "The person you see in this photo, he's not my relative, friend or anyone whom I knew until this happened. This Uber driver named Ravi unlike other cab drivers talking on earphones due to language barrier, he saw I haven't sleep due to my flight. He organised the seats so I could lay down. Then he asked me "sir breakfast eat?". I said no. He told me "you sleep, I stop at good restaurant", 1 hour later he wakes me up. We are at a very crowded restaurant, he arranges a table for me. The restaurant was self service, but he brings menu to me and suggests some specialities of south India." Later the Bangalore Uber driver also pointed it out to Sharma that coffee will make him less sleepy while handing him a cup of coffee. Totally, endearing we say!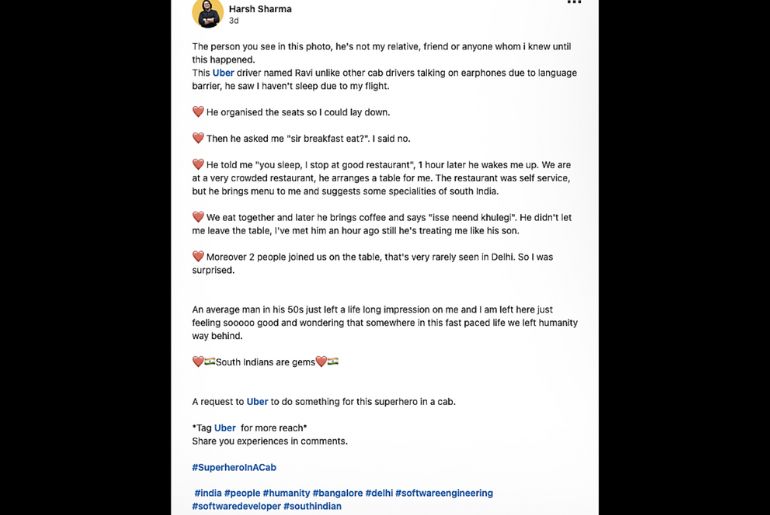 People Moved Because Of The Uber Driver's Kindness
Kindness is the best virtue, they say. No matter your social status, kindness in you will always make the world appreciate you. And the recent LinkedIn post of Harsh Sharma about a Bangalore Uber driver Ravi going viral and being loved across India is proof of the same! "An average man in his 50s just left a lif long impression on me and I am left here just feeling sooooo good and wondering that somewhere in this fast paced life we left humanity way behind," Harsh Sharma had written and numerous people have taken to the comment section to agree with him. "Such a beautiful gesture," wrote one user while another said, "Kindness it is." And we can't agree more!
Also read: Also read: Travellers Bungalow In Bangalore Serves Cuisines From 20 Countries
View this post on Instagram