A great man once said 'Eat breakfast like a king, lunch like a prince and dinner like a pauper'. And we say, if you're having a bad hangover after partying hard last night, then you must definitely cure that hangover. We know just the way you can do that. You can cure your hangover at these 10 Best Breakfast Places in Bangalore. We have some of the most iconic South Indian and Continental breakfast joints for you, so you can dine like a king and say sayonara to that hangover.
1. Indulge At CTR – Central Tiffin Room
When it comes to amazing breakfast places in Bangalore, CTR should definitely be on your go-to list. The popular Benne Masala Dosa here is music to the soul thanks to its rich melted butter and crispiness. This Malleswaram situated restaurant, Shri Sagar, Central Tiffin Room (or CTR) was started in the 1920s. But trust us, the delectable breakfast dishes like the lightly spiced Khara-Bhath, sweet Kesari-Bhath, flavoursome Rava Idly prove to you how prestigious this restaurant is.
Deets
Address: 7th Cross, Margosa Road, Malleshwaram, Bangalore
Timings: 7:30 am to 12:30 pm and 4 pm to 9 pm
Cost: ₹150 for two
Contact: 080 23317531
2. Binge At Hole In The Wall Cafe
Drive away those morning blues by feasting on to an all American breakfast here at Hole In The Wall Cafe in Koramangala. With an array of egg preparations to sink your teeth in like Chickheema Eggs, Cheesy Scrambled Eggs and The Complete Meaty Stuffed Omelette you will totally feel 'eggcellent'. While you're here you can also gorge on wholesome breakfast meals like The All English Breakfast which consists of chicken sausages, mashed potato, fried eggs and whatnot. Wash it with the fresh juice of the day and end your breakfast with the scrumptious pancakes and waffled here.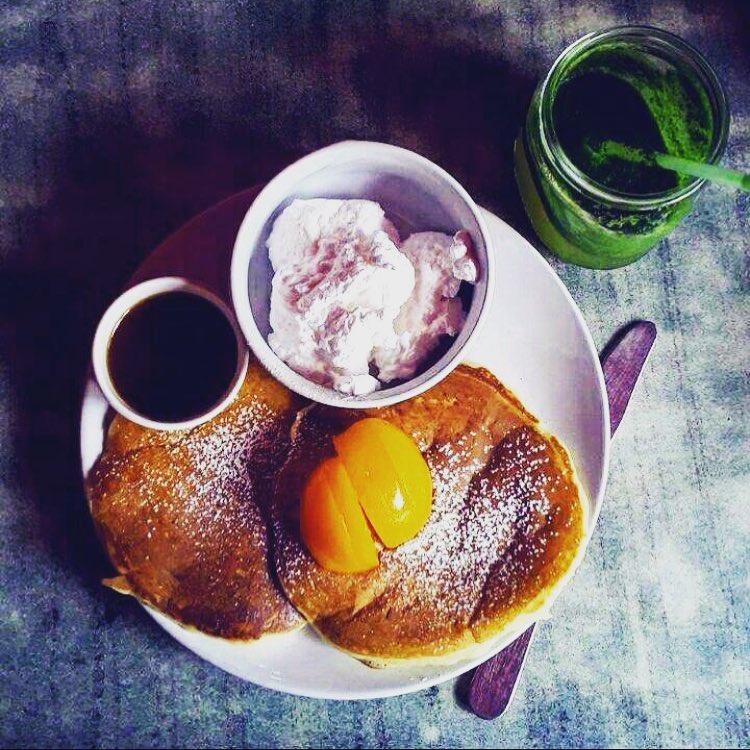 Deets
Address: 4, 8th Main Road, Koramangala 4th Block, Bangalore
Timings: 8:30 am to 3 pm and 5:30 pm to 8:30 pm( Closed on Mondays)
Cost: ₹600 for two
Contact: +91 8040949490, +91 9945692562
Also Read: 12 Best Cafes In Bangalore To Chill Over A Cuppa
3. Breakfast At 154 Breakfast Club
Looking for a quick Hangover Remedy? Visit the 154 Breakfast Club and find your cure at the breakfast dishes here. We suggest you visit this place as early as you can to avoid the weekend crowds here. This place offers you the perfect quaint cafe experience. Treat yourself to the big breakfast menu items here like the Three-Way Breakfast which (consists of pancakes, scrambled eggs and bacon), Chicken Medley( consists of chicken salami, sausages, sunny side up and toast) and you will be left asking for more. Sip their Strawberry and Banana Shake and you'll be good to go.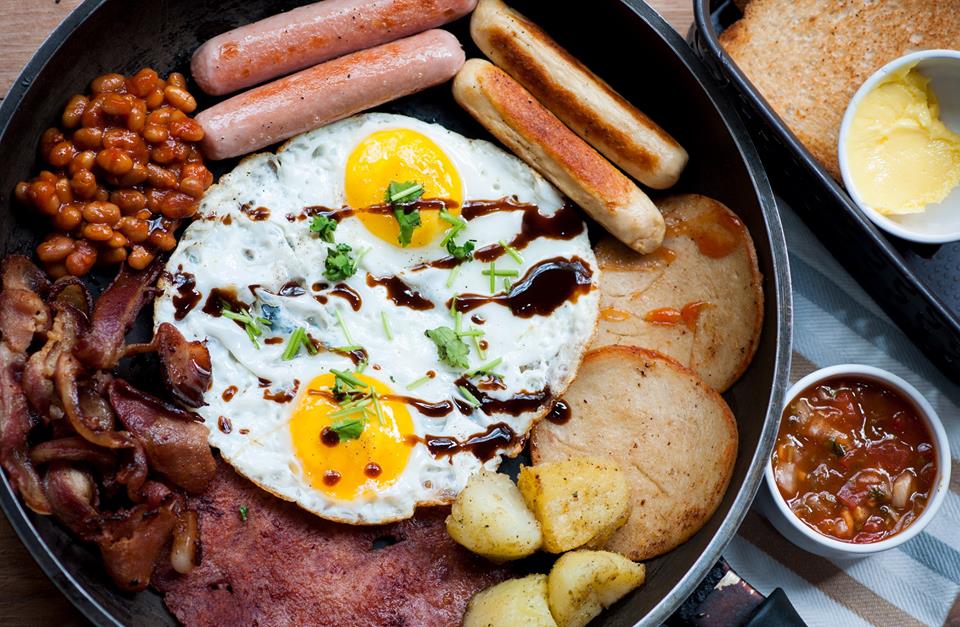 Deets
Address: 154, 8th Main Road, Koramangala 3rd Block, Bangalore
Timings: 9 am to 3 pm and 6 pm to 9 pm ( Closed On Tuesdays)
Cost: ₹900 for two
Contact: 080 25533133
4. Go Crazy At Mavalli Tiffin Room ( MTR)
95-year-old restaurant MTR located in Lalbagh is the perfect cure to your hangover blues. Gorge on their food invention, Rava Idli here, laden with fresh ghee, and you're sure to be left intoxicated. Breakfast at this traditional Bangalore joint will give you Old Bangalore feels, thanks to its humble ambience. The pocket-friendly breakfast dishes on the menu like sweet Mangalore Buns, crispy Vada, delicious Masala Dosa, to name a few. MTR is perfect to have an authentic South Indian breakfast meal with your gang and immerse yourself in the culture.
Deets
Address: 14, Lalbagh Road, Mavalli, Basavanagudi, Bangalore
Timings: 6:30 am to 11 am and 12:30 pm to 9 pm ( Closed on Mondays)
Cost: ₹250 for two
Contact: +91 8022220022
5. Brekkie At Koshy's
Can you ever say no to a place that was once visited by Jawaharlal Nehru and Queen Elizabeth II? Koshy's in St. Marks Road still exuberates the charm that it did since 1940 thanks to its large creaky fans and red-bricked walls. And the reason we urge you to visit this place is for its legendary breakfast. The Sunday Special Appam & Stew, Chicken Liver On Toast, Mushroom Omelette, Mince Mutton Toast will surely give you an elevated gastronomical experience. Chud down their creamy Cold Coffee and you've had a legendary breakfast experience at the lengendary Koshy's.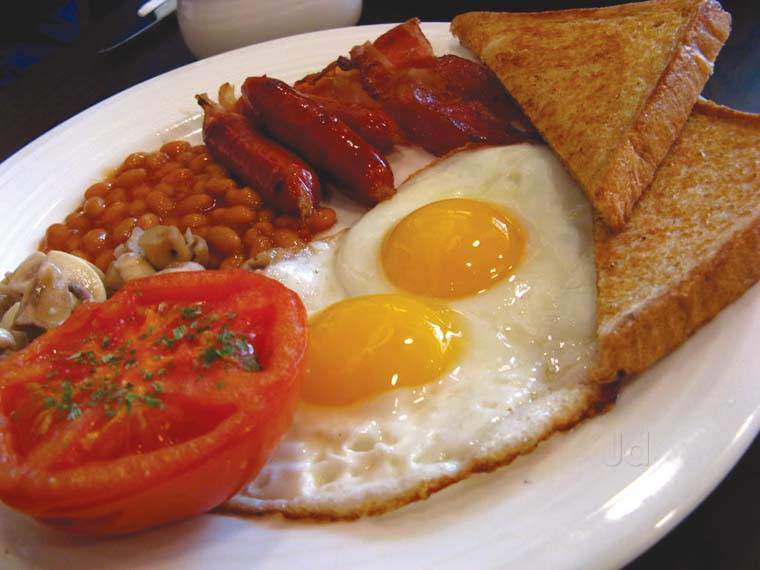 Deets
Address: 39, St. Marks Road, Bangalore
Timings: 9 am to 11:30 pm
Cost: ₹700 for two
Contact: 080 22915840, 080 22213793
Also Read: Head To Koshy's One Of The Most Iconic Restaurants In Bengaluru
6. Refresh Yourself At Third Wave Coffee Roasters
For all that alcohol you gulped down partying last night, its time you sip on strong coffee at this spectacular breakfast place in Bangalore. Third Wave Coffee Roasters has over time made it to the favourites list of every coffee lover in the city. But their breakfast dishes are delicious too! While you're here, do try the Avocado On Toast, housemade Classic Cream Cheese Bagel, and the omelettes which are fluffy and cooked to perfection. We also suggest you try out their freshly baked bakery items which will surely satisfy your sweet tooth. Sip on their special Orange Zest Mocha and you will be left asking for more.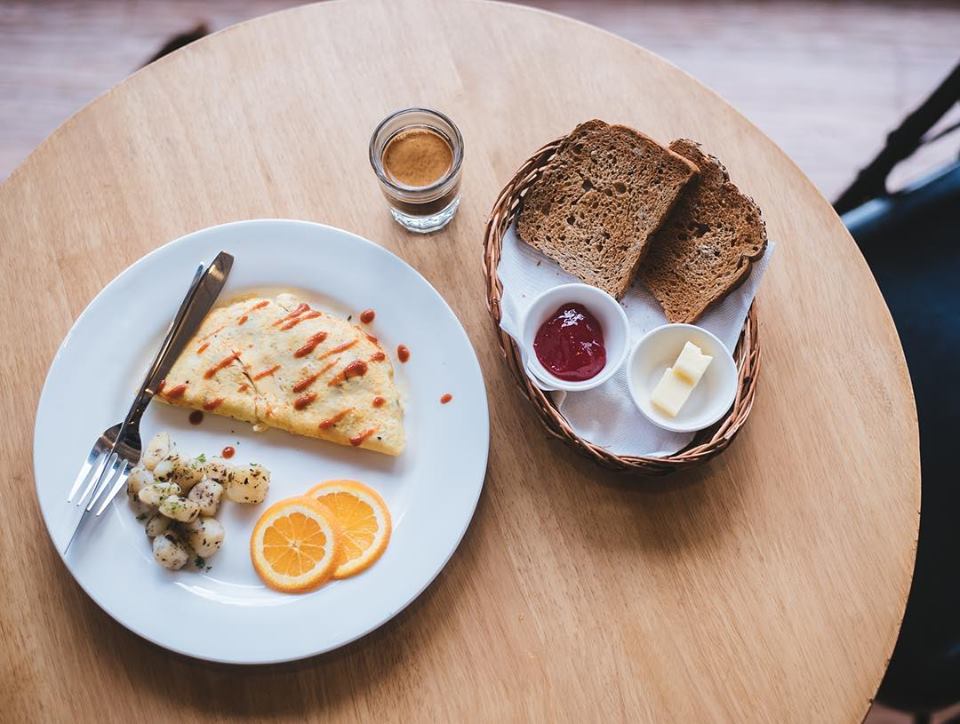 Deets
Address: 729, Ground Floor, CMH Road, Binnamangala Layout Extension, Indiranagar, Bangalore
Timings: 8 am to 11 pm
Cost: ₹800 for two
Contact: +91 7337686222, +91 9903006952
7. Stop By At Brahmin's Coffee Bar
The metropolitan city of Bangalore might be known for its beautiful gardens or its thriving IT culture, but this Garden City has some of the oldest and most iconic breakfast joints in the country. Another one which has made it to our best breakfast places in Bangalore list is the over 4 decades old Brahmin's Coffee Bar in Basavanagudi. When you're in the mood to treat your taste buds to some authentic budget-friendly South Indian breakfast meals, do visit Brahmin's Coffee Bar. Tantalize your taste buds with mouth-water dishes like the Vada, Kesari Bhath, soft Idly, delicious Dosa here. Trust us, this breakfast place serves one of the best chutneys and filter coffee in town.
Deets
Address: Ranga Rao Road, Near Shankar Mutt, Shankarapura, Near Basavanagudi, Bangalore
Timings:  6 am to 12 pm and 3 pm to 7 pm( Closed on Sundays)
Cost: ₹100 for two
Contact: +91 9845030234
8. Sip On Chai At Chai Days
We've spoken a lot about coffee, so its time to reach out to the Chai lovers in town. Chai Days is one of the breakfast places in  Bangalore, that every Chai lover must visit. With a variety of aromatic and exotic teas to sip like the Kesar infused Saffron Special Chai, Kashmiri Kahwa, Traditional Masala Chai, Lemon Chai and much more. While you're busy sipping on your favourite beverage do try out the scrumptious breakfast items like the Chicken Cutlet, Chocolate Croissant, Mexican Sausage Roll, Egg Puff and the Banana Walnut Cake. It surely is Chai Days!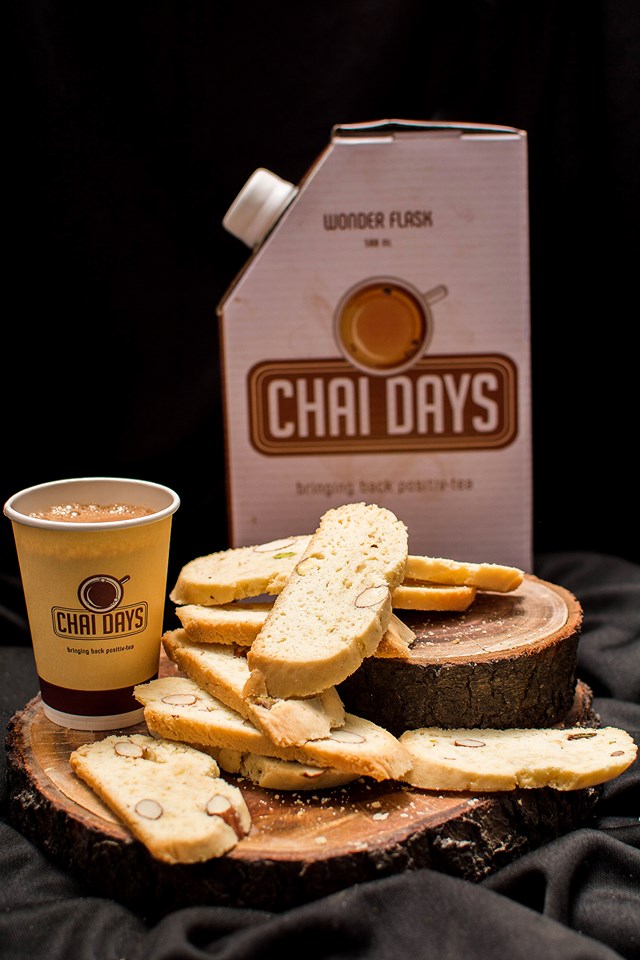 Deets
Address: 2019, 100 Feet Road, Indiranagar, Bangalore
Timings:  8 am to 2 am
Cost: ₹200 for two
Contact: +91 8041455666
Also Read: Savour English Meals At These 10 Amazing Continental Restaurants In Bangalore
9. Go Boho At Rasta Cafe
Plan a nice long drive with your gang to gorge on a lavish breakfast meal at the picturesque Rasta Cafe. With a cottage-like ambience with alfresco dining and wooden benches, Rasta Cafe offers you an all in one-weekend getaway and a breakfast affair.  When you're clicking Instagrammable moments with your gang, do order the Rasta Special Breakfast which consists of hash brown, your choice of eggs, chicken sausages, chicken ham, grilled tomatoes and your preferred beverage. If you have a smaller appetite then gorge on Grandma's Bread Omelette, Spinach & Mushroom Omelette and the Stuffed Pancake. And do pack the signature Rasta Fiery Fries for the road.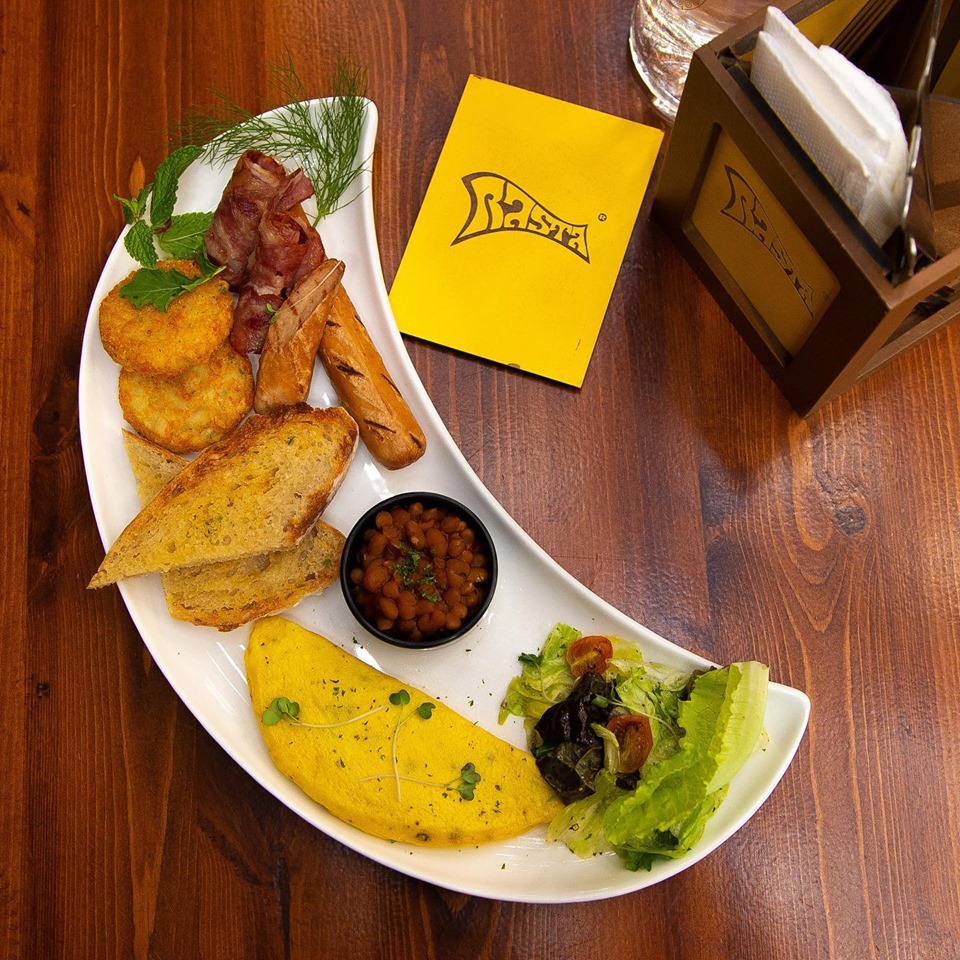 Deets
Address: Mayaganahalli, Ramanagaram, Bangalore-Mysore Road, Mysore Road, Bangalore
Timings: 9 am to 4 am
Cost: ₹1,000 for two
Contact: +91 9900072782
10. A Traditional Feast At Vidyarthi Bhavan
When it comes to the best breakfast places in Bangalore, we have kept the best for the last. Every Bangalorean would have heard of the iconic Vidyarthi Bhavan at least once in their lifetime. Instead of just hearing about it, visit this amazing breakfast place to get rid of your hangover blues. This quaint over 75-year-old restaurant serves some of the most delicious Masala Dosas in town. The thick dosa served with their signature chutney is the reason why many celebrities and tourists flock here. The waiters have a unique way of serving the dosas where they balance more than 5 plates of dosas in their hands, this itself is a sight to behold! Apart from dosa, you can try the Medu Vada, Filter Coffee and Chow Chow Bhath here.
Deets
Address: 32, Gandhi Bazaar, Near Gandhi Bazaar Circle, Basavanagudi, Bangalore
Timings: 6:30 am to 11:30 am and 2 pm to 8 pm
Cost: ₹150 for two
Contact: 080 26677588
We have given you our list of the best breakfast places in Bangalore you can visit to cure your hangover. So the next time you go partying, plan your breakfast outing as well!