A gift from Mumbai to the world, the Pav Bhaji is a preferred snack option among the white-collar workers as well as the blue-collar workers. What originally was invented as a snack for mill workers back in the 1850s is one of the most popular dishes all over the country now. I mean, how can you say no to warm buttery pav served with spicy bhaji that also has a generous dollop of butter on it? I know I can never say to no it and even the aroma of it makes me salivate. And although pav bhaji is a hot favourite in Mumbai, the other cities in the country do a pretty job at re-creating it. So, we rounded up the best pav bhaji places in Pune that will keep the Punekars satiated.
1. MH 12 Pav Bhaji, Multiple Outlets
With multiple outlets in the city, MH 12 whips up a delightful plate of pav bhaji. Their pavs have enough maska to make your fingers all greasy and a bhaji that is just spicy enough to accompany it. We'd say, go all out here for this plate of pav bhaji will make you quite happy.
Address: Multiple outlets
Cost for 2: ₹400 (exclusive of taxes)
2. Relax Pure Veg, Parvati
Do you see this masterpiece right here in front of you? That's the kind of pav bhaji that you can expect at Parvati. Their potatoes are mashed to a consistency where you can barely identify it and that's just how pav bhaji should be.
Address: Relax Pure Veg, Sahakar Nagar, Parvati, Pune
Cost for 2: ₹400 (exclusive of taxes)
3. Geeta Fast Food, Nigdi
Lip-smacking bhaji accompanied by pav that is piping hot. It's practically comfort food after a long hard day at work. And all you need to do is to head over to Geeta Fast Food and indulge in its goodness along with a cold drink!
Address: Geeta Fast Food, Survey 397/24, Near Lokmanya Hospital, Nigdi, Pune
Cost for 2: ₹300 (exclusive of taxes)
4. Girija, Multiple Outlets
We love places that have multiple outlets in the city. Because then it means that we can grab ourselves a plate of pav bhaji wherever we are. Girija's pav bhaji comes with a side of tangy pickle and some fresh salad to neutralise the heavy pav bhaji.
Address: Multiple outlets
Cost for 2: ₹450 (exclusive of taxes)
5. Supreme Corner, JM Road
Supreme Corner is famous for its pav bhaji. Ask any foodie worth his/her salt and they will direct you here to get your dose of pav bhaji. It is the best place to go to grab yourself some feel-good food. Add just a little bit of lime juice to it and you are good to go.
Address: Supreme  Corner, 1206, Opposite Sambhaji Udyan, JM Road, Pune
Price: ₹300 (exclusive of taxes)
6. Jayashree Garden, Tilak Road
Big bowls of bhaji. That's what Jayashree Garden is all about. The bhaji here is so good that we could just eat it by itself straight out of the bowl. And that's saying something about how good it really is.
Address: Jayashree Garden, Opposite Pandit Auto, Near Hirabaug Chowk, Tilak Road, Pune
Cost for 2: ₹700 (exclusive of taxes)
7. Tea Trails, Aundh
Now that we have talked about Pav Bhaji in detail, how about a different variant of it. Maybe a Pav Bhaji fondue? Blended with a good amount of cheese, this fondue hits all the right spots.
Address: Multiple outlets
Price: ₹350 (exclusive of taxes)
8. Falahaar, Multiple Outlets
Originally, a fruit juice stall, Falahaar has come a long way and now they serve some delectable snacks, one of them being a stellar pav bhaji. We are just going to leave this picture right here to show you just how good it is.
Address: Multiple outlets
Cost for 2: ₹250 (exclusive of taxes)
9. Shiv Sagar, Multiple Outlets
You all probably know about the pav bhaji at Shiv Sagar in Mumbai. Well, the Pune one does the Mumbai pav bhaji justice and is equally good. Maybe even better. But we'll leave you to decide that.
Address: Multiple outlets
Price: ₹125 (exclusive of taxes)
10. Masala Bar, Baner
What makes the pav bhaji at Masala Bar unique is the fact that it is black in colour. Made using activated charcoal, this whacky looking dish packs quite a lot of power. Even the pav is made using charcoal and the inky black colour makes it look even more peculiar.
Address: MasalaBar, Unit 13 & 14, Cummins India Campus, Balewadi High Street, Baner, Pune
Price: ₹350 (exclusive of taxes)
11. Nine Square, Yerawad
And we love the craziest version of pav bhaji for the last. The Pav Bhaji Spring Roll at Nine Square is made using flaky dough and is packed to the brim with bhaji and is served with a fondue.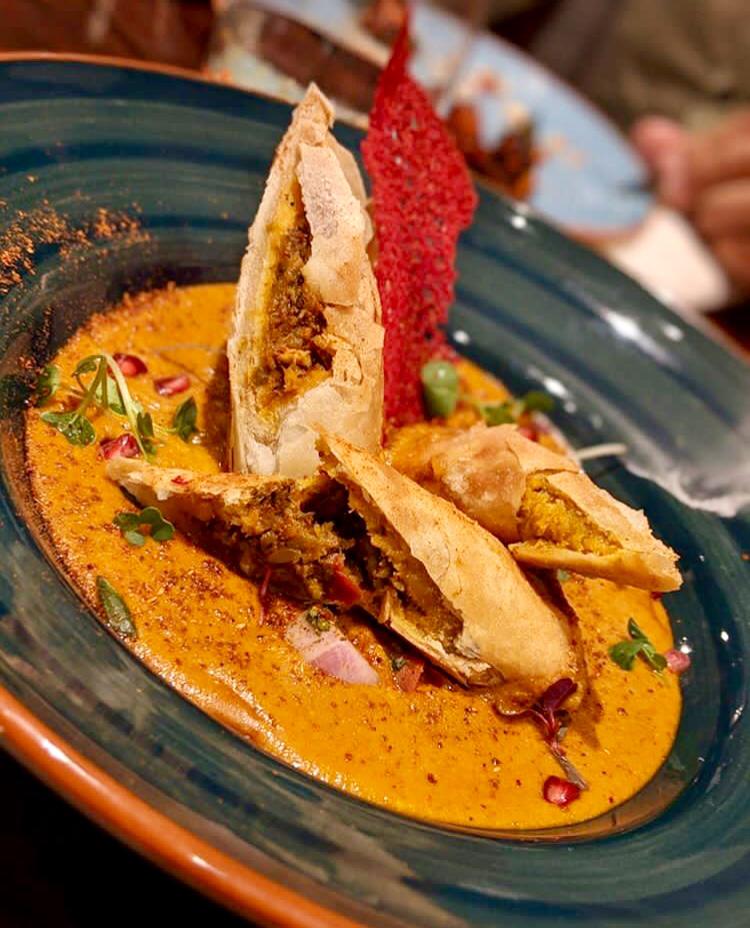 Address: Nine Square, Unit 5, Pubtown, Creaticity, Yerawada, Pune
Cost for 2: ₹1000 (exclusive of taxes)