It doesn't matter if a place is a Metropolitian city, tier 2 city, small town, or a village, street foods are a must everywhere. The street foods bring out the culture and stories of the place and the people. While talking about Chennai, the state is full of incredible foods. Chennai doesn't mean only Idli, Dosa, and Vada. It boasts a long list of irresistible street foods that you need to try. Read on to know the 5 best street foods in Chennai for your next trip.
1. Idiyappam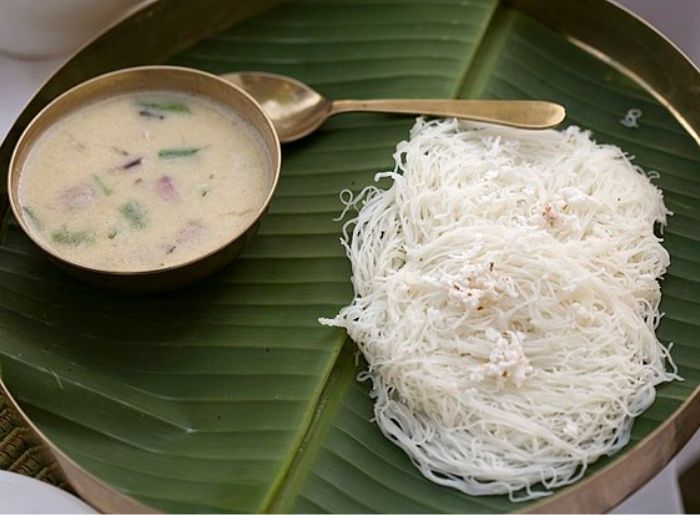 Idiyappam can be said as special South Indian noodles. Interestingly, this street food looks exactly like noodles but the taste is nowhere similar. Made from rice flour, idiyappam is a breakfast food that is served with coconut milk and curry. Some of the top places to try out this street food in Chennai are Kaaraikudi and Kozhiidi.
2. Atho Man
Atho Man might be a specialty of South India, but this street food is actually a Burmese dish. It is actually a Burmese salad made of orange coloured noodles and served with raw vegetables. You can find streets stalls selling Atho man in every nook and cranny of Chennai. It has become such a popular food in the state that people do not even remember its origin.
Also read: These Chennai Restaurants Are Adding Cheer To Lockdown Birthdays With Specially Curated Meals 
View this post on Instagram
3. Kothu Parotta
Even a no-brainer knows the extreme popularity of parotta in Chennai. Kothu Parotta is one of the favourites of the locals and the tourists visiting Chennai. Kothu Parotta is actually made of shredded parotta mixed with egg, meat, and vegetables. Refined flour is used in making parotta and is quite similar to the Laccha Parathas of North India. Madurai Kumar Mess and Thambi Vilas are some of the renowned places to have Kothu parotta.
4. Sundal
Sundal is the most famous snack in Chennai. It is the perfect companion while you are exploring the beaches and lanes of the city. It is basic and simple street food, made using boiled chickpeas, onions, raw mango, coconut, and also a few spices. OSB hot and chat and Mathsya are very popular in Chennai for serving the mouth-watering Sundal.
Also read: 6 Iconic Food Joints In Chennai That Guarantee A Complete Culinary Experience
5. Bhajji
It is very hard to find someone who doesn't like Bhajji. A favourite of the crowd, Bhajji is a modified South Indian form of 'pakora'. Though both Bhajji and Pakora look similar, the taste is not the same. A plate of this magic is served with tangy chutney and you can find a Bhajji stall easily in the state. It is definitely a perfect option for a rainy day.
Chennai is one of those Indian cities that foodies will fall in love with for a varied range of food options. You definitely need to try out these best street foods in Chennai, the next time you are there.
You also have something else to add to your itinerary or your next trip to Chennai. Carnival restaurants in Chennai serve 25 non-veg dishes in a single Banana leaf meal. Who wants to miss that?