Planning a trip to Dubai? While we're sure you're doing your research about the list of places to visit in the city, its important you also the best time to visit Dubai. Dubai's summer is known to all but there are a lot of other factors you need to consider if you wish to holiday like a true local!
From weather to major events in the city and flight tickets, here are some factors you need to be warned of before you pack your bags!
1. Weather
Winter in Dubai last from November to March and is considered the best time to visit Dubai. The temperature averages 25°C, letting you enjoy your holiday even better. But, there's a downside to this too! Firstly, this is the peak tourist season in the Middle East, so be prepared for massive crowds. In addition, the flight rates might also be sky-rocketing, so you might need to plan your trip well in advance. After all, you don't want to be spending a bomb just on the tickets, right?
On the flip side, the summer months in Dubai are extremely hot, with temperature hitting a high of 45-50 degrees. Although flight rates might be relatively cheaper, tourists might not be able to spend time outdoors due to the soaring temperature. Also, some of the attractions like the zoo close down for summer, due to the harsh weather. So, its best to avoid holidaying in Dubai between April to October.
2. Flight Tickets
November to March is considered peak season to visit Dubai and flight tickets can be alarmingly expensive. Tourists can expect a drastic 50% increase in the ticket rices during this period. That said, its also the best time to visit the city, as the weather is at its best and of course, shopaholics can get to experience the famous Shopping Festival. However, we highly recommend you book your tickets at least three months in advance.
On the other hand, April to October is considered off peak season and you could save up to 40% on tickets.
3. Annual Events In Dubai
What's a holiday without experiencing Dubai's culture! The city has a lot in store, offering a little something for every kind of tourist. So, before you plan you're trip, take a look at this yearly event list in the country!
1. Dubai Shopping Festival
Shopping is the first thing that would come to anyone's mind when you think Dubai. And the Dubai Shopping fest is every shopaholic's paradise and is the best time to visit Dubai! The biggest shopping fest of the year kicks off in December and lasts for a good five weeks. During this period, the entire city is embellished with fireworks, massive sales and a whole lot of live performances.
However, the biggest attraction during the season is the Global Village. Pay up a small entry fee and you can experience what it is to shop across 70 different countries under one roof. From clothes to furniture, artifacts and other knick-knacks, this grand bazaar has a little something for every kind of shopper. Mall-goers can also enjoy massive discounts and deals across all malls in the city.
2. Dubai International Jazz Festival 
Music lovers, we highly recommend you don't miss this! One of the biggest musical events in the region, the Dubai International Jazz Festival happens in February every year and its the best time to visit Dubai if you're a music buff. The three-day event witnesses a stellar lineup of international artists, and music-lovers from across the globe flock in to experience the grand festival.
3. Taste Of Dubai
Foodies, listen up! The festival of taste is a three-day event that happens between March and April. The three-day food extravaganza has an impressive line up of fine-dining restaurants spearheaded by world class celebrity chefs. There will also be an incredible line-up of international music.
Food lovers will also get to watch live cooking demonstrations, and cook with top chefs, while learning some culinary tips. And if you're not up for cooking, sit back and enjoy the live entertainment or go shopping around the many tuck shops.
4. Eid Al Fitr
Eid is a time when the city wears a shimmer that's unmissable- undoubtedly the best time to visit Dubai if you want to immerse in culture. The festival of breaking the fast, marks the end of Ramadan and the beginning of Shawwal "the tenth month in the lunar Islamic calendar". During this period, the city is decked at its best with shopping offers, fire works, and other Eid entertainment. However, as the sun sets, banquets in the city host Iftar tents for people to enjoy a royal meal. Eid Al Fitr falls during the end of May, so be warned of the weather!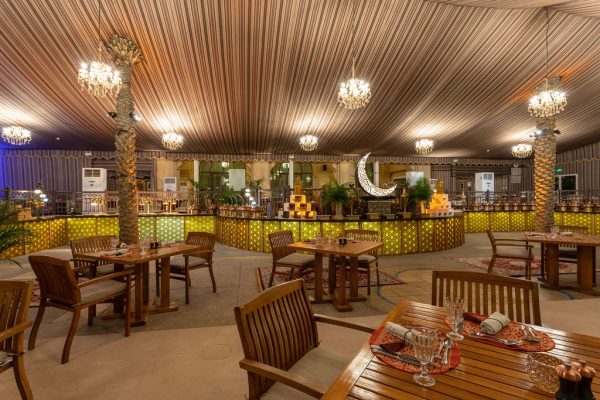 5. Camel Race
Get a taste of the UAE culture at the camel race- a centuries-old tradition! The Al Marmoom camel race happens in the month of April every year and the ships of the desert gear up to compete against each other. Skilled trainers from around the globe bring in trained camels with high-endurance, which compete for valuable prizes and titles in the championship. The event is completely free to attend, but we suggest you call a day in advance to confirm your spot. Check www.dubaicrc.ae for next year's schedule update.