Controversies over food aren't a new thing. And they don't seem to end either till the existence of human beings and the universe. Taking advantage of this, a person started a recent Twitter thread, posting, "Controversial food opinion go." And the responses are hilarious and surprising. Not all dishes suit the taste buds of everybody and some people hate biryanis, pizza and Oreos too. The controversial post has garnered around 1.7K Quote Tweets, 22 Retweets and 681 likes. A user wrote that biryani isn't that good and another even commented that burgers should be banned. Read the other funny comments here.
CONTROVERSIAL FOOD OPINION GO

— aastha ✧ semi ia (@mannhuus) January 14, 2021
Also Read: Bourbon Chawanprash Is Now A Food Trend Too! 
People Say That Biryanis, Oreos And Shahi Tukdas Are Overrated!
The 'Controversial Food Opinion' debate that started on Twitter recently garnered some funny and unexpected comments from foodies worldwide. Here are a few of them:
"Biryani really isn't that good and people need to chill about that"…
"Oreos are overrated"…
"Chai is Shit"…
"Burgers are so overrated and soggy that they should be banned"…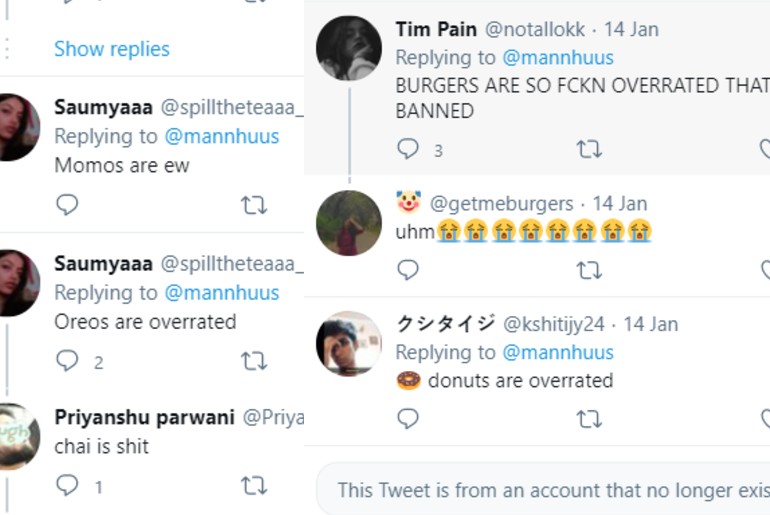 "Momos are ew"…
"Rajma Chawal Tastes like Guttar Ka Pani"…
"Poha was invented to choke death-row convicts mercifully"…
"I feel Shahi Tukda is overrated"…
"What's the whole point of Kaju in Pulao?"…
"Lasagna is the worst food after misal vada pav"…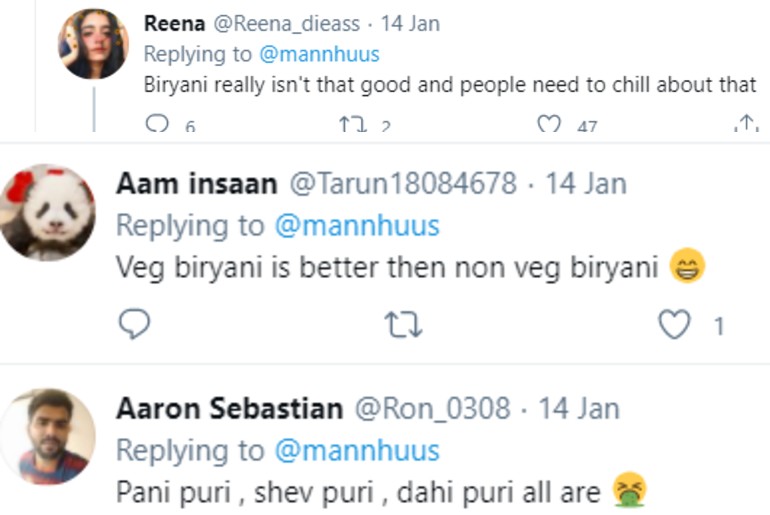 Dhania Called The 'Best Herb' And Parle G 'The King Of Biscuits'.
While most people expressed their dislikes over various popular dishes, some people expressed their likings too for certain food combinations. A user wrote, "Dhaniya aka coriander is THE BEST HERB EVER. BEST. not even oregano or whatever can come even close to how iconic dhaniya is." Another user wrote, "I like eating Bournvita raw". Someone also commented, "I like tomato ketchup with literally every edible". A user wrote, "Parle g biscuits are the king of all biscuits. Also, Starbucks might be cool and shiz, but ghar ki filter coffee is best."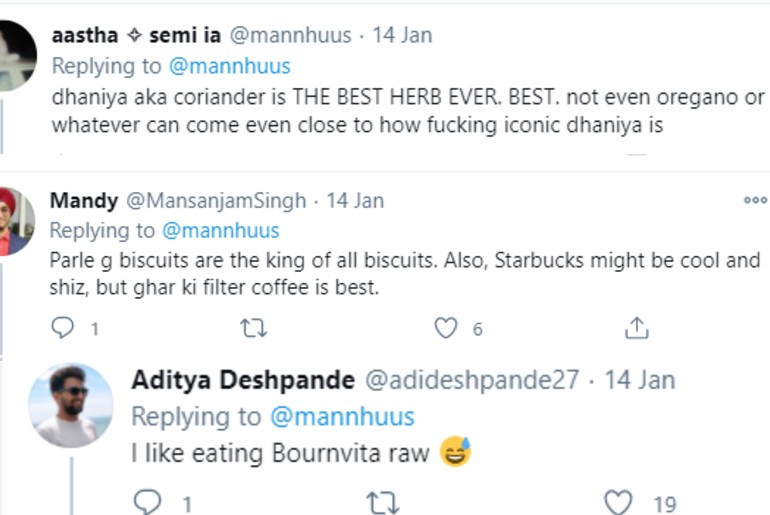 What according to you is the best and worst food combination? Let us know in the comments section below. Meanwhile, team Curly Tales had taken up a weird food challenge, trying out some weirdest food combinations: