We've already told you about some bizarre food trends that did rounds on the internet of late. If combinations like Maggi Pani Puri, Ferrero Rocher Manchurian and Ice Cream Paratha have already irked you enough, here's something that can straightaway add fuel to the fire. That's Bourbon dipped in Chawanprash. Someone just took our favourite bourbon biscuit and coated it with gooey Chawanprash. Did you just utter whaaaaat? Read on!
Also Read: From Monkey Heist At ATM To Ganja Sabzi Feast, 10 Most Bizarre Things India Witnessed In 2020
Chocolatey Bourbon Biscuit Dipped In Chawanprash
A few months ago, Kaju Katli Chicken Soup had prompted frowns on the foreheads of many. Now, we came across another weird food trend, Bourbon Biscuit with Chawanprash, that might take you aback and instantly remind you of the song 'Oh No' by Capone ( since its trending). A guy posted the picture on Facebook with the caption, "Cursed image of a foodporn." A netizen also commented, "What blasphemy is this!" The post has garnered a mix of haha, sad and angry reactions. But on the contrary, some people hinted that the combination tastes good. Someone actually wrote, "It's a date." Have you ever tried it for yourself?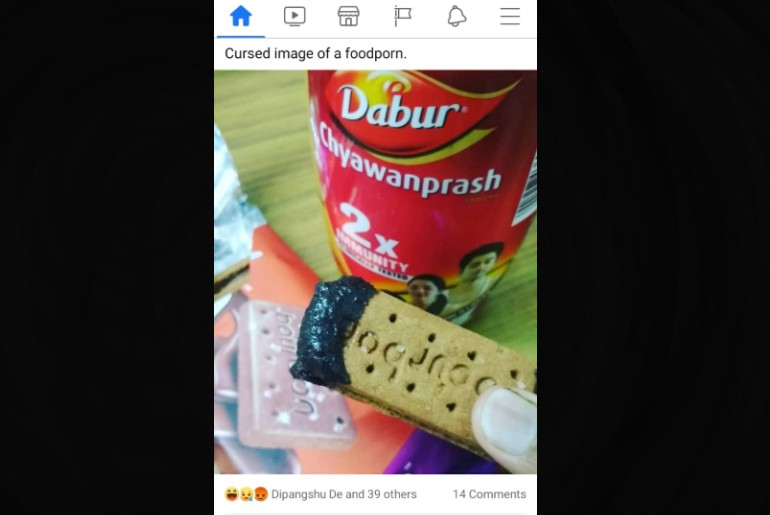 Also Read: Top 5 Weirdest And Grossest Egg Dishes In The World To Try; If You Dare
Some Other Weird Food Combinations
The weird food combination trend has not spared most of our favourite foods, including beer, Maggi and jalebis. A Delhi Cafe is selling Beer Maggi and it has freaked out some foodies already. Also, chilli jalebis dunked in soya sauce was a food trend no one asked for. A family had even eaten ganja sabzi, though by accident. Experiments with food can be maddening at times. What's the weirdest food combination you've tasted so far? Let us know in the comments section below. Meanwhile, team Curly Tales had also taken up a Weird Food Combinations Challenge. See the reactions here: