Inventive architecture believes in breaking down the physical constraints that limit imagination and bringing in spaces that are transformational. This concept has been blooming in other countries for years and now India has opened up its doors for the same. Here are some Bizzare homes in India with unusual structures.
1. Woodhouse By Matra Architects
Nestled in the beautiful village of Satkhol this holiday home gives you scenic views of the majestic Himalayas. The timber-clad roof home has a sharp-pointed peak that doubles up as a giant skylight. The walls in the house have huge square windows that give you beautiful views of the mountains, sky and the place altogether.
View this post on Instagram
2. Moving Landscape By Matharoo Associates
Situated in Ahmedabad, is named after its dynamic aspect. The marble panel slides and spins with just a push of a button. It simply turns into a glass panel which helps the occupant to change the ventilation, amount of sunlight entering and privacy of the place.
3. Lattice House By Sameep Padora
Architect Sameep Padora designed the residence to evoke the mismatched, informal settlements surrounding it, and particularly how these traditional houses grow upwards over time as their occupants accumulate children. Stacks of misaligned volumes encased with cedar slats make up the facade of this house.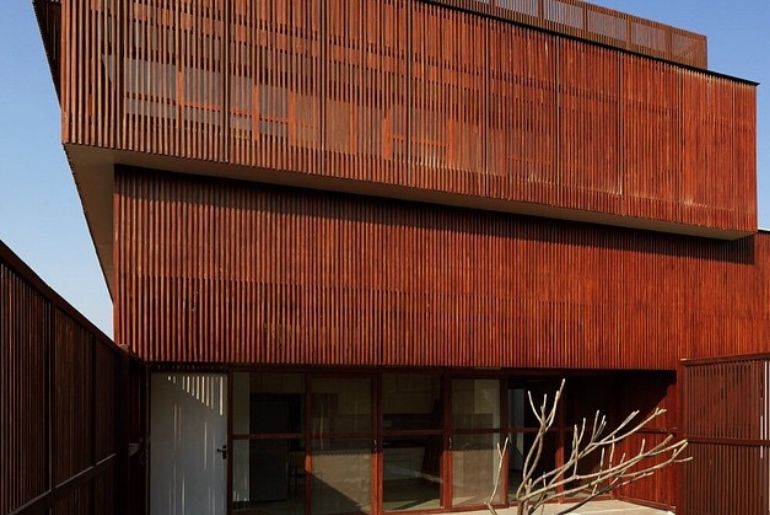 4. The Leaf House By SJK Architects
The rooms in this Alibag residence are shaded by leafy canopies and separated into four rooms, which open to a spacious outdoor living area. All four pods are arranged around a central courtyard and encased by glass walls that can be removed to transform the rooms into outdoor spaces.
View this post on Instagram
5. Brick Curtain House By Design Work Group
Situated in Surat and fronted by a massive wall of bricks, this house is a family home. Rippling bricks accentuate the monolithic structure of the building, but also self-shade. This reduces heat gain in the living room behind them, which was designed to be double-height.
View this post on Instagram
Also Read: 5 Staycation Villas Near Mumbai That Will Give You Europe Feels