This Diwali, dig your forks into the most decadent and flavourful Indian dishes prepared by award-winning chefs at UAE's homegrown and Michelin Guide-featured restaurant Bombay Bungalow. The restaurant can offer you a stellar experience this festive season with its signature dishes like Khubani Mahi Tikka, Jhinga Kali Mirch and Subz Gooler Kebab. And when this gourmet affair comes with alluring sea views, nothing can be better.  
Located in JBR Dubai, the restaurant overlooks the Bluewaters Island, Ain Dubai and the vast sea. 
Bombay Bungalow Celebrates Rich Indian Culture With Its Authentic Cuisine And Traditional Decor
Bombay Bungalow commemorates the rich culture of India in the most elevated and traditional way with its eclectic menu and decor. It delivers authentic flavours that will make you feel at home. They are profoundly delectable and comforting at the same time. The restaurant juxtaposes the taste of ancient Indian kitchens with present-day aura. From scrumptious Indian street food options like pav bhaji to regal dishes like biryani, Bombay Bungalow serves everything. Along with these, you can tuck into some most coveted kebabs, tikkas and curries here. 
Relish Tawa Murgh, Paneer Do Pyaza, Khubani Mahi Tikka And More
The festive menu comprises dishes like Khubani Mahi Tikka, Jhinga Kali Mirch, Ambi Paneer Tikka, and Subz Gooler Kebab, among other tempting dishes. Among mains, the restaurant offers Aloo Tamatar Gosht, Tawa Murgh, Paneer Do Pyaza, Hing Dhaniye K Aloo and Breadbasket. The Breadbasket at Bombay Bungalow comes at AED 12 and comprises any two bread options, among Naan, Butter Naan, Garlic Naan, Roti, Butter Roti and Herb Butter Roti. And the best part is that you can wrap up the meal with a slow-roasted Mysore Pak infused with chocolates and nuts, or a luscious Jalebi-Pista Rabri.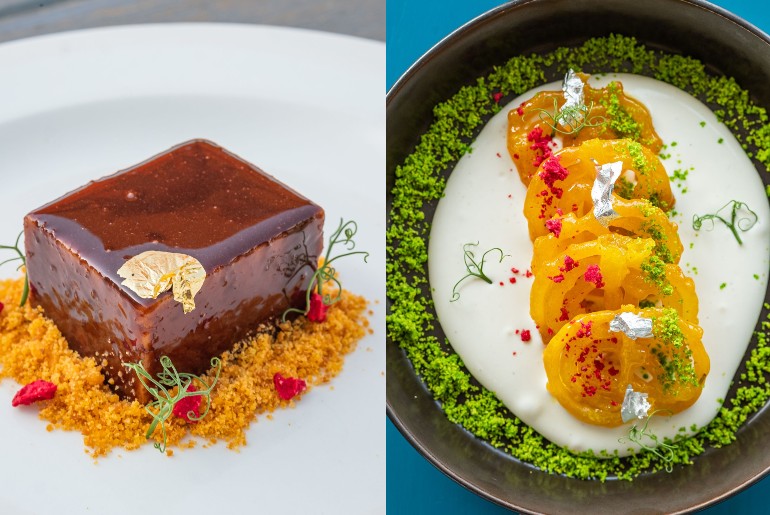 The Khubani Mahi Tikka at Bombay Bungalow comes at AED 58 and is a must-try. So is the Jhinga Kali Mirch, priced at AED 70. The Ambi Paneer Tikka, Subz Gooler Kebab, Aloo Tamatar Gosht, Tawa Murgh, Paneer Do Pyaza and Hing Dhaniye K Aloo are priced at AED 40, AED 30, AED 68, AED 50, AED 52 and AED 38, respectively. The desserts, Mysore Pak and Jalebi-Pista Rabri come at AED 38 and AED 30. 
The restaurant boasts everything that is needed for creating memories with your loved ones this festive season. So, gear up for an unforgettable dining experience with your family and friends! And, yeah do that before October 31, 2022 as the Diwali festive menu is available till then only!
Where: The Beach, Jumeirah Beach Residence (JBR), Dubai
When: 8 AM to 12 Midnight
Cost: AED 250 for two ( approx.)