If your idea of camping involves animals, a dense jungle and a lot of calm, this one's definitely for you. Perched in northern Thailand, Anantara Golden Triangle immerses you in once-in-a-lifetime experiences. The stunning resort has become a huge hit, not just  for its enviable location, but also for its transparent luxury bubble suites, called Jungle Bubbles. Sleep inside a fully furnished bubble tent amidst Thailand's majestic elephants. The bubble tents offer uninterrupted views of the gentle giants, and the starry sky. The property is home to 60 elephants, rescued from Thailand's city streets.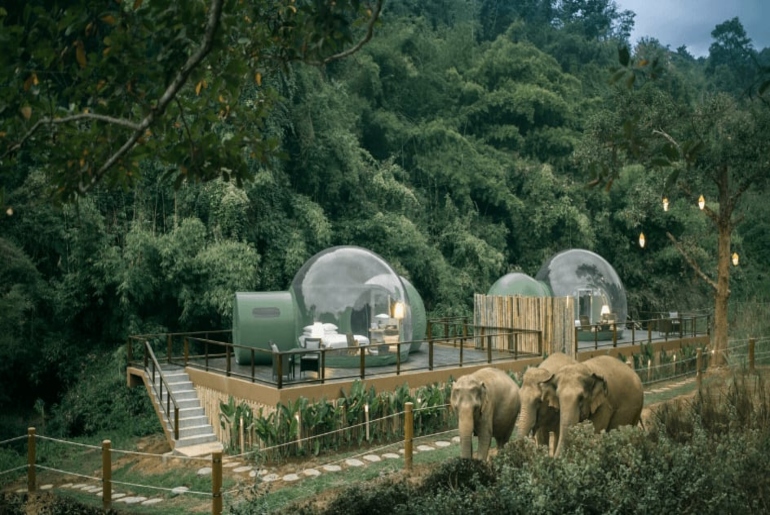 Inside Jungle Bubbles
The tents are designed by Eye In The Sky and are made of high-tech polyester fabric. The fully air-conditioned tents feature a spacious living room and a bedroom fitted with a king bed, and an outdoor seating area. Oh, and you don't have to worry about making your way through the dense jungle to access the bathroom. All tents are equipped with a nontransparent en-suite bathroom.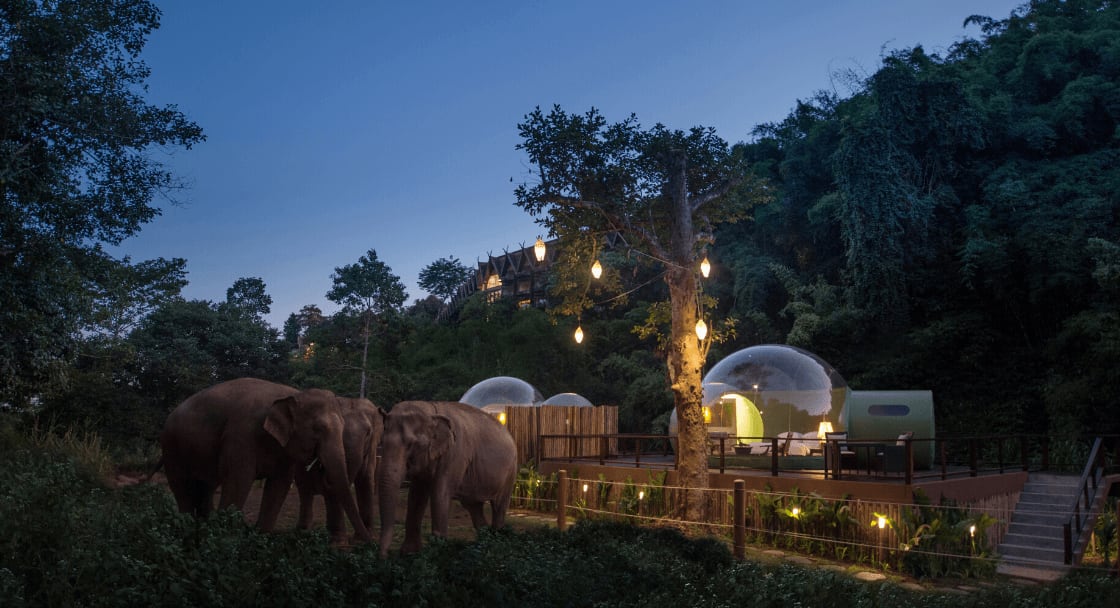 In fact, you can stay put at your tent and enjoy the day on Nature's lap with free access to a fully stocked mini bar. As the day comes to close, watch the sun go down while hogging on a lip-smacking dinner basket. Apart from soaking in all the calm, guests can also sign up for a walk with a vet or a biologist to learn more about the gentle giants.
Price: From THB 17,700 per night for two people
What Else?
An eco-resort by heart and build, the resort is located on the Thai island of Kood and is surrounded by the Koh Kood rainforest. While it would be cool enough to simply dine in a tree-pod, there's an entire eatery shrouded within the green foliage that's basically a full-blown restaurant.
The actual tree-pod is made up for steel and wood rattan and can accommodate 4 people. The experience doesn't end here. You're made to sit in a basket-shaped pod which is then pulled up by a lever. With every point of elevation, you can access stunning views of the bolder-strewn shoreline, the lush greens of Koh Kood forest and if you're lucky, a clear blue sky. (Sighs happily)
Also Read: Thailand Extends Free Visa On Arrival To Oct 31st
The entire setup exudes a very canopy vibe. However, the surprise element comes in with the theatrics of the waiters. They bring in your food and drinks via zipline (we're not shitting you). Can you imagine having a moment with your partner amidst this gorgeous view and then, whoosh, in comes a waiter with a cane basket filled up with fresh seafood? Aye, that's precisely what we were going for. *wink*