Experts around the world have declared that we'll have to learn to live with the coronavirus for a long time. Does that mean we'll never travel again? Hell no, we will. We'll just have to rethink our ways of travelling.
Currently, one of the most popular trends emerging right now in the United States and other parts of the world is camping. More specifically, a camping road trip. Think about it! A camping road trip not only lets you travel and hit the road after a long long time but also provides you with a way to isolate yourself and helps you release the stress of having to stay cooped up at home for days. Thus making for a perfect post-lockdown travel option!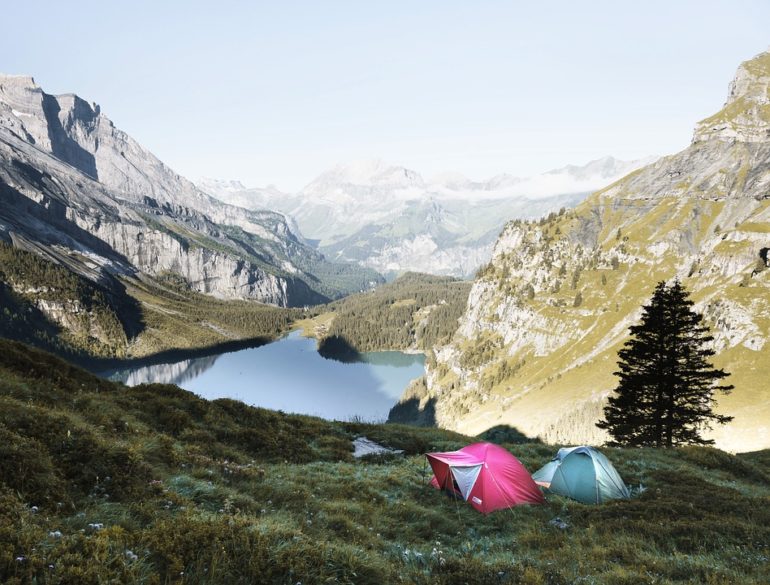 4 Reasons Why Camping Is The Best Way To Travel Post Lockdown
A camping road is a smart move for several reasons! We give you 4 of them as to why camping is your safest travel bet post lockdown:
1. Camping Is The Perfect Form Of Social Distancing
Staying miles and miles away from each other is in everyone's best interest right now. So doesn't laying under the stars enveloped by a scenic landscape away from the crowds make for a perfect form of social distancing? Hell yeah!
Also, yes, there will be other campers in the vicinity too. But of course, you get to choose who you interact with. And in their best interests, they will probably stay away from you too.
2. Camping Is The Safest Way To Travel Right Now
It is obvious that most of us will avoid travelling by air now. Staying in hotels/cottages seems like a risky choice too. A camping road trip not only lets you avoid both but also ticks green on all safety measures. Carrying your own tenting material, and sleeping bags, is sure to make you feel secure. And sleeping in the lap of nature will guarantee the most peaceful sleep you've had since months.
Also Read: Luxury Camps at Jamrung Hillside Camping, Karjat
3. Camping Is Good For Your Health And Mental Health
Having a strong immune system is very important right now. And nature is our best bet. It has all the essential elements to boost our happiness and immune systems, with the fresh air, open spaces and even poor cell reception. That's why there's no better time to camp. Staying indoors has made you sick and looking at screens all day has tired your eyes. Camping will let you exercise, run, breathe in fresh air and release all the stress that you've taking since the lockdown.
4. Camping Is Affordable Than Most Vacations
You won't be spending money on ridiculous air fares nor will you spend on being cooped up in a fancy hotel again. Nature is free, so you's probably just end up paying for the camping site and car rental/gas charges. You can even buy your own food supplies and cook, so you'll end up saving all the more.
Also Read: Go On A Camping Adventure To Vasind With Big Red Tent, Starts At ₹1785
Precautions To Take While Camping
That said, since we're still unsure about everything, it is important to travel responsibly and take responsibility of our actions.
1. While stopping at a rest stop or convenience store for supplies or a restroom break, you will have to be super careful. So first, avoid making too many stops during your adventure. Always keep a hand sanitizer with you. Limit physical contact with others and keep your hands to yourself. Also, don't forget to wipe your steering wheel and door handles each time you touch them after a pit stop.
2. Many campgrounds are making additional efforts to keep restrooms clean and disinfected but don't assume that these steps will guarantee safety from the virus. Hence, at the campsite, if you're using public bathrooms, or any public equipment, ensure that you're taking all the safety precautions needed.
3. Respect the campsites and the surrounding. Since you're probably sharing room with wildlife or locals in isolated places where health facilities are inadequate, make sure you're taking all the required precautions. Also, do not litter.
4. Pack all the necessary food and gear in bulk, along your big bag of sanitizers, wipes, disposable gloves, and your masks as a precaution for yourself and others!
5. Take accountability and be responsible for anything that could happen while you're on your adventure! And viola, you're all set to have the best camping experience of your life!
Also Read: I Went Lake Side Camping & Sky-Gazing In Bhandardara For Just Rs 1600 Including Meals
Also Read: Go Glamping: Experience Luxury Camping Like Never Before