If pancakes are your choice of breakfast, you must be someone who would be on a constant lookout for pancakes spots in your city. Although, the waffle game is over the top, but some dessert parlors serve pancakes that are out of this world. Mumbai city must be a sweet tooth paradise with these 5 places that will blow your mind with lip-smacking pancakes
1. The Chocolate Heaven, Vile Parle
As the name suggests, the outlet serves heavenly pancakes that might be too much to handle for one person. Be sure to try out their Hot n Tropo Pancakes that might be dripping with oodles of chocolate syrup, grilled walnuts and bananas.
Location: Borivali, Vile Parle
Approx cost: ₹600 for two
2. The Nutcracker, Fort
Enjoying a plate of pancakes at The Nutcracker will seem like you're dining with nature. This cafe located in Fort, Mumbai might be a small space, but the college going crowd loves it. The pancakes are sinful, and super yummy.
Also read: Six Best Places To Have Desserts In Mumbai
Location: Fort, Mumbai
Approx cost: ₹1,200 for two
3. JamJar Diner, Versova
With mind boggling interiors, and tasteful goodness of this diner, the dish that stands out is surely the pancakes. Out of which the Nutella and Banana Pancakes take away the crown for sure. Apart from that, you can try the Red Velvet Pancakes.
Location: Versova
Approx cost: ₹1,500 for two
4. Cafe Moshe's, Multiple Outlets
You've hit the pancakes goldmine with Cafe Moshe's. Famous for its Cinnamon and Banana Pancakes, this outlet is like the cherry on top of the cake for awesome desserts.
Also read: Top 10 Places For Waffle Lovers In New Delhi
Location: Palladium – Lower Parel, Kemps Corner, Juhu, Hill Road, Goregaon East, Inorbit Mall – Vashi, Infiniti Mall – Malad.
Approx cost: ₹1,250 for two
5. Woodside Inn, Multiple Outlets
Voted one of the best for its desserts like pancakes, Woodside Inn will shock you with its lovely selection of Gourmet pancakes. Like the never so yummy Blueberry pancakes, or the Nutella Pancakes.
Location: Colaba, Lower Parel and Oshiwara
Approx cost: ₹1,800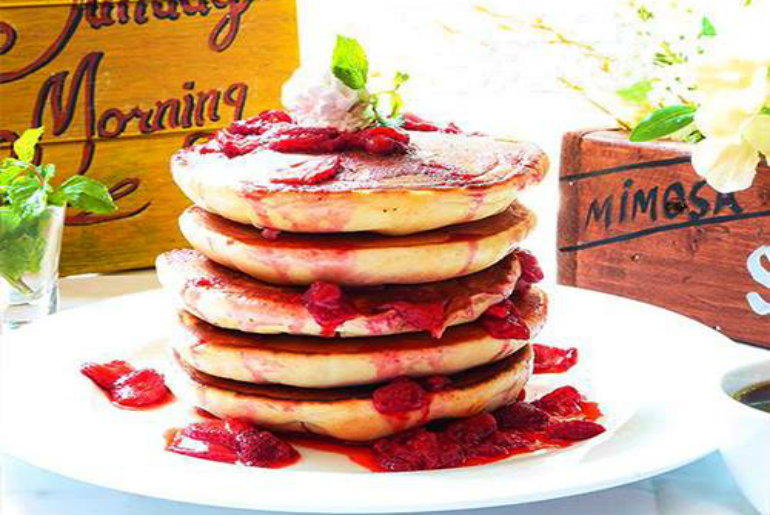 If you're into desserts, you gotta have a sweet spot for pancakes. Try out the best pancakes at any of these outlets and let us know about your experience!
LIKE Curly Tales on Facebook | Instagram | Twitter
You can subscribe to our newsletters