If we talk about TV actresses making prominent recognition globally, the first name that always comes to our mind is Hina Khan. She is one of the most loved TV actresses and we always love watching her on our screens. Well, she took our Chief Editor Kamiya Jani into the guliya and streets of Mumbai's Goregaon in the latest episode of Tere Gully Mein. To all the fans of Hina Khan, you need to watch this interview as she shared many super fun stories and memorable memories of her life.
Hina Khan Gorged Into Mumbai's Cheesiest 'The Hulk Sandwich'
Who doesn't love cheese, right? Our guest for today is a huge cheese lover! While exploring Goregaon, Kamiya and Hina explored an eatery 'Om Snacks' known for their iconic 'The Hulk Sandwich'. An interesting fact about this massive sandwich is that it is Mumbai's cheesiest sandwich loaded with lots of cheese and vegetables in 5 layers of bread. You're starving too right? Wait for some time more and there will be lots of exciting conversation and more mouth-watering food!
Also read: Hina Khan Shares Her First Cooking Experience At The Age Of 6 & It Involves Burnt Plastic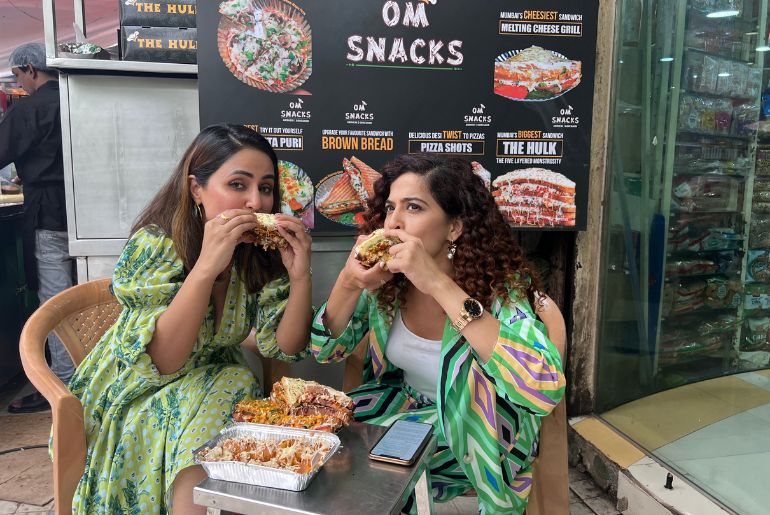 The Spread Was Very CHEESY!
Kamiya and Hina devoured some lip-smacking dishes. An almost 1-kg cheese sandwich, cheese pani puri, and pizza shots were in the spread. Phewww! That's truly a lot but our guest loves cheese and Curly Tales loves to feed the guests to the fullest. The fun part was Hina Khan playing 'Never Have I' to earn the pizza shots. Interested to watch the game round? Just wait for some time and keep a look at the youtube channel for the video. From losing her temper to stealing something, from cooking and burning things to bribing someone, the actress shared tons of memorable experiences.
Also read: When Hina Khan Tried Bribing A Police Officer But It Ended Up Being A Disaster
Hina's heart is in Goregaon and she is living here since her days in Yeh Rishta Kya Kehlata Hai. So, who better than her to accompany while exploring Goregaon? The interview has more cheese and more eateries and restaurants to explore here.