Cliff diving or jumping is one of the extreme posts. People who have an adrenaline rush and love adventurous sports, call it one of the extreme ways to get into the water. Cliff diving does not require only courage, it requires skills too. So if you are one of those "skilled" adventurous people, here is the list of 5 Cliff diving destinations in India.
1. St. Mary's Island, Karnataka
St. Mary's Island is a set of four small islands in the Arabian Sea, off the coast of Malpe, Udupi. It is known for its unique geological formation of column basaltic lava. Cliff Jumping here is a popular attraction with the highest elevation of 10 ft from sea level.
View this post on Instagram
2. Rishikesh, Uttarakhand
At Rishikesh, you can take a good jump straight into the holy waters of river Ganga. Generally, Rishikesh is famous for river rafting but cliff jumping is another sport you should go for. The tour guide here while rafting might give you the opportunity to jump a cliff more than once at a cliff on the Brahmapuri stretch.
3. Bhedaghat, Madhya Pradesh
Bhedaghat is a town on the banks of the river Narmada. It is also the home to the majestic Dhuandhar waterfalls. Around an hour away from this waterfall is 100 feet high cliff at Marble rocks, on the Narmada river. You can trek up this high cliff and then dive into these 300 feet deep water.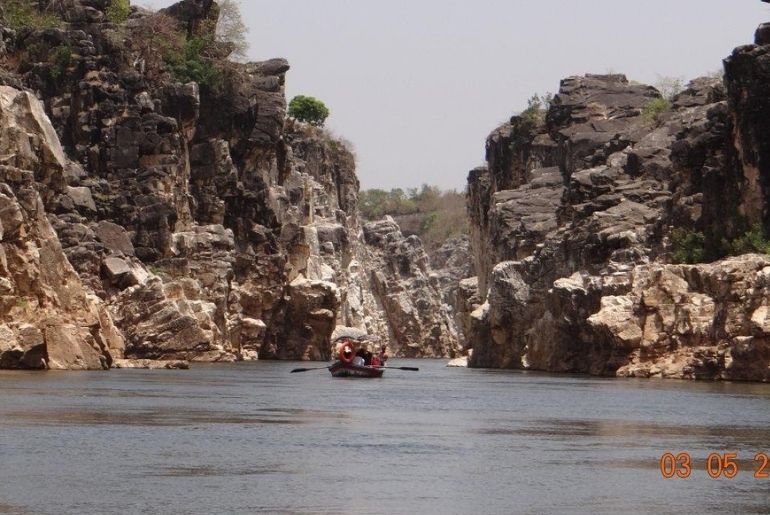 4. Goa
Goa is the most popular travel destination in India. It is known for its exotic beaches, crazy water sports and nightlife. But very few people know about its cliff diving spot. A tour organised by Goa Jungle Adventure includes cliff diving. You will be jumping off alongside a waterfall surrounded by greenery.
5. Pangal Fort, Telangana
It is one of the most famous hill forts in Pangal fort. The fort is guarded by seven gateways and has rock structures and formations. The most amazing thing about the fort is its terrain. This place is also known for cliff diving.