Aren't we all curious to know, what our favourite stars love to eat and which are their go-to eateries? Well, now Bollywood actress, Deepika Padukone has let the cat out of the bag. Her recent tweet to her husband, Bollywood star Ranveer Singh asking him to get Mysore Pak from Sri Krishna Sweets on his way back from Chennai, has garnered national attention. While some are curious to know more about this popular South Indian sweet, others have already added the iconic sweet shop to their go-to list. Don't worry, we will be satiating your curiosity and your tastebuds. So here's everything you need to know about Deepika Padukone's favourite sweet Mysore Pak and Sri Krishna Sweets.
The History of Mysore Pak
The story of the invention of Mysore Pak goes all the way back to a century ago at the Royal Palace of Mysore, during the reign of Krishna Raja Wadiyar IV. The royal cook, Kakasura Madappa created a new dish to satiate the desires of the king. This new sweet was prepared using gram flour and ghee with sugar syrup as one of the key ingredients. It had a porous, honey comb like texture, was brittle and powdery on the outside and soft on the inside. When the king inquired about the name of the new sweet, the cook casually called it Mysuru Paka or sugar sweet from Mysore.
Krishna Raja Wadiyar IV absolutely loved the sweet, so much so, that he officially designated it to a royal sweet. You can still get the original version of Mysore Pak prepared by the descendants of the royal cook, Kakasura Madappa at a place called Guru Sweet Mart in Mysore in Karnataka. This over 90-year-old shop was opened by Madappa's son, Basavanna and till date, a Dussehra celebration is incomplete in the city without gorging on this.
Also Read: 16 Best Sweet Shops In Bangalore For 2020
Mysore Pak At Sri Krishna Sweets
The original Mysore Pak invented in Mysore in Karnataka, is porous and hard on the outside. In the early 1970s,
N. K. Mahadeva Iyer from Coimbatore in Tamil Nadu decided to give this famous sweet his own spin. And after trying out 100 different versions he finally he made a soft, velvety, melt-in-the-mouth version of Mysore Pak and named it Mysurpa which is popularly referred to as 'delicious melting magic'.  The delicacy of this version of Mysore Pak made of simple ingredients- pure ghee, gram flour, sugar syrup and a tinge of turmeric for colour combined with incredible technique, N.K. Mahadeva Iyer and his invention gained immense popularity. The Mysurpa was given a brick and mortar home at Sri Krishna Sweets which was proudly opened in 1948 in Coimbatore. If you liked this story, check out The Journey Of Veeral Patel From ₹35 To ₹13 Crore, The Owner Of Gaurav Sweets
Deepika Padukone & Ranveer Singh Gifted Mysore Pak From Sri Krishna Sweets  For Their Wedding
The Coimbatore based sweet shop currently has more than 60 retail outlets across India. This includes Bangalore, Hyderabad and Chennai and have around 3 outlets in the UAE. Apart from sweets they also provide snacks. N.K. Mahadeva Iyer's sons- M. Murali and M. Krishnan manage this shop currently.  With two completely different versions of Mysore Pak, sweet lovers often find themselves debating over which one they prefer. But Deepika Padukone has declared her pick. Reports even suggest that the star couple sent out boxes of Mysore Pak from Sri Krishna Sweets with personalized notes to guests who attended their wedding. Well, now that you know about Deepika Padukone's love for Mysore Pak from Sri Krishna Sweets, you must add this to your list.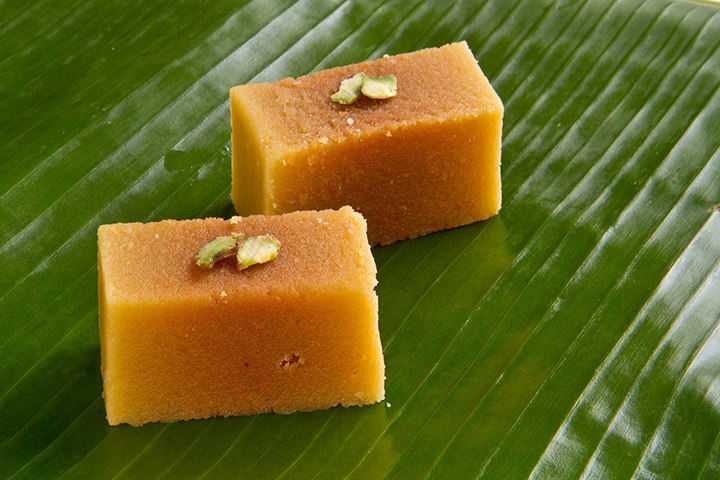 Deets
Address: 137, D.B.Road, RS Puram, Coimbatore ( Coimbatore Branch)
Timings:  9 am to 9 pm
Cost: ₹300 for two
Contact: +91 7373200401