The Delhi Metro Rail Corporation (DMRC) is all set to inaugurate driverless train operations on the 57 km Pink Line. This will be the second driverless facility of the Delhi Metro. The first was launched on Magenta Line in December 2020 by Prime Minister Narendra Modi. As notified by DMRC, the inauguration of the driverless operations on Pink Line will take place on November 25 at 11:30 AM via video conferencing by Union Minister for Housing and Urban Affairs, Hardeep Singh Puri and Delhi Transport Minister Kailash Gahlot.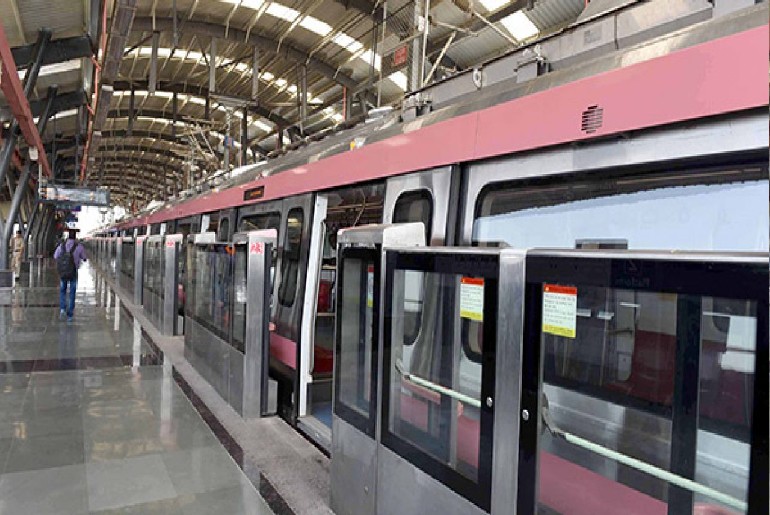 Driverless Pod Taxis To Operate From Greater Noida To Jewar International Airport
The Uttar Pradesh government is geared up to launch state-of-the-art driverless pod taxis to facilitate travel between Greater Noida and the Noida International Airport in Jewar. These pod taxis are popular in many western countries and they can fit four to six people at a time. As per reports,  the Yamuna Expressway and Eastern Peripheral Expressway will sign an agreement with Delhi Metro Rail Corporation (DMRC) soon to extend the connectivity to remote areas. The estimated cost of the project is around ₹50-60 crores per km. The total project cost will come around ₹1250-1500 crores. Read on to know more.
Also Read: Noida Traffic Police To Colour-Code Autos To Check Illegal Movement
DMRC Will Develop The Pod Taxi Service
People in Greater Noida might soon be able to take rides on driverless pod taxis to reach the Jewar Airport. According to an India Times report, Dhirendra Singh, BJP MLA from Jewar in Greater Noida, has said, "We already have Metro connectivity till Greater Noida but Jewar is about 25 kilometres from Greater Noida city. To bridge this gap, pod taxis are being considered. Pod taxis are a revolutionary mode of transport widely being used in many western countries." As notified by the Yamuna Expressway Industrial Development Authority (YEIDA), DMRC will develop the pod taxi service. The detailed project report (DPR) for the same will be presented soon.  10 Things To Do In Noida
Also Read: IKEA To Open India's Largest Shopping Mall In Noida; First Such Plaza In The Country
The Noida International Airport Will Be The Largest In India
The Jewar Airport, officially Noida International Airport, is around 70 km from Delhi. The logo of the airport is extremely symbolic and shows a Sarus Crane, the state bird of Uttar Pradesh, in flight. The Noida International Greenfield Airport will be developed in four phases with an initial capacity of 12 million passengers annually, which is expected to increase to 70 million passengers every year by 2050. Once completed, it will be the largest airport in India and one of the largest airports in the world.