Apart from the New Delhi Railway Station, Delhi boasts of having seven other railway stations, of which the Hazrat Nizamuddin Railway Station is the most busiest. since a railway station gives the travelers the first impression of the city, Radio Mirchi along with Canara HSBC Oriental Bank came up with the Me for Myself initiative under which many Delhiites came together to give the Hazrat Nizamuddin Railway Station a makeover.
What Is It?
The old,forlorn Hazrat Nizamuddin Railway Station with dirty walls and stinky passages is now sporting vibrant colours and all new graffiti, all thanks, to a bunch of citizens who wanted to make a change. Working with the 'Me for Myself' initiative, their aim is to bring Delhiites together to keep the city clean, green, and beautiful.
Also Read: Delhi Railway Station Goes Waste Free
Under the initiative, the walls of 12 railway station, all across India have been beautifies. This includes the Hazrat Nizamuddin Railway Station. The transformation of the railway station was unveiled on Tuesday, and showcased selfie zones along with walls painted with new, colorful grafitti.
Also Read: Indian Railways To Reduce Time Taken Between Delhi-Howrah, Delhi-Mumbai
A cleanliness drive was also held where over 40 Delhiites assembled to clean the station and make it worthy of its new colourful walls.
What's More?
The 'Me for Myself' initiative came into being last year, when they gave a startling transformation to our very own Connaught Place. The walls in Delhi's Central market that remained neglected since decades, and were now covered in paan stains and dirt were given a complete makeover by painting grafitti across them.
Also Read: Tejas Express All-Set To Be The First Privately Run Train Between Delhi-Lucknow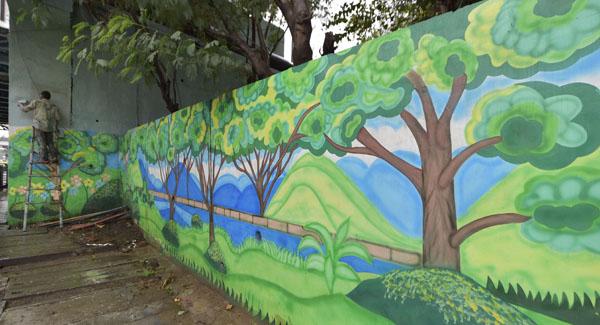 These walls were transformed into all new selfies zones, and are now crowded by youngsters looking to get at least one picture clicked.
While this wonderful initiative is aiming to turn the city around, do let us know which place do you think should be next on their list.