Delhi is full of majestic monuments, picturesque parks, some lush green gardens and splendid temples. While people from all over India have often acknowledged the beauty of the Capital, prior to the coronavirus lockdown, many Delhiites failed to recognize the charm of their very own city. Before the pandemic, they mostly looked up to nearby hilly destinations like Himachal Pradesh, Uttarakhand and Rajasthan for travelling. It is only after the lockdown that they have changed their travel preferences and instead of going far, have turned to 'Dilli Darshan'. Thus, family picnics in the lawns around the Delhi monuments and parks are gaining popularity, much in the 90s style. This, in turn, has helped to boost local tourism. Read on to know more.
More And More Delhiites Are Now Visiting The Monuments Within The City
From Humayun's Tomb, Qutub Minar, Agrasen ki Baoli and Safdarjung Tomb to Jamali Kamali Masjid, Isa Khan's Tomb, Jama Masjid, Red Fort and Alai Darwaza, the list of historic monuments in Delhi is impressively long and it will take days to explore all of them perfectly. But before lockdown, people in Delhi kept looking for options outside Delhi for their weekend trips. Now, with the protocols of safety and social distancing in place, travellers are preferring to explore their own city instead of going far.
According to the Hindustan Times report, a resident of Lakhsmi Nagar, Mani Maheshwari said, "I've been living here for the past 10 years and Delhi is very close to my heart. This city has given me a good career and amazing friends, and I love its beauty and serenity. But never thought that instead of heading to Himachal Pradesh or Uttarakhand for a weekend outing I would be visiting the monuments, gardens and other popular places here, I got so used to travelling to hill stations that I even started celebrating birthdays over there."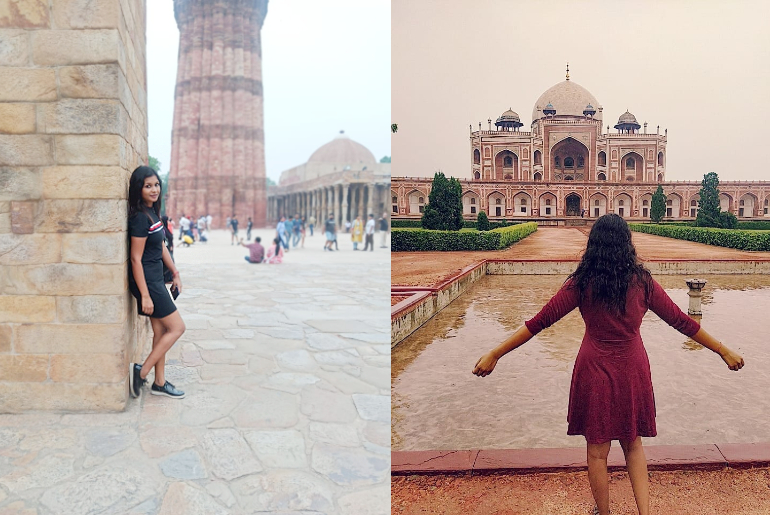 Maheshwari added, "This year, since #WFH due to coronavirus has made us hell bored, we decided to spend some time at Qutub Minar. And when we extended the visit to the dargah in Mehrauli, it was such as beautiful experience. It's architecture is amazing. It's a shame that I never of visiting it before! It was a nice picnic."
Also Read: I Visited Humayun's Tomb In Delhi And Was Impressed With The Social Distancing Measures
Perks Of Planning A Visit To The Local Monuments And Parks In Delhi
Nearby destinations from Delhi NCR like Himachal Pradesh, Rajasthan and Uttarakhand are open for tourism now. But for travelling, it is best to select tourist spots within the city. Here are the reasons why:
1. The virus is still spreading. So, it's better to cover lesser distances to reach our destinations. Travelling for longer distances eventually would mean coming in contact with more people and places. This would increase the chance of getting contaminated.
2. The monuments and gardens in Delhi are quite spacious. Therefore, it's easy to maintain social distancing at these places.
3. In most of these monuments, there are facilities for booking tickets digitally.
4. We had visited the Humayun's Tomb a month ago. They had provided us with sanitizers during entry and exit.
5. Many monuments are registering the name of the entrants. Hence, the count is maintained.
6. Visting these monuments will boost the local tourism.
Also Read: A 500-Year-Old Palace Or A Haunted House? Malcha Mahal Has Got Delhi Excited!
The cops in Delhi are constantly keeping a check on mask violators. They have imposed fines on many who weren't putting on the mandatory face masks. Over 2200 people have been fined in the Delhi Metro itself. So, if you're in Delhi and feeling cooped up at home, visit Chandni Chowk's Jama Masjid, Nizamuddin'a Humayun Tomb or Mehrauli's Jamali Kamali. After all, Delhi is one of the best places to explore the splendour of Mughal architecture. Also, Delhi has got places like The Lotus Temple, Champi Gali, The Grand Venice Mall and Waste to Wonder Theme Park, that can give you a global feel. To help you plan better, here's a virtual tour of Delhi monuments from the comfort of your home: