Under 140 Characters
Famed for its waterfalls and other attractions, Amboli is one of South Maharashtra's most scenic hill stations and monsoon retreats.
What's It?
Sitting pretty at a height of 690m above sea level in the grand Sahyadri Hills is Amboli. It's the last hill station of Maharashtra before the territory of Goa begins to unfold. Located close to Sawantwadi, the place is blessed with the highest rainfall in Maharashtra and has a pleasant climate all year round. It finds a place amongst the eco hotspots of the world because of the rare flora and fauna found here.
The Amboli Ghat becomes even more breath-taking when monsoon casts its spell and brings alive the many waterfalls that dot the region. Head to the 'Bada Dabdaba' or the big waterfall to experience the beauty of a cascading water body at its best. Swelling with water that gushes down from a considerable height, its sound is as captivating as its sight. The entire ambience is infused with magic as mist, clouds and lush greenery envelop you. The good part is that there is a flight of concrete steps if you wish to climb up. Once you reach the top, you can either relax and enjoy the amazing view or get drenched. Near the waterfall, local vendors serve piping hot tea, freshly made onion bhajjis, sabudana vada, Maggi and roasted bhutta. The wonderful combination of waterfalls, monsoons and delicious treats is stuff that happy memories are made of.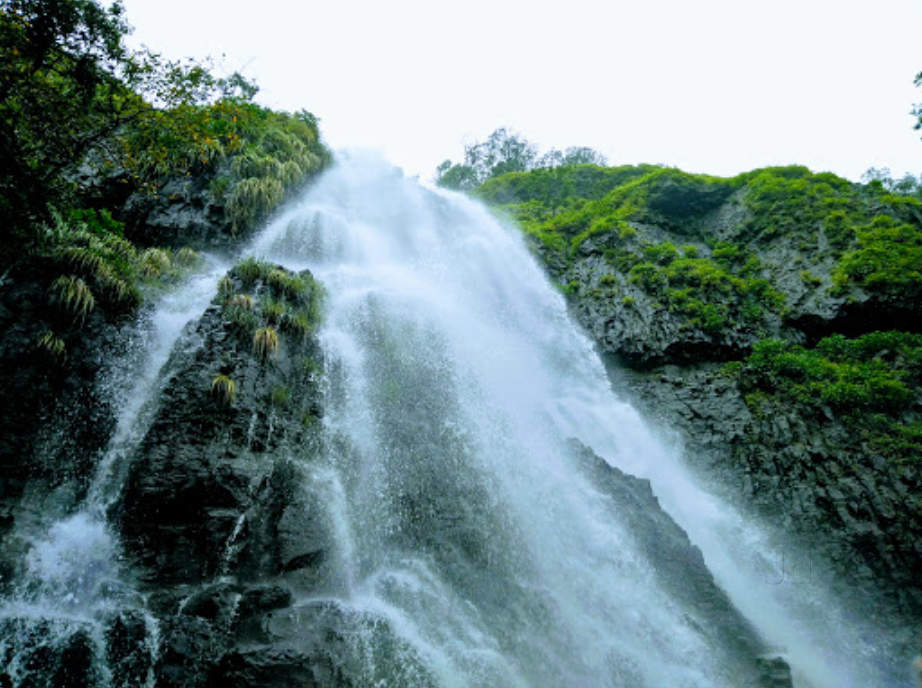 The Bada Dabdaba is just 3 kms. from the main bus stand. On your way there, you will find many other waterfalls of varying magnitudes. These waterfalls along with the green valleys and rising mountain ranges make the drive truly mesmeric. Around 10 kms. away from Amboli is the Nangarta Falls, which is a narrow gorge on which the water falls from a height of 40ft.
Things To Do In Amboli
In addition to nature's bounty, Amboli is home to tourist spots that give you a glimpse of history, devotion and adventure.
 Madhavgad Fort: During its glorious days, Madhavgad Fort was a grand structure, four times the size of Shaniwarwada in Pune. There is a tombstone which acts as a memorial of a battle once fought here. The fort's vantage point allows for charming views of the valleys, mountains and Arabian Sea. Reaching the historic fort is easy as it is just 2.5 kms. from Amboli's main bus stand.
Hiranyakeshi Temple: Dedicated to Goddess Parvati, this cave-temple is where the Hiranyakeshi river originates. Water rushes out with force to fall into a manmade tank from where it flows down further. People experience bliss in its simple and quiet precincts. The temple is 5 kms. from the main bus stand and taxis are also available.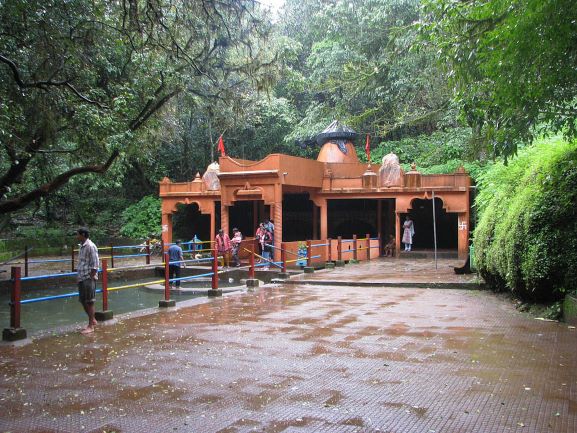 Maruti Mandir: Travel 2 kms. from the Amboli bus stand to reach Maruti Mandir. It is home to Lord Ganesha and Lord Rama, and there is also a samadhi of a saint hailing from Amboli.
Shirgaonkar Point: Just 3 kms. from the Amboli's main bus stand, the spot offers a majestic view of the valley. For all the click-happy people, it provides a beautiful setting for your pictures.
Kavalshet Point: Treat your eyes to the panoramic valley views and the sight of small waterfalls during monsoon from this point. Add to the fun by shouting out your name and hear it echo. Kavalshet Point is 11 kms. from the main bus stand of Amboli and you would have to take a detour from the highway and drive for over 3 kms. to reach here.
Sunset Point: Have the most romantic sightseeing experience here, when the sun slowly goes down and the sky gets painted in different hues of orange, red and yellow. The Sunset Point is only a kilometre away from the main bus stand, which makes it convenient to reach.
Durg Dhakoba Trek: If you like adventure, then going for this trek is recommended. Durg and Dhakoba are the two prominent peaks on the plateau between Naneghat and Bhimashankar hills. At 3,900 and 4,100 feet respectively, they offer impressive views of the surrounding ranges and valleys. You can choose to camp at the Durg temple or Dhakoba temple, both of which are located between thickets.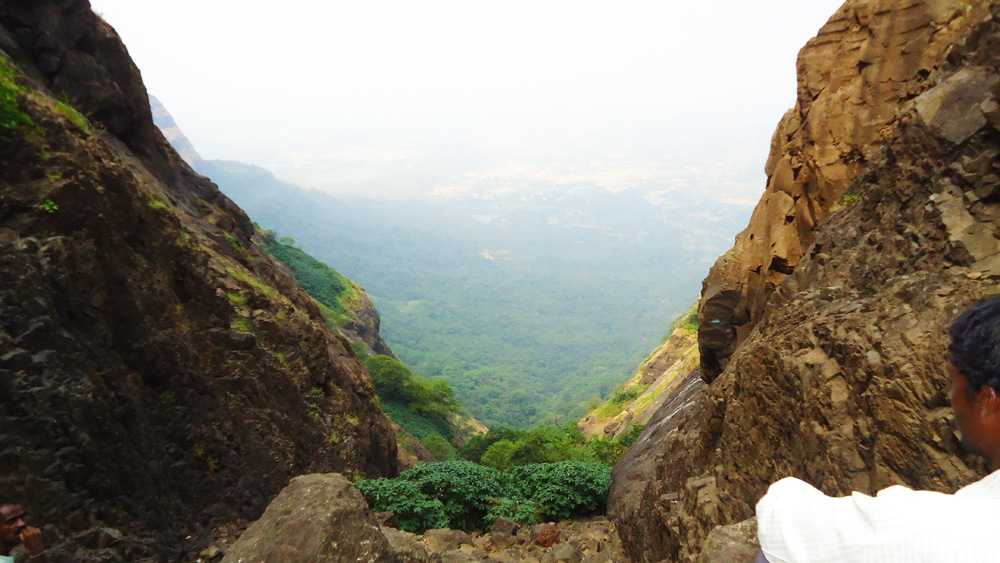 Where To Stay?
Amboli has quite a many hotels and resorts along the highway between the main bus stand and police check post. The hotels are reasonably priced and offer comfortable rooms and basic facilities to make your stay a good one. If you are planning a trip during monsoon or weekends, it is best to book in advance.
 How To Get There?
Amboli is easily accessible from Maharashtra, Goa and Karnataka.
By Train
The closest railway stations are Sawantwadi (28 kms.), Kolhapur (110 kms.), Sangli (148 kms.), Belgaum (70 kms.) and Miraj (140 kms.).
By Bus
Non-luxury buses, both by Karnataka State Road Transport Corporation and Maharashtra State Road Transport Corporation, ply frequently (every half hour) between Belgaum and Sawantwadi via Amboli and charge Rs. 51. You can reach Amboli within 2-3 hrs. from Belgaum.
By Air
The Dabolim Airport, Goa (57 kms.) or Sambre Airport, Belgaum (70 kms.) are the nearest airports from where you can go to Amboli.
 By Road
Amboli is on SH121 that connects Belgaum and Sawantwadi. The drive will be approximately 3 hrs. from Goa, 54 mins. from Sawantwadi and 1 hr. from Belgaum.
Best Time To Visit
During monsoons, between June and August
Deets
Fees of Rs. 10 has to be paid if you want to climb the steps at the Bada Dabdaba
Be very careful as the rocks get slippery during monsoons
Avoid going to the waterfalls on a holiday as it gets exceptionally crowded, with weekend visitors from the neighbouring Goa and Belgaum