A horrid explosion took place in Beirut on Tuesday, 4 August, killing dozens and injuring thousands of people. The explosion caused massive damage to the surrounding area and sent a huge cloud of red smoke over the city. Over 100 people are reported dead and 4,000 have been wounded. Besides, at least 10 firefighters working for Beirut's municipality are missing after the explosion. In addition, Lebanese Prime Minister Declared National Day Of Mourning on 5 August.  Ever since the horrid incident, the UAE has been sending aid in every possible way.
Restaurants Team Up To Raise AED 1 Million
Apart from medical aid, restaurants in UAE are also teaming up with the goal to raise funds for the victims. UAE restaurants are running a special campaign on Sunday, 30 August. The initiative is aimed at raising 10 million dirhams in funds to help rebuild the city of Beirut. For every order raised between 8am on August 30 to 3am on August 31, a percentage of the order (30-100 %) will be donated to charities in Beirut. The funds raised will be donated to Emirates Red Crescent.
So, in case you wish to help, cancel your restaurant plans and order in.
On 5 August, His Highness Sheikh Mohammed bin Rashid Al Maktoum, Ruler of Dubai, dispatched 30 tons of medical aid to Beirut. A jumbo jet carrying medical aid including trauma kits, surgical supplies and personal protection equipment (PPE) flew out from WHO's logistics hub in Dubai.
"His Highness Shaikh Mohammed bin Rashid Al Maktoum, the Ruler of Dubai, ordered the aid to be sent immediately on his personal aircraft in response to the devastating blast which rocked Beirut yesterday," said Mohammed Ibrahim Al Shaibani, Chairman of the Supreme Committee for the Supervision of IHC.
Dubai Sends Second Aid Flight To Help Beirut
One week later, the UAE dispatched the second batch of aid to Lebanon. The latest Emirates SkyCargo airlift flew from Dubai on 13 August. The aid consisted of 24.88 metric tonnes of urgent medical equipment, as well as PPE for front-line healthcare workers. In addition, the shipment also contained surgical masks, goggles, gowns, N95 respirators, stretchers and thermometers.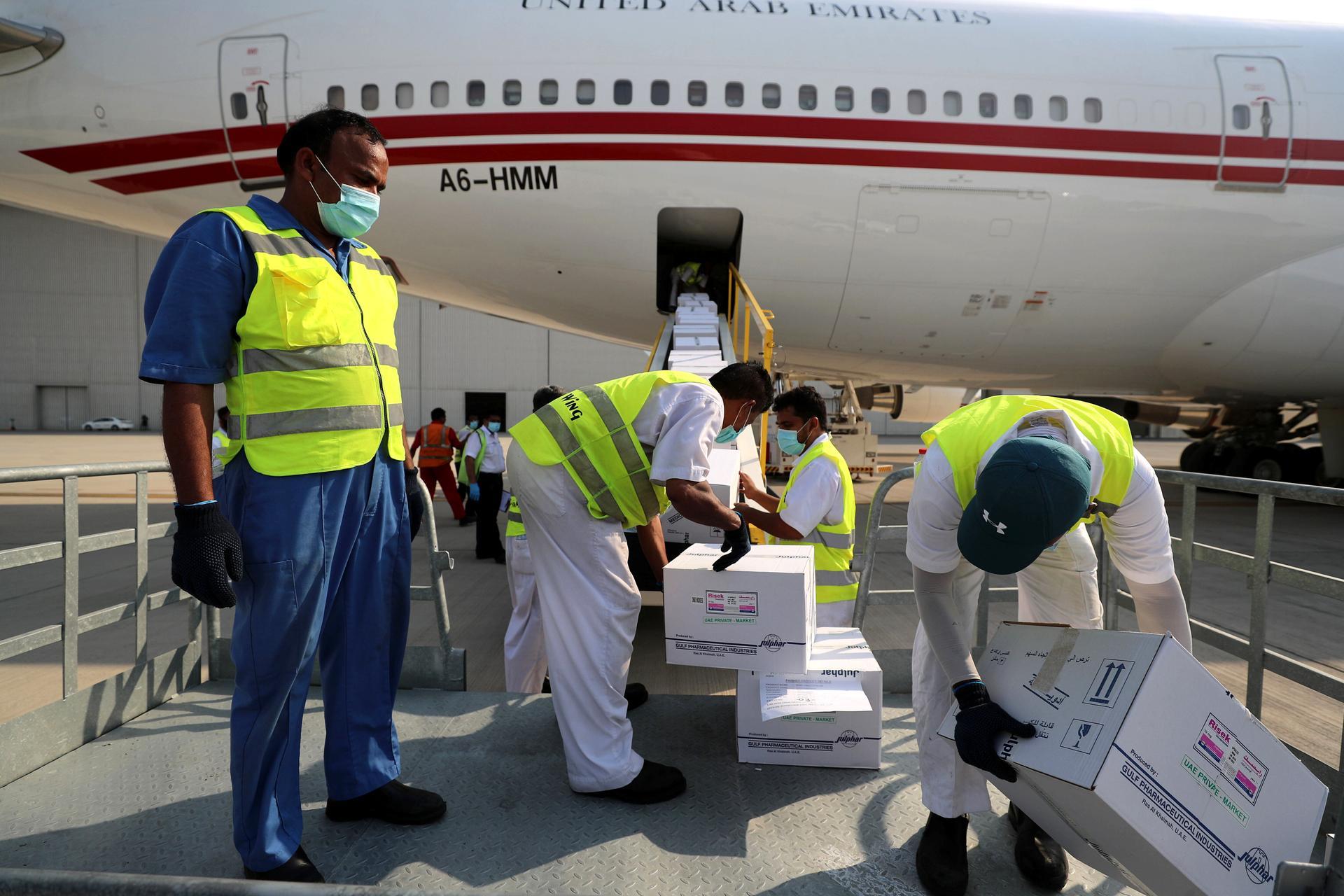 Besides, Sheikha Fatima, chairwoman of the General Women's Union and president of the Supreme Council for Motherhood and Childhood, also donated AED 10 million to support blast victims. Reports suggest that food is likely to be the next priority of aid arriving into Lebanon. This is because a grain silo was destroyed in the huge explosion, leading to shortage of bread. Around 85% of grains come into Beirut via the port and now its destroyed infrastructure has made it impossible to receive new shipments.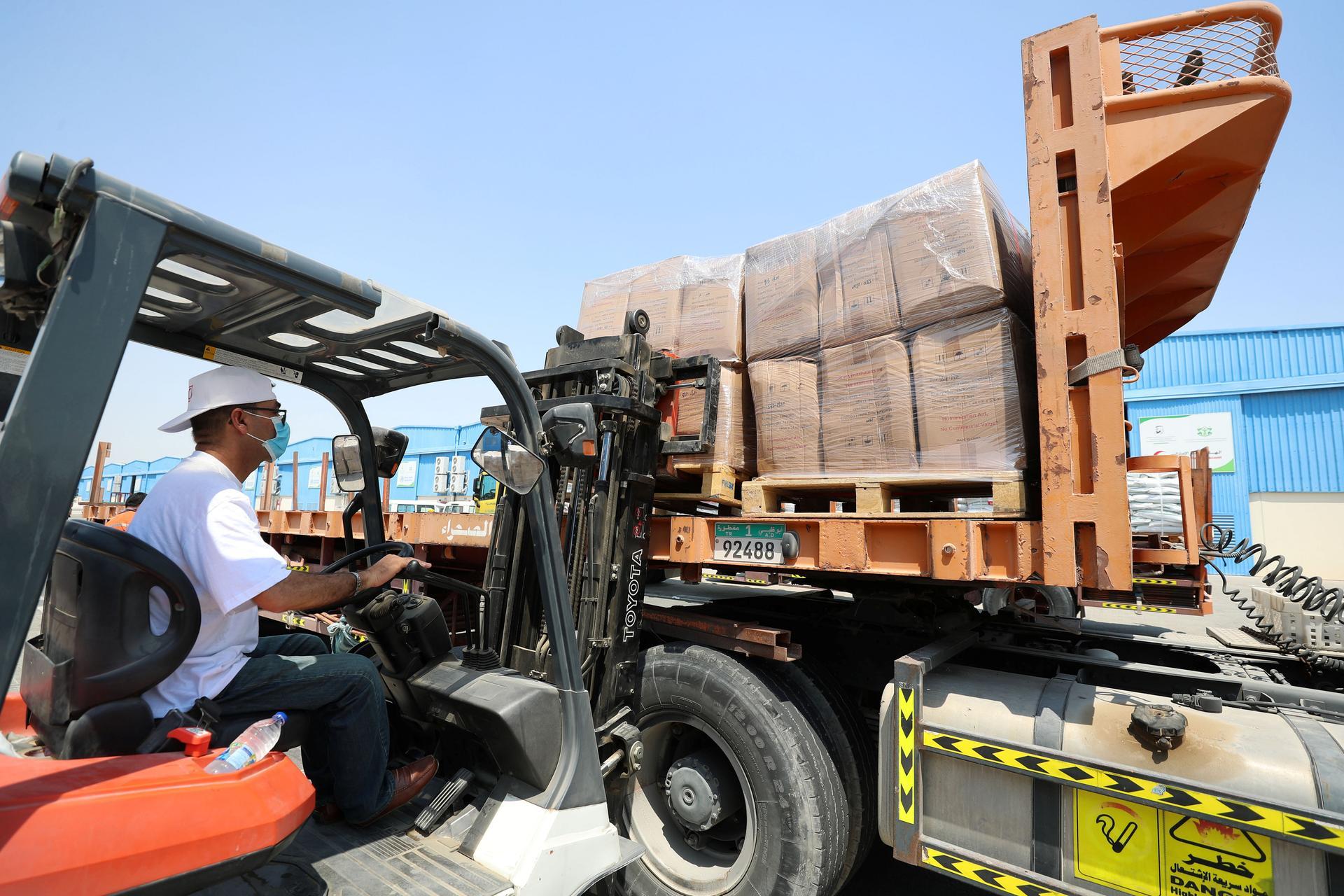 Meanwhile, the UAE will also be sending 138 tonnes of glass in six shipment containers to Lebanon. This will help repair thousands of windows shattered in homes and shops. In other news, here are 10 COVID-Free Countries Across The World.
Dubai's Burj Khalifa Lights Up In Solidarity With Lebanon
His Highness Sheikh Mohammed bin Rashid al Maktoum, Vice President and Prime Minister of the UAE and Ruler of Dubai, offered his condolences to the people of Lebanon. Besides, the ruler also sent 30 tonnes of emergency aid to the healthcare facilities in Beirut.
Under the directives of @HHShkMohd, #UAE dispatches emergency medical aid to Lebanon to help healthcare facilities treat victims of the massive explosions in Beirut. pic.twitter.com/WVqjlBaIRw

— Dubai Media Office (@DXBMediaOffice) August 5, 2020
In solidarity with the victims, Dubai's Burj Khalifa was lit up with the colours of the Lebanon flag. The official handle of Burj Khalifa shared on Twitter: "Burj Khalifa lights up in solidarity with our brothers and sisters in Lebanon." On that note, here are Top 5 Architectural Wonders That Adorn The Dubai Skyline.
Besides, the Pyramid of Giza also illuminated in support for Beirut.
Pyramids in Giza, Egypt light up for Lebanon tonight❤️ pic.twitter.com/MSobqd41FG

— Μαρία✞ (@PerrhappssKnefe) August 4, 2020