The UAE has doing its best to fight the pandemic without closing its doors. While London has begun the mass vaccination drive, the UAE too has approved the vaccination for the public. Health authorities in the nation have also released a list of the clinic where residents can now go to get a covid-19 vaccine. The vaccination can be taken in Abu Dhabi, Dubai and the Northern Emirates.
And now, Dubai restaurants have begun offering discounts to customers who have taken the vaccine. The UAE has already vaccinated 2.5 million of its population of about 10 million, and is now rated the second highest after Israel.
Also read: Covid 19: UAE Slashes PCR Test Price To AED 85 From AED 150
Vaccinated Residents Can Get Up To 20% Off At These Restaurants
Alpine restaurant Publique, British restaurant Reform Social and Grill and Ultra Brasserie, all of which are run by Gates Hospitality, are sending out fliers the message "Spread love, not Rona". The restaurants are now offering a 10% discount to residents who have taken the first dose of a vaccine and 20% for those who have taken two.
"Our firm determination is to stand by the [Dubai Health Authority] in their efforts to fight the Covid-19 pandemic with multiple vaccines and to encourage the residents of this vibrant city to take the two doses," says Naim Maadad, founder of Gates Hospitality.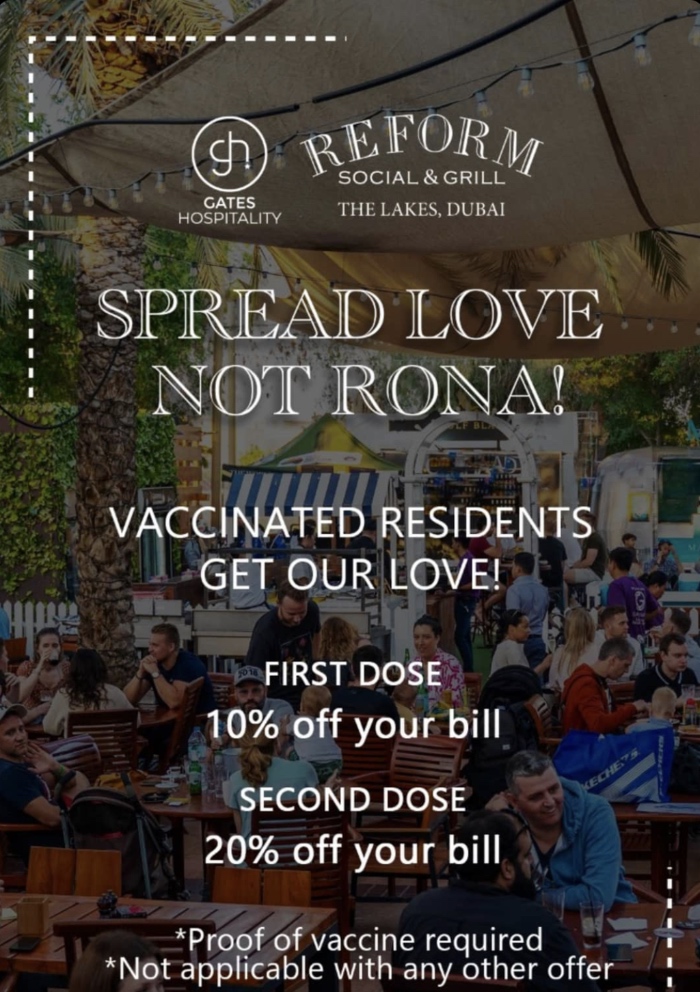 Diners must show proof of inoculation, such as a medical certificate, to get the discount. While the initiative received a warm welcome among a few, it did not fail to raise eyebrows on social media.
"There's two ways to look at it, either it's another marketing stunt, or a genuine motivation to get more people vaccinated," said one tweet.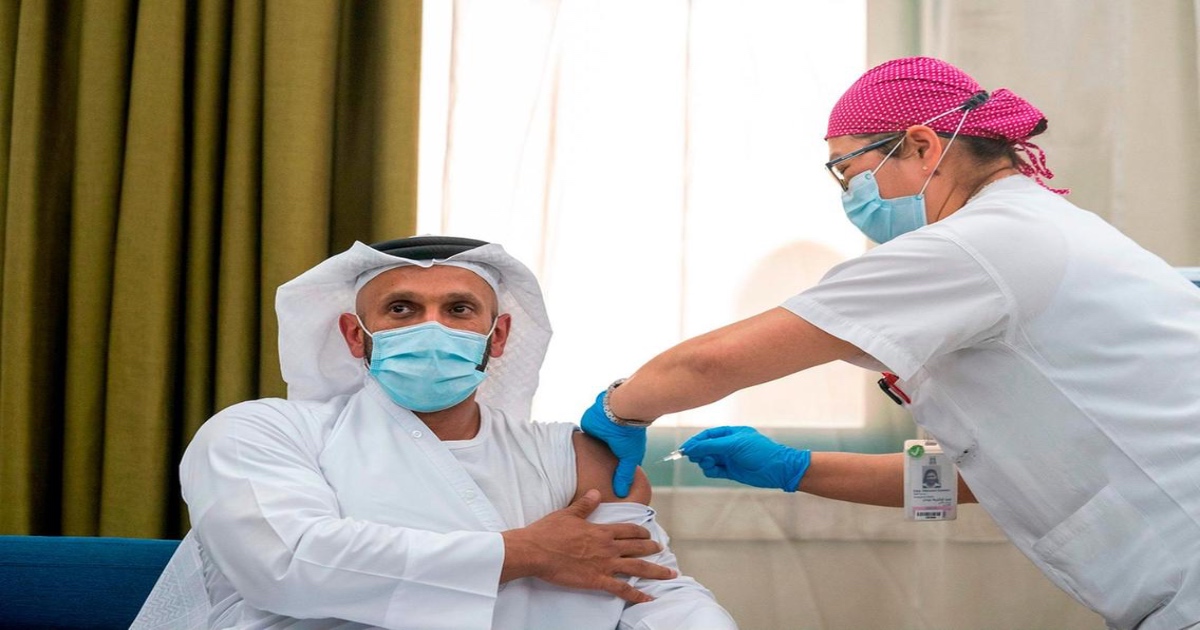 the UAE is using the Sinopharm vaccine, with two injections administered 21 days apart. According to the UAE regulators, the China-developed Sinopharm has 86 per cent efficiency and was approved for use after Phase 3 trials found it was effective against coronavirus. If you want to volunteer for the vaccine, remember that bring your Emirates ID, and health insurance cards is a must.
Also read: UAE Frontline Workers Can Enjoy FREE Entry To Qasr Al Hosn & Louvre Abu Dhabi Until April 2021
Dubai
For people living in Dubai, you can get the vaccine at Dubai Parks and Resorts field hospital.
Abu Dhabi
Abu Dhabi-ites can get the vaccine at the clinics run by Seha, the emirate's public health operator, and at hospitals and clinics run by VPS Healthcare.
Sharjah
For people of Sharjah, the vaccine is available at Wasit Medical Centre, from 4 to 9 PM.
Ajman
In Ajman, you can get the vaccine at Al Humaidiya Centre, from 9 AM to noon and 5 to 8 30 PM.
Umm Al Quwain
For residents of Umm Al Quwain, the vaccine is available at Al Bait Metwahid centre. From 8 AM to 1 PM.
Cost Of Vaccine And Booking
In terms of the cost, the vaccine is available for free in all the emirates for now. And for booking a slot for your vaccination, you need to call up the hospitals and clinics. You can ask them more about it while booking the vaccine.