Central Park Dubai, a smaller but no less spectacular replica of the famed New York Original, is currently under construction. The new green-space project under progress in Dubai is certainly called Central Park at City Walk. Central Park, part of the City Walk project and located in Jumeirah's Al Wasl neighbourhood, will offer a variety of activities amid the greenery.
A Fancy Neighborhood Showing Up At The City Walk
Dubai-based developer Meraas is bringing to town one of New York's prettiest landmarks, and we just can't keep calm! The famous Central Park will soon get a new address in Dubai's City Walk. How cool is that? It's going to be a new exclusive residential neighbourhood, decked out with top-notch amenities.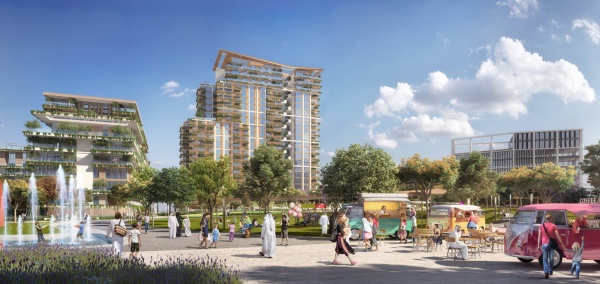 Inspired by the original Central Park in New York, the urban attraction is specifically said to redefine community living in the Emirate. Central Park boasts 12 residential buildings overlooking a lush 230,000 sqm private park. The first phase of the development will include 187 one-to-four-bedroom apartments, overlooking lush greenery.
Also Read:New York's Central Park Makes Its Way Into Dubai!
The nature-friendly community will also have a sprawling, huge lobby, and two large rooftop terraces, which will be home to a variety of plants and flowers, tennis and basketball courts, swimming pools, spas, cafes, and a huge multi-purpose play area. The interiors come in a sleek contemporary design, carefully hand-picked to blend with nature.
Central Park Will Be At The Centre Of Dubai
The community nestles just two minutes from City Walk's retail complex and Dubai Arena one of Dubai's happening entertainment hubs. The Burj Al Arab and Dubai International Airport will be 15 minutes away, and Dubai Marina will be 20 minutes away. It will be literally just 10 mins drive from the Jumeriah beach. Along with it, there will be easy access to public transportation, including Dubai's metro and bus stations. The park will also be car-free and pedestrian-free, making it an ideal place for families who like to enjoy uninterrupted time with nature.
Also Read: Dubai's Palm West Beach To Launch Nine New Beach Clubs And We Can't Keep Calm
In pictures: #Dubai's Meraas unveils New York-style #Central Park' project with residences https://t.co/zHca7B2dw9

— Gulf Business (@GulfBusiness) February 21, 2019