Etihad Airways, located in Abu Dhabi, has previously stated that it will hire up to 1,000 people with hospitality experience to join its cabin crew. At the start of this month, local companies had roughly 300 job openings on their sites. In the following week, Etihad Airways and Emirates are hiring flight attendants in Dubai for a variety of positions. Aspirants for Etihad can enrol and present their CVs at the Dusit Thani Hotel in Dubai beginning Monday, June 13th.
Requirements For the Application in Emirates 
The flagship airline seeks candidates with at least a year of hospitality/customer service experience. A high school diploma is a minimum requirement (Grade 12). Fluency in English is required, and the ability to communicate in another language is a plus.
Candidates must be 160cm tall and able to reach 212cm on tiptoes to access emergency equipment on all aircraft types and have no visible tattoos while wearing the cabin crew uniform. The chosen applicants must fulfil the UAE's work visa criteria since they will be located in Dubai. 
Also Read: UAE Residents Can Travel To Other GCC Countries With Their Emirates ID
How Can You Apply?
Candidates may apply online and provide a current résumé in English and a picture for consideration. Emirates will then send you an invitation to take an online multiple-choice exam and an on-demand video interview. Before receiving the final approval, the short-listed applicants will get an invite for a brief face-to-face interview.
The chosen applicants will go through an eight-day indoctrination, then 13 days of safety and emergency procedure training, and five days of group medical training.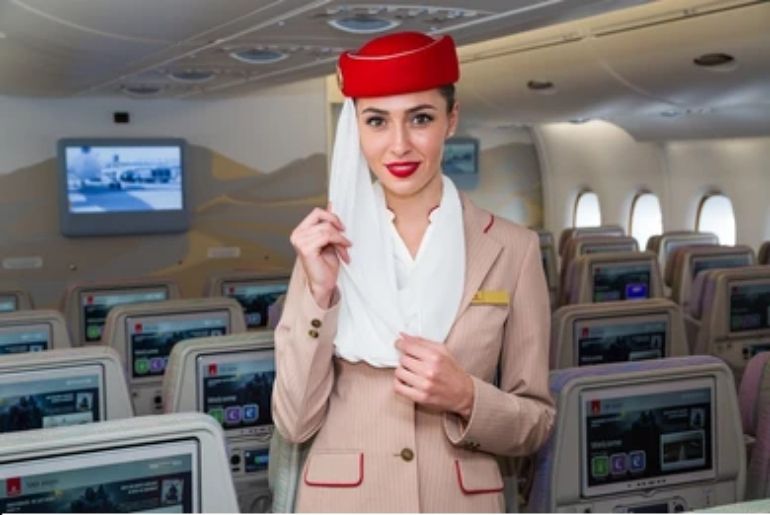 Also Read: Soon Emirates Airlines Passengers Can Buy Duty-Free Products, Select Seats In Metaverse
How Much Can You Earn? 
The airline pays its personnel a basic monthly salary of Dh4,260 + Dh61.25 per hour of flying pay (based on an average of 80-100 hours per month). Moreover, for total compensation, the airlines give roughly Dh9,770 as a beginning wage.
The team receives reduced flights, free transportation, and provided lodging in more than 50 Dubai complexes. The employee is entitled to 30 days of yearly vacation and one free annual leave ticket to their home country.
Also Read: Emirates Will Soon Reveal Its Premium Economy Cabin Experience