Etihad Airways becomes one of the nine airlines in the world, to get a Diamond status in the first Airline Passenger Experience Association (Apex) Health Safety ratings. The national carrier is rewarded for the implementation of its health and safety measures amid the covid-19 pandemic. It makes Etihad one of only nine airlines to achieve this safety rating by one of the world's largest international airline associations.
Also read: Etihad To Refund Tickets Booked From October 1 With These Conditions In Place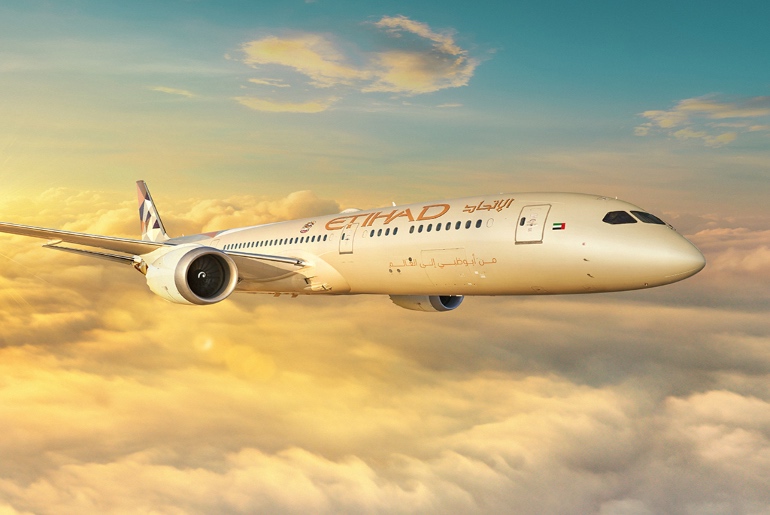 Etihad Airways Has Also Received A Five Star Rating From The Apex
When it comes to other airlines, the list includes Saudia, Qatar Airways, United, Alaska, Singapore Airlines, Air Canada, Virgin Atlantic and Turkish Airlines. To achieve the highest status, airlines have to follow varied protocols to prove the apex that they fit the bill. The categories for this status includes- check-in procedures, testing and tracing, airport facilities, security, lounge facilities, boarding procedures, in-flight and arrival measures and sanitisation partnerships.
Also read: Etihad Airways Updates Travel Rules For UK Passengers, Here's Everything You Need To Know
Speaking about Etihad Airways and its accomplishments, Shashank Nigam, chief executive of SimpliFlying, which audits the airlines' standards said,
"Etihad Airways has raised the bar for health safety standards in the industry by initiatives such as Wellness Ambassadors, free PCR Covid-19 tests and using AI to identify high-risk passengers at its hub in Abu Dhabi. Taking such hospital-grade measures in ensuring health safety goes a long way in bolstering trust among travellers."
The Airline Received This Rating In December 2020
The year 2020 was not great for everyone and the aviation sector that was hit the most by the wrath of the covid-19 virus. Speaking about the challenges, Terry Daly, executive director of the guest experience, brand and marketing at Etihad Aviation Group, said,
"2020 brought tremendous challenges to the aviation industry. And the Diamond status is testament to the strength of Etihad's health and safety credentials and response to the pandemic. Etihad has demonstrated its resilience and designed industry-leading measures to combat Covid-19, including the Etihad Wellness programme. Etihad is the only airline in the world to make Covid-19 testing mandatory before every flight. And since August 2020, 100 per cent of our guests have tested negative before they fly."
Also read: Etihad Airways Launches 10 Percent Student Discount On Air Tickets
In terms of ratings, besides receiving a diamond status, Etihad also received a Five Star Apex rating. The airline was given this rating in December. The rating was given based on passenger feedback from nearly one million flights across more than 600 airlines.