Even if you don't rememebr the history behind the London Bridge or the significance of Spain's Aqueduct of Segovia after returning home from a Europe trip, but you can almost instantly remember the tasty of the delicious pasta you had in Italy. Well, that's the power of food. Through its aroma, colours and favours, you instantly create a memory that you take back from your trip. If you're a hardcore foodie, who'd want to travel to eat, then here are 10 European foods that are absolutely worth travelling for.
1. Fish And Chips In London
Forget the Big Ben, Madame Tussauds or the British Museum. If you've not had the famous Fish and Chips here, then how can your Europe trip be complete? The crispy battered fried fish, complimented with potato fries is truly a match made in heaven. It's a must-have for seafood lovers and just anyone who'd fancy a quick snack and a leisure meal all in one.
Also Read: Go On An Epic Bus Journey From Delhi To London In 70 Days Covering 18 Countries
2.Waffles In Belgium
Desserts never desert you. And if you're an ardent waffle fan then trust us whe we tell you that the waffles in Belgium is truly nothing like you've ever tasted. It's crispy on the outside, soft on the inside and tastes warm and sweet. Touristy places serve them with whipped cream, chocolate syrups and fruit. But locals devour them with a light dusting of icing sugar. This let's the good old waffle shine and leaves you with a warm fuzzy feeling.
3.
Mekitsi in Bulgaria
This traditional snack from Bulgaria is like a flat doughnut. The dough is prepared with yoghurt and shaped like a flat disc which is then deep fried. Mekitsi is traditionally eaten for breakfast with dusted powdered sugar, enjoyed with yoghurt or fruit. You can also go the savoury route and top it with soft cheese. Can you ever go wrong with any kind of doughnuts?
Also Read: Chocolate Samosa Vada Pav Is The New Food Trend Catching Up In Mumbai
4. Paella In Spain
India has biryani, a wholesome one-pot dish of rice, spices and chicken. Spain has paella, an answer to our biryani. Recognised as the national dish of Spain, paella comes from the city of Valencia. There are many types of paella that you can literally travel across the country for the best. Prepared with rice, meat seafood, beans, peppers and saffron, paella is wholesome and super delicious. Until you visit Spain, here's a great vegetarian restaurant-style paella recipe for you. 
5.
Apfelstrudel

In Austria

Apple Pie is definitely one of the best desserts in the world. Soft apples, lingering taste of cinnamon and the flaky pastry keep calling us back for more. Austria has its own version of apple pie called Apfelstrudel. Thin pastry filled with apple, spices, sugar and raisin acts like the perfect breakfast. Pair it with coffee and you'd know what heaven tastes like.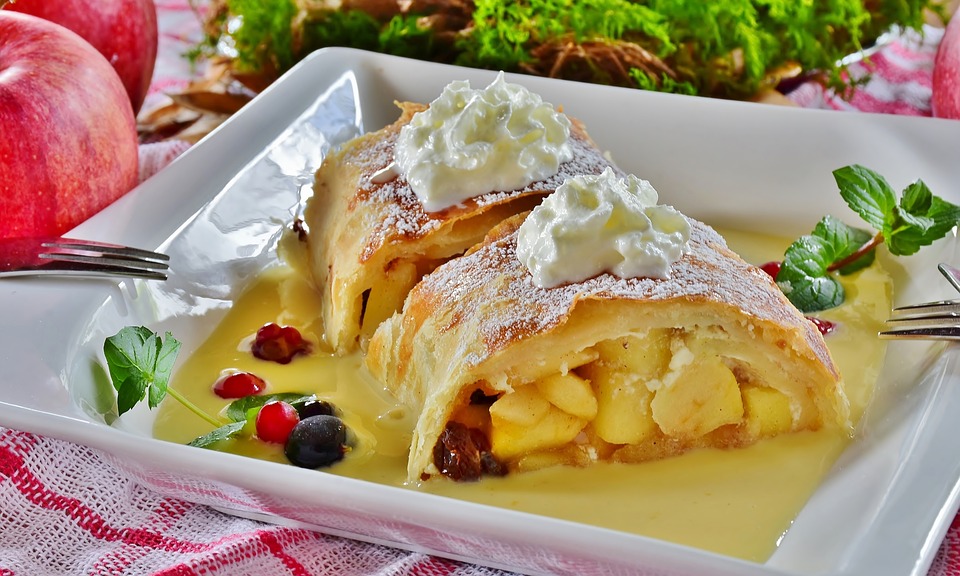 Also Read: 5 Stages Of Food Cravings We Bet You Will Relate To
6. Kürtőskalács In Hungary
The Hungarian Chimney cake or spit cake, Kürtőskalács must be on every foodie's list. What started of as a Hungarian festive treat is nw part of its daily consumption. This traditional homemade cake prepared with wheat flour, buttermilk, egs, yeast and salt and sugar is wrapped around the length of the spit. It's then baked in the oven. The Hungarian chimney cake goes rightly by its shape. Spinle some sugar and enjoy this.
7.
Barbagiuan In Monaco
Monaco might be a small European country, but its national dish of Barbagiuan is truly epic. A small triangle savoury pastry, filled with ricotta cheese and Swiss chard with various iterations of meat or veggies, it's like having a cripsy samosa. Locals savour it throughout the year, but they especially celebrate it on Monaco's national day in November.
Also Read: I Travelled To 10 Cities In 7 European Countries, In 16 Days Under ₹1 Lakh (Including Flights)
8.
Soupe à l'oignon In France
France has tons of amazing food. But one of the best Europeans foods that's worth travelling has to be the Soupe à l'oignon or French Onion Soup. A hearty bowl of thick, rich onion soup, served in a crusty bread, topped with croutons and cheese is the ultimate comfort soup. Prepared with caramelized onions, bay leaf, thyme, garlic, cheese and white wine, it's simple yet complex in flavours. A good bowl of soup can truly elevate your travel experience. 
9.
Moussaka In Greece
The best moussaka is oozy, messy and mushy looking. It consists of layers of eggplant and ground meat cooked in tomato course, topped with béchamel sauce, then baked in the oven. This Greek dish is slowly cooked with spices, giving the meat a tender, flavourful taste. This is one of the best European foods, worth travelling for.
10.
Pastéis de nata In Portugal
Sumptuous pastéis de nata  or Portuguese egg tarts are flaky brown pastries filled with caramelized custard. Dusted with cinnamon these tarts are sweet and really flavoursome. Pair it with a cup of strong black coffee and you'll get a taste of perfection. Yes! It's truly worth going all the way to Portugal to taste these beauties. 
Foodies! These are some of the best European foods that you must try on your next Eurpe trip Infact it would also be totally worth it if you plan your trip around these dishes.