Are you also tired of going to Manali, Rishikesh and Nainital every long weekend? Because we are. So we've found an unexplored destination, Patnitop which is just 2 hours away from Jammu where you can let your inner adventurer out as they have some cool and thrilling adventure activities for you.  Skyview By Empyrean, Patnitop, has become India's first Sustainable Tourism Destination, certified by the Responsible Tourism Society of India (RTSOI). The destination complies with the Union Ministry's sustainable and responsible tourism standards and scores 90-plus for sustainable eco-friendly tourism practices.
What Is It?
Patnitop has been a place that's just known for its snowy mountains because it looks like a dream when you witness snowfall there. But it's more than that. Skyview Patnitop is an adventure tourism destination which is at Patnitop. And it's giving us all the reasons to pack our bags now and book a ticket to Jammu. They have come up with India's highest ropeway with over 65 mts. of ground clearance and the longest span of 849 mts between 2 towers.
Also read: We Have Found The Perfect Biking Club In Delhi For Your First Adventure!
The ropeway starts from Sanget which is the lower terminal and makes you reach the beautiful Patnitop in no time. Yes, the highest ropeway takes about 10-12 minutes to reach Patnitop depending on the speed of the wind. This ropeway is set in scenic countryside view where all you can see is the long and beautiful mountains. Also, if you're lucky enough to witness snowfall during your visit, then the experience becomes more magical.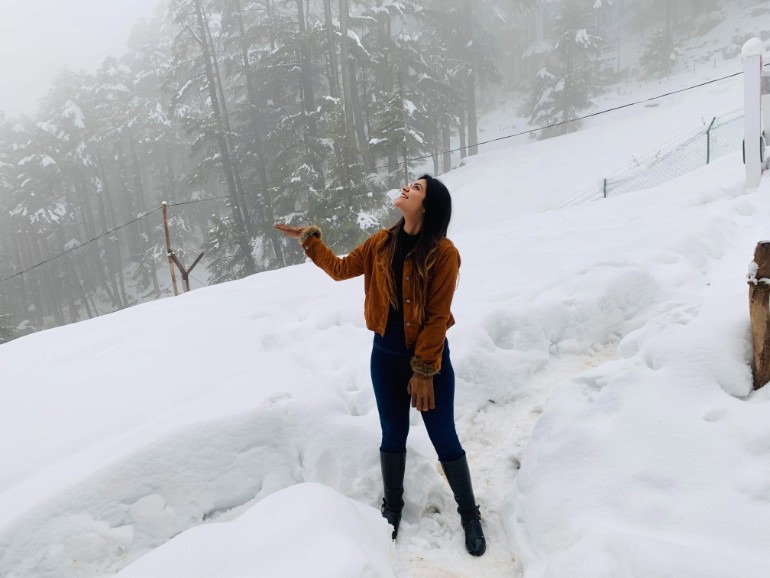 Also read: These Winter Treks In North India Need To Be On The List Of Every Adventure Traveller
The ropeway has 18 cable cars(gondola) along with 8 towers. In each cable car, 4 people can sit at a time while maintaining social distancing.
Is It Safe?
If you're worried about your safety then don't! The ropeway adheres to CEN (European) standard certification making it the safest ropeway in the world. So you are definitely in safe hands.
What's More?
If you thought that Skyview Patnitop has India's highest ropeway only then you're wrong. It offers other adventure activities as well like Zig-zag Zipline, India's first Magic Carpet and Tubing Sledge.
Adventure enthusiasts can experience Asia's longest zig-zag zipline measuring 580 metres, an all-season tubing sledge of 238 metres or you can ride on India's first magic carpet measuring 162 metres.
All the adventure activities at Skyview Patnitop offer a unique perspective of the majestic Patnitop hills. From heart-pounding thrills of a zipline and ropeway ride to a refreshing stroll through the vicinity, there is something for everyone.
In addition, there are many eating places in Patnitop where you can gorge on some delicious delicacies after a fun and tiring day. There are open cafes, street food carts, coffee shops and restaurants too.
Patnitop has got it all to make your weekend getaway fun-filled. From scenic view to adventure activities to delicious food. What more does one look for in a vacation right?
Deets:
Cost: ₹849+ GST (One-way)
₹999 + GST (return)
Address: Skyview Patnitop, Village Sanget Chenani, Jammu, Jammu and Kashmir 182142