Hedonists, foodies and gourmand's can rejoice, savor gastronomic delights and fuel their appetite for culture with a culinary extravaganza, at Expo 2020 Dubai . Experience non-stop openings of the world's greatest food concepts. With food central to Expo 2020 Dubai's multi-cultural experience, visitors can try everything including local gems, authentic street food and fine dining tasting menus.
With iconic openings, international chefs and live music throughout the month, it's not hard to create reasons to visit every day of the week. Book your ticket and come back again and again for experiences including ADRIFT Burger Bar from Gypsy Chef, David Myers and Long Chim, a concept from Chef David Thompson. Expo's curated concepts, pavilions and outlets include the best food and drinks the world has to offer.  Here is just a taste of what is to come and a reason to visit Eat at Expo every single day:
1. Introducing Rising Flavours – Celebrating The Best Of The Gulf's Culinary Heritage
The Rising Flavours Food Hall is inspired by the countries of the GCC, shining a light on the region's cultures and unique take on international cuisines. The three-storey dining hall highlights the range and creativity of the Gulf region's vibrant and ever-evolving food scene and celebrates of the talent born or nurtured in the GCC. Each chef-led pod will represent the 9 countries, with rotating guest chefs and live cooking shows led by eminent names.  Conceived by industry figureheads from the region, the ground floor is home to a regularly rotating line-up of culinary pods, featuring chefs and restaurants that demonstrate the gastronomic variety of each GCC country, including concepts from the UAE, Bahrain, Kuwait, Oman and Saudi Arabia.
Dates: Open from 1 October
Opening times: Saturday-Wednesday 10:00am – 00:00
Thursday-Friday: 10:00-1am
Location: Jubilee, Food Hall 1
Also read: Expo 2020 Dubai: 7 Pavilions To Visit For Exciting Foods You Have Never Tried Before!
2. The Jubilee Gastronomy Restaurant, Dining Room, Lounge And Rooftop Bar
Dining redefined at Expo 2020 Dubai as Jubilee Gastronomy presents a schedule of unique gastronomy experiences at their signature Chef's Table concept. Hosting an intimate lunch and dinner degustation experience every Tuesday throughout Expo 2020 Dubai, 26 of the world's greatest chefs will create a signature four and nine-course menu, followed by appearances from celebrated local chefs twice weekly. Jubilee's signature menu by Chef Guilherme will be available throughout. Visiting names for October include Indian chef Vineet Bhatia, behind restaurant's Zaika and Rasoi, London and Thomas Buehner, behind three Michelin star restaurant, La Vie in Osnabruck, Germany.
Dates: Bookings open from 7 October
Opening Times: Saturday-Wednesday 10:00am – 00:00
Thursday-Friday: 10:00-1am
Location: Al Wasl, Rooftop, Parcel C
Book here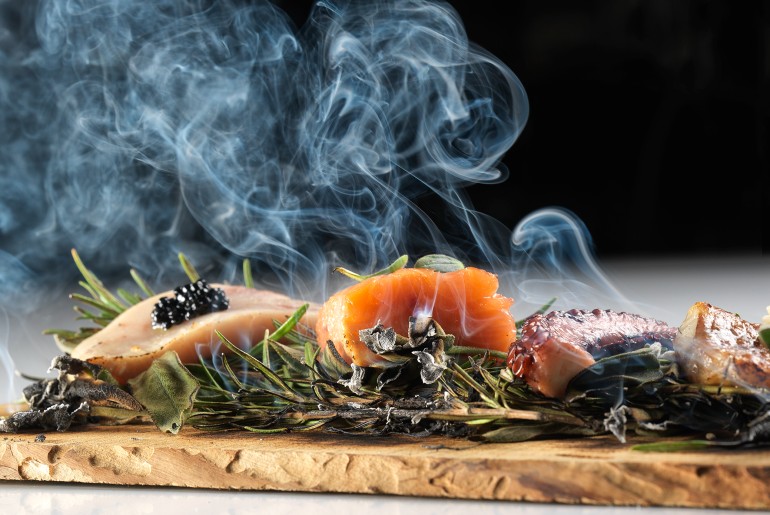 3. The Future Of Food: Epochal Banquet By Bompas & Parr
Join immersive culinary experts Bompas & Parr for a multi-sensory journey. A pioneering culinary experience inspired by space, microbiology, artificial intelligence and hyperintelligence. The Future of Food: Epochal Banquet is a never-before-seen experience cooked up by UK-based multi-sensory experience design studio Bompas & Parr, in collaboration with Expo 2020 Dubai. Diners will have the opportunity to taste super-light delicacies formed using the same technique that NASA uses to collect comet dust; edible creations that glow in the dark; flavour-changing desserts; ultra-rare ingredients, including new-to-the-plate plants; and much more. The curated experience features a multi-course exploratory menu, designed to entertain and inspire, while exploring themes involving the future of food.
Dates: Bookings opening soon
Opening times: Daily 12:30pm – 00:00, experience times are 1pm, 6pm and 9pm daily. Duration is 2-2.5 hours.
Location: Opportunity District, OSO1 F
Also read: Dubai Expo 2022: All You Need To Know About India's 4-Storey Pavilion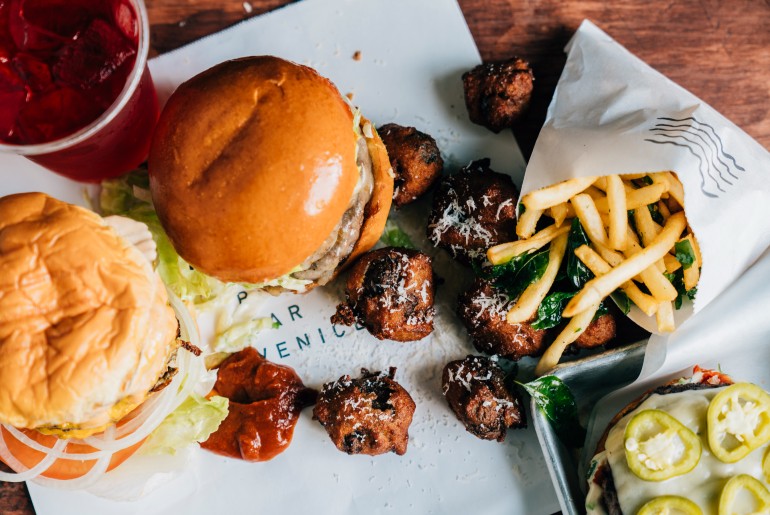 4. Alkebulan, The World's First African Dining Hall
African dining hall Alkebulan will make its debut at Expo 2020 Dubai. Alkebulan – the oldest name for Africa and translating to 'Mother of Mankind' or 'Garden of Eden' – is a culinary concept curated by award-winning chef Alexander Smalls, a classically trained opera singer-turned-restauranteur. The dining hall is a celebration of African cuisine, designed as a showcase of contemporary African food and music from across the continent. Each counter and concept – 11 in total – has its own unique design that honours the individuality of the region, cuisine and chef.
Dates: Bookings open from 1 October
Opening times: Saturday-Wednesday 10:00am – 00:00
Thursday-Friday: 10:00-1am
Location: Jubilee, Food Hall 2
For more information visit Alkebulan African Dining Hall | Where to eat | Expo 2020 Dubai
5. The National By Geoffrey Zakarian – A Contemporary, Grand Café
US-based chef Geoffrey Zakarian brings to life his vision of a contemporary grand café at The National. The menu offers Zakarian's signature modern American cuisine – a style of cooking that has earned him critical acclaim. It's fresh and accessible concentrating on fresh ingredients prepared with classic techniques.
Dates: Bookings open from 7 October
Opening times: Saturday-Wednesday 10:00am – 00:00
Thursday-Friday: 10:00-1am
Location: Al Wasl – Ground Floor, Parcel A
Book here
Also read: IKEA Launches First Stand-Alone Café In Swedish Pavilion At Expo 2020 Dubai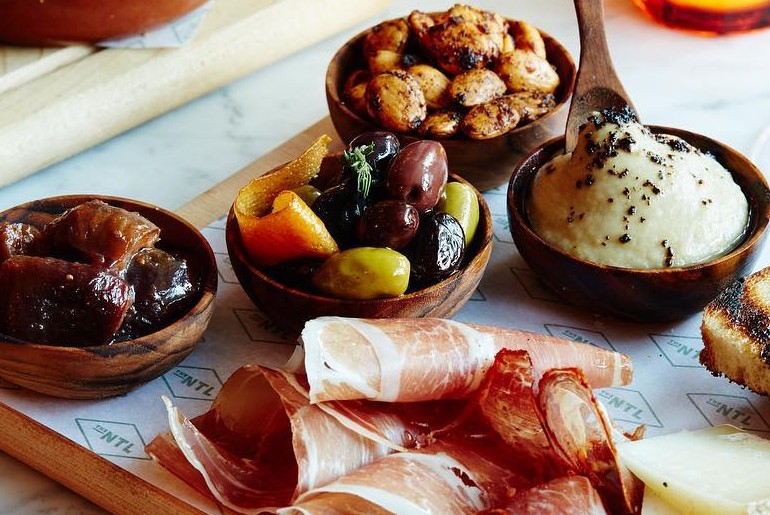 6. Learn The Skills Of Artisan Baking With London-Based Bakery, Bread Ahead
London-based bakery Bread Ahead makes its UAE debut at Expo 2020 Dubai. With a cult-following with Londoners and food fanatics across the globe, Bread Ahead will bring its signature doughnuts – try the classic vanilla or salted honeycomb and caramel combination. Sourdough pizzas will also be sold by the slice, created the Bread Ahead way, using fresh, seasonal ingredients. Bread Ahead will also run a series of baking workshops with their on-site bakery school, led by masterful tutors. Join Bread Ahead this October for an insight into the art of artisan baking, and perfect your sourdough loaf.
Dates: Bookings open from 9 October
Opening times: Saturday-Wednesday 10:00am – 00:00
Thursday-Friday: 10:00-1am; Bakery School Classes 13:00 and 18:00
Location: Mobility District, Ground Floor, MS 07 Right Side
Book here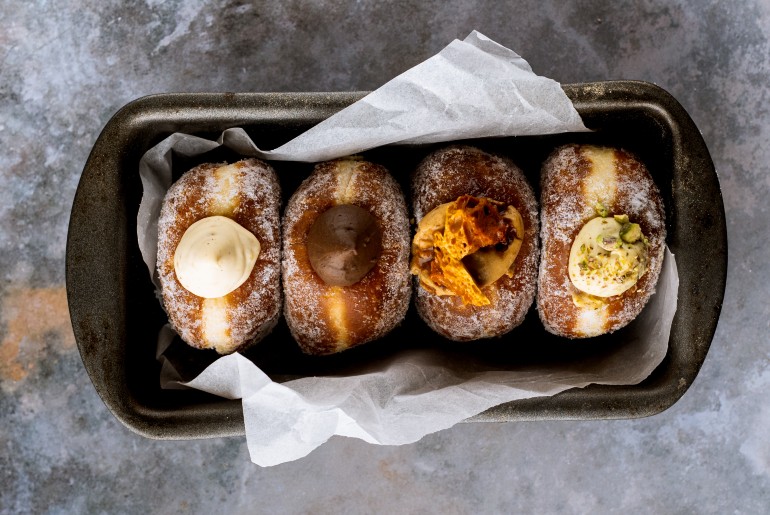 Additionally, restaurants like Scarpetta's first-ever Burrata Bar, Canvas by Coffee + Culture, Alif Café by farm2table and local favourites Ravi's, Dampa Seafood Grill, Chicken Tikka Inn, Al Farwania, Grand Beirut, Maraheb, The Majlis Café. Don't miss international dining from DA by Crab Chic, Irish Village, Fish Beach Taverna and over 100 restaurants representing country pavilions are now open for guests to visit and indulge in an experience of a lifetime.