We've been talking and hearing all about it, but will we ever get to experience it? Well, wondering what we're referring to? The Virgijn Hyperloop is one of the most awaited mode of transportation in the UAE. While we don't have a lunch date as yet, guests at the Expo 2020 can get a feel of what this futuristic mode of transport will be like. How, you ask? Read on to find out!
Sit Inside A Passenger Pod & Get A Feel Of What Travelling In A Hyperloop Will Be Like
With less than a week to go for the Expo 2020, we've been hearing new launches and announcements each day. The latest we know is that Virgin Hyperloop will be showcasing a full-scale hyperloop cargo pod and a cutaway passenger pod at Expo 2020 Dubai. How cool is that!
But, that's not all! What's even more exciting is that guests will be permitted to sit inside the 10 metres long passenger pod to get a feel of what a future journey on hyperloop will feel like. In addition, you can also get an insight into the technology and its future impact through interactive displays, videos, and models.
"The constant flow of goods has historically driven innovation in the transportation sector and now more than ever, we must continue to future-proof the industry," said Sultan bin Sulayem, chairman of DP World and Virgin Hyperloop. The pavilion will open on October 1 and will run until March 31.
What Is Hyperloop?
Hyperloop is a transport system that works with the help of electric propulsion and electromagnetic levitation. You know what that means, this could be the answer to saving the environment which is struggling due to the amount of pollution and deforestation. And not only does it help with that but it also promises employment for people throughout the duration of the project. And to top it all off this is the first new mode of transportation in roughly 100 years. We are officially in the future, you guys!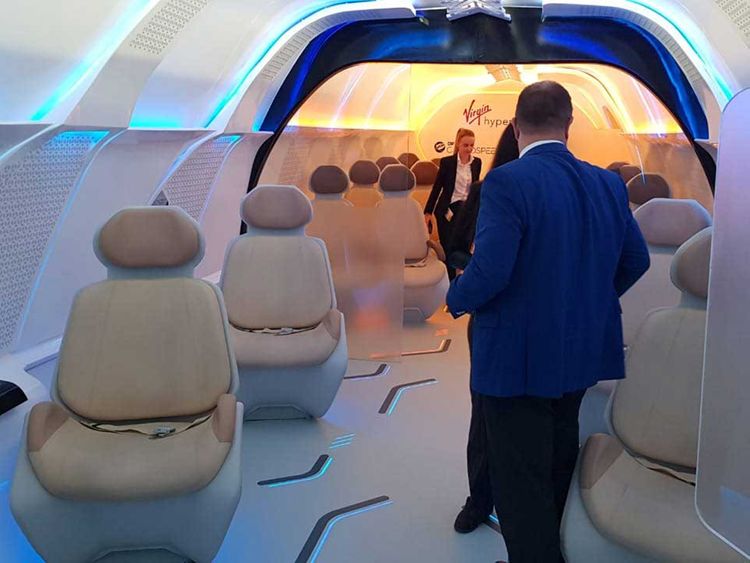 Dubai Hyperloop Sends First Human Passengers On Historic Test Ride
The Hyperloop was tested at Virgin Hyperloop's 500-meter DevLoop test site in Las Vegas, Nevada. The company has previously run over 400 unoccupied test at the same place. "I had the true pleasure of seeing history being made before my very eyes – to witness the first new mode of mass transportation in over 100 years come to life," said Sultan Ahmed bin Sulayem, Chairman of Virgin Hyperloop and Group Chairman and CEO of DP World.
Earlier, in January, the hyperloop capsule was dispatched from the assembly facility in Spain to Toulouse, France, to be tested and optimised, before it becomes fully functional in the Emirates. The hyperloop is said to connect Al Ain, Dubai and Abu Dhabi at unimaginable speeds, safety and sustainability. The first 10 km stretch is said to be ready by 2020. The loop can seat about 10 people in each pod and is estimated to take 10,000 passengers per hour to and from Dubai.
Besides, the hyperloops not only carry people. The super fast transport system will also carry cargo and goods that need to be delivered. And that means, your online shopping will reach you in hours, instead of days. Virgin Hyperloop is collaborating with not just UAE, but also with Saudi Arabia and India. It recently conducted the world's first national-level study in partnership with the Saudi Ministry of Transport. Meanwhile, A Concept Of Hyperloop Hotel Will Let Guests Travel In Luxury Rooms– here's how.
DP World #Cargospeed represents a vision for the future of cargo transportation. Today, we are one step further in making hyperloop systems a reality. @virginhyperloop https://t.co/KM26Pjwvel

— DP World (@DP_World) July 15, 2020