New Year's Eve at Times Square is one occasion that we all look forward to. However, this year thanks to the covid-19 pandemic, things are going to be different. Organisers of the Times Square New Year's Eve celebration revealed that New York City would go digital when for welcoming 2021. It's the first time in 114 years that a massive crowd will not be packed in the iconic destination to ring in the new year.
Also Read: Two Cats In New York Test Positive For COVID-19; Become First Pets In The US To Be Infected
Times Square New Year's Eve Will Now Celebrate New Years Virtually With Party Goers
To curb the spread of coronavirus, the organisers announced that the festivities will now be a virtually enhanced celebration. It will be a celebration that will come to party-goers wherever they are. The celebration will feature socially-distanced live elements. It will also feature a limited group of in-person honorees who will reflect the themes, challenges and inspirations of 2020. 
Also read: You Can Now Rent Tiny Airbnbs With A Personal Mini Vehicle In California & New York For Just $1 Per Night
One thing that will never change is the ticking of time and the arrival of a New Year. On December 31st, the Ball will drop in Times Square.

Times Square New Year's Eve 2021 is happening visually, virtually, safely. Stay tuned. pic.twitter.com/5CE5ROZgTF

— Times Square (@TimesSquareNYC) September 23, 2020
Essential workers, doctors, scientists as well as entertainers and performing artists will be among the honoured guests. Tim Tompkins, president of Times Square Alliance said, 
"Everyone one knows what the dominant news of 2020 has been so far: COVID-19 and a host of racial, economic and climate crises. Through a limited number of honoured guests,  we will honour and celebrate the courageous and creative spirits who have helped  us travel through these challenging times into the New Year."
Also read: New York Subway Shuts For The First Time In 115 Years
The Celebration Will Be Different, But Will Surely Be Creative And Fun 
The Times Square Alliance produces the celebration with Countdown Entertainment. Speaking about this decision, Jeff Straus, president of Countdown Entertainment, said,
"We will miss everyone this year but we will bring our celebration to you. Whether you want to turn off and turn away from the bad news of 2020 or turn to the new year with a sense of hope, renewal and resolution, you'll be able to join us virtually like never before."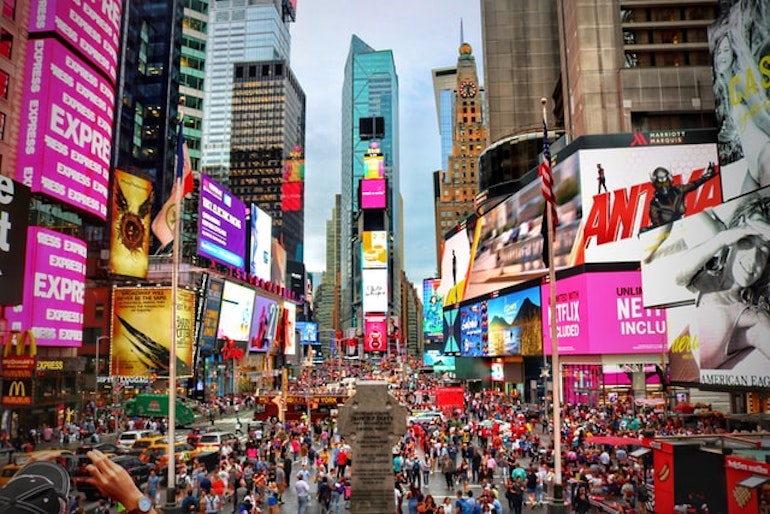 New York City Mayor Bill de Blasio applauded organizers for finding a safe, creative and innovative way for all of us to continue to celebrate this century-old tradition.
"A new year means a fresh start, and we're excited to celebrate," he said.