London in Parks
Be it sunbathing in the summer or a refreshing walk in the winter, there is always a reason to visit one of London's beautiful parks. So when the sun decides to show up in London, you must go to the gardens listed below.
Most parks have a free access but this is where you will find the most scenic locations, natural swimming spots, colour co-ordinated green patches along with Deer giving you company as you stroll along the garden.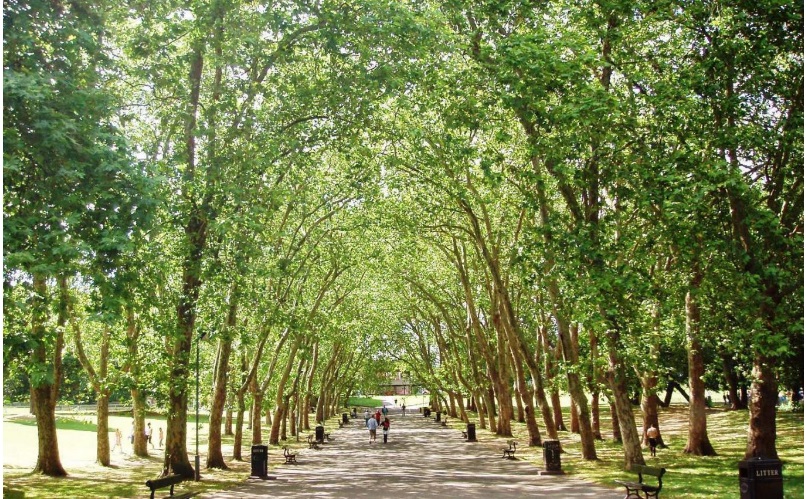 1. Hyde Park

Favourite amongst the Bollywood celebrities, Hyde Park clearly tops the popularity list. With over 4,000 trees, a large lake, a small pond, a meadow and ornamental flower gardens, there's a good chance of forgetting that you are right in the centre of London. Be it swimming, boating, cycling and skating, Hyde Park has something to offer to everyone.
Hyde Park houses a lido; a public open-air swimming pool or bathing beach and is also famous for the Serpentine. You can enjoy the Serpentine by hiring a rowing boat, a pedalo or scooting.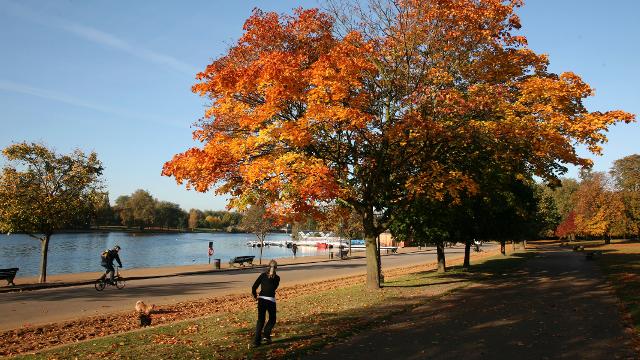 There are pitches for team games, tennis courts, tracks for horse riding and a spectacular children's playground. If you're out and about on Sunday, head to Speaker's Corner to hear London's most vocal orators share their opinions with the world. Ice skating will also be available from November to January.
Nearest tube(s): Hyde Park corner, Lancaster Gate, Marble Arch, Knightsbridge
Opening times: 05:00 – Midnight
Food and drink: Serpentine bar and kitchen, Lido bar and café and various refreshment points
2. The Regents Park 


Designed in 1811 by renowned architect John Nash, The Regent Parks is one of London's most beautiful parks. Covering an area of 410 acres, it has the largest outdoor sports area in London catering for football, softball, rugby, and also a cricket pitch. The Park hosts London Zoo, the Open Air Theatre (performances end May to early September) and a boating lake. There are also wild bird species and waterfowl.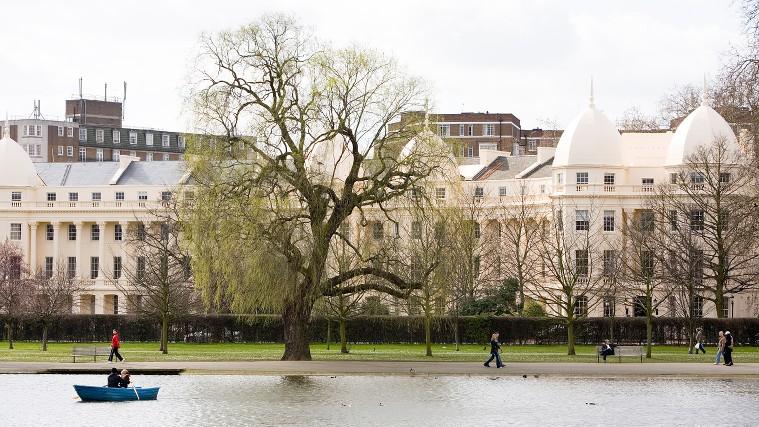 The boating lake is a highlight of the park. There's a choice of row boats and pedalos. Choose rowing- the queues are shorter and it's more romantic. And if you want to get a fantastic panorama across the city, get to the top of Primrose Hill for a breath-taking view.
Nearest tube(s): Baker Street, Regent's Park, Camden Town.
Opening times: 05:00 – 21:00
Food and drink: The Garden Café, The Honest Sausage, The Boathouse Café, and the Tennis Centre Café.
3. Richmond Park

This one is the largest royal park in London spread across 2500 acres and is home to more than 600 deer. Amidst ancient trees, plants, animals and butterflies, the park offers a peaceful respite to visitors. You can choose to fish at Pen Ponds, ride a horse or even cycle in the woods. A walk at Richmond Park is one of the best ways to get a glimpse of UK's countryside. The red and fellow deer that live in the park are remarkable creatures, too.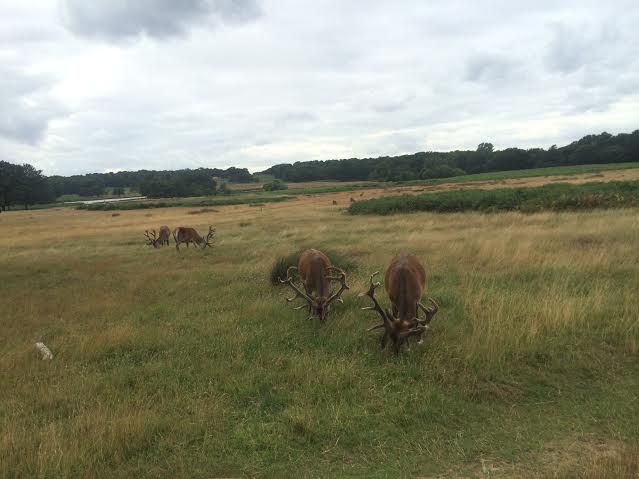 Nearest tube(s): Richmond
Opening times: 07.30 – 19.30, though pedestrian gates are open 24 hours a day.
Food & Drink: Pembroke Lodge, a Georgian mansion with spectacular views and garden seating, Roehampton Café or refreshment kiosks located at main car parks.
4. Kensington Gardens
Home to William & Kate, Kensington Gardens offers mature trees, monuments, ornamental flower beds and a pretty lake. Kensington Gardens is home to Kensington Palace, the peaceful Italian Gardens, Albert Memorial and the Serpentine Gallery also the Peter Pan themed Princess Diana memorial playground.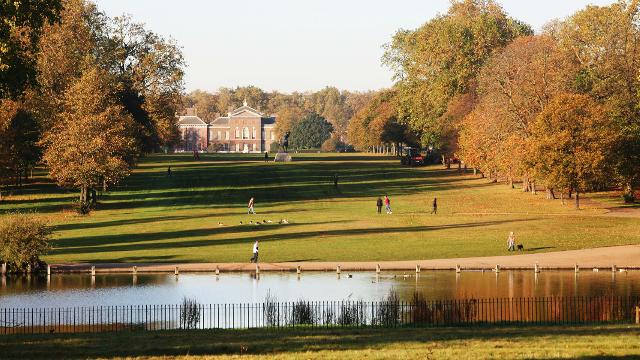 Nearest tube(s): High Street Kensington, Queensway, Lancaster Gate, Notting Hill Gate
Opening times: 06:00 – 19.45
Food and drink: The Orangery, The Broadwalk cafe and playpark café.
5. Bushy Park
Bushy is the second largest royal park and well worth the journey. Spread across 1,100 acres, the park has lakes and streams dotted throughout the park. Located to the north of Hampton Court Palace, there is plenty of wildlife too, including deer and pheasants.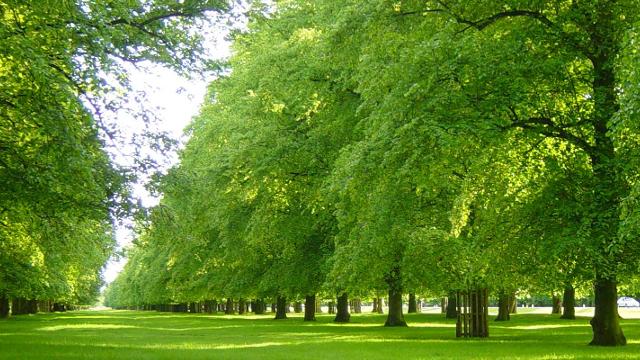 In fact, Bushy Park is home to 320 free-roaming deer. You can choose to cycle or horseride here. This historic park with grassland supports a rich diversity of fungi, plants, animals and many species of birds and waterfowl.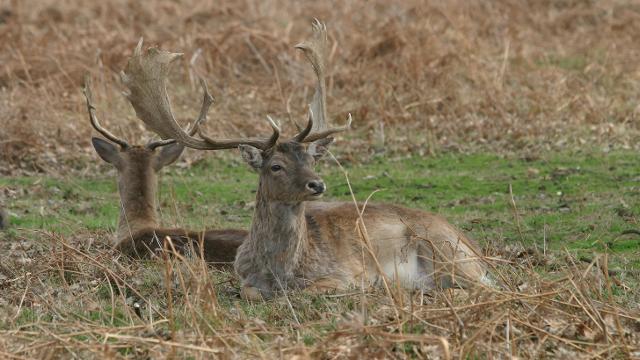 Nearest tube(s): Take the train, either to Hampton Court, Hampton Wick or Teddington
Opening times: 06.30 – 19.30
Food and drink: Food & Drink: Pheasantry Café, open 10.00 to dusk, offers a wide range of hot and cold snacks, beverages and ice creams. and a refreshment point in the Diana car park
That's not all! Many other parks like the Victoria Park, Crystal Palace Park, Hampstead Heath park offer stunning views of the fair city.
Also read,