Can ever say 'no' to paani-puri? We cannot! Can you say no to chocolate? We cannot! Well, if you're on the same boat as us, there here's something that's gonna get you drooling. Its time to give a Chocolate-y twist to your good old Pani puris! Indulge in Chocolate Pani Puri shots at Bol Gappa, in Karama. The Bollywood-inspired restaurant in Karama has now chocolate-coated the favorite Indian street food snack and we're lovin it!
Binge On Chocolate Coated Pani Puris For Just AED 19
You might have eaten Pani puris stuffed with  spicy potato filling, served mint based water. But Bol Gappa does it a little differently. The restaurant coats the puris in layers of chocolate, and then stuffs it with chunks of brownies. The puri is then served with a special sweet syrup, which is prepared in house using traditional dessert recipes. Now, that's certainly drool worthy, right?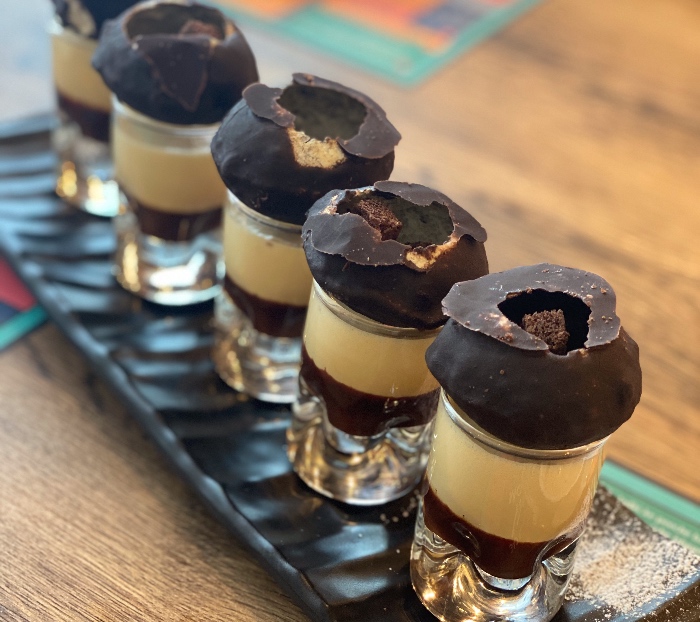 Priced at AED 19, one portion comes with six shots of chocolate pani puri. The dessert satiates people with a sweet tooth and a special love for chocolate.
Similarly, Kulfi House in Karama also serves chocolate Pani puris. Here, the chocolate coated puris are filled with rabri, making it perfect to be gulped down as a dessert post meal. Besides, Kulfi House also serves a selection of kulfis, which vary from the traditional malai kulfi to kesar pista, gulkand, blackcurrant, rose almond and more.
Deets