Under 140 Characters
The 22nd chapter of Global Village, Dubai commenced on November 1st, 2017 and goes on till April 7th, 2018 and is a virtual tour of the world on a platter for shoppers, foodies, art enthusiasts and thrill seekers alike.
What Is It?
What started off as a small affair on the Dubai Creek in 1996 is now a grand manifest near Exit 37 on Sheikh Mohammed Bin Zayed Road. A potpourri of myriad cultures, food architecture, and art, Global Village aims to celebrate diversity from around the world. This chapter sees 3500 outlets from 27 countries/regions from Europe, the Far East to America and the Middle East. Setting aside the shopping extravagance it is, Global Village is a culinary delight and a platform to witness cultural performance you have never set your eyes on.This year is set to host 12000 shows with over 80 artists from across the globe.
What's In It?
At the entrance you have the 7 wonders of the world from the Taj Mahal to the Leaning Tower of Pisa, Eiffel Tower, and Big Ben, welcoming you to this carnival of diversity. Inside this compound of 300,00 square meters, there is something for everyone.
The shopaholics have local produce from different countries brought to a commonplace on a platter at affordable rates.  Global Village is known to promote many local artisans across the globe. Local Produces like Nigerian spices, Yemeni honey, Moroccan Argan oil, Iranian spices, Russian dolls, Indian antiques, Egyptian scarves, Japanese kimono, Turkish delights etc can be bought from Global Village without having to go to those countries!
Also read: Dubai To Get The World's First Floating Kitchen
The food enthusiasts have a selection of 23 restaurants, a coffee shop, 9 kitchens and 120 kiosks to choose from. Don't forget to grab a cup of famous kadak chai while you're here.
For those interested in seeing live performances, they can witness some form of a musical concert,  traditional forms of dance or a segue of standup comedy happening in one or the other nook of Global Village. You have to prioritize what you'd like to see and this list here should help you with that.
Fantasy land, a dedicated fun fair area has. There are amusements rides like Ferris Wheel, roller coasters, extreme swings, sky coasters and plenty other adrenaline boosters for adults and kids in the far end of Global Village. However, tickets for these rides are not included in the entrance fee.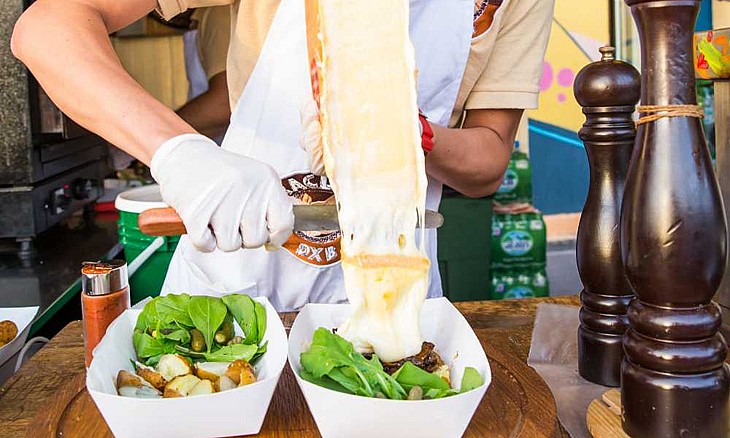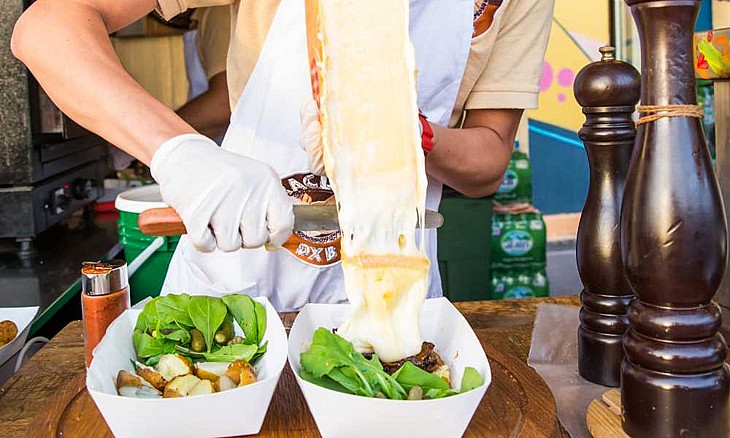 No two pavilions are designed the same way and it is an absolute delight walking around Global Village and soaking in each countries essence just by looking at the elements adorning the pavilion's exterior. Most pavilions showcase a global landmark or a signature monument from their country along with their flag proudly hoisted. Each pavilion has a different layout as well and is decked with saleable items starting from curios to garments to traditional artifacts, jewelry, fragrances, local produce, edible delights and more.
What's Unique?
There have been some additions this year which is bound to make your experience all the more enthralling. Two new pavilions have been added – The South Asia Pavilion (representing Sri Lanka, Bangladesh & Nepal) and Bosnia & Balkans Pavilion. A new entertainment zone called "Carnaval" has been added which houses 28 rides, 100 arcade games and 34 skill-based games with each ride/game named after major cities in the world. Global Village has also started bi-weekly fireworks every Thursday and Friday from 9 pm.
Also read: Everything You Need To Know Before You Head To Dubai!
The Indian pavilion is this year's largest with over 300 stalls selling curios, fabrics, artifacts, cosmetics, and jewelry made by Indian artisans hailing from various parts of the country.
Watch out for the Global Village mascot Globo while you're here because entertainment follows him!
What Else?
Global Village clocked in 5.6 million guests last year and achieved a 9/10 score on the 'Guest Happiness Index' hence becoming Dubai's most popular tourist attractions. This year, it's set to break its own record and aims to achieve a 10/10 on the Happiness Index. Global Village is also a chance to get lucky and win big with the weekly raffles and other activities lie Catch the Cash draw allowing visitors to win up to AED 250,000 in one go.
Deets 
Ticket prices are AED 15
Mondays are dedicated to families and women only. Bachelors are not permitted.
Global Village is open from Monday – Sunday and the timings are :
Saturday – Wednesday — 4:00 PM – 12:00 AM
Thursday, Friday & Public Holidays —  4:00 PM – 1:00 AM
LIKE Curly Tales on Facebook | Instagram| Twitter
You can also subscribe to our newsletters