Did your boss crush your dreams of vacay? Is your partner-in-crime too busy for trips? Don't let capitalism win. We've got the perfect solution for you to recharge properly on the weekends. With just one click you can be in a place where you won't even remember your boss' name. Delhi NCR is surrounded by plenty of perfect places for a quick weekend getaway. We're talking Friday night to Monday morning. I know it sounds hectic and we've all been there done that but, don't judge too quickly. God bless homestay culture for revamping the definition of holidays. Here are five homestays near Gurgaon less than an hour away!
1. Junoon Farmhouse
This two-bedroom farm is our top pick for a quiet weekend getaway at only 40 minutes from Gurgaon. Travel time is next to nothing which means zero effort at an affordable price. Nothing says relaxation more than that! The farmhouse is off the grid, so far away from the noise you'll forget the city even exists. The property has been put together by a retired 56-year-old female traveler with love and passion. Its exposed brick finish gives it a rustic feel while free standing domes lend a royal touch. In another paradox, the décor is electric for insta-worthy modern backgrounds. Three plush lawns welcome you as you enter. The host uses this space for organic farming and the best part is that guests get to eat from the backyard. The mustard fields in the vicinity are just the magical touch 'Dilwale' are looking for.
Where: Mewat
Capacity: 4 guests
2. SimBliss Farm
Have the most unique weekend getaway with the best of both worlds. Here guests can camp-out in the massive property and enjoy the wilderness feel. It is also an ultra-luxurious homestay with four bedrooms, two barbeque pits, pool, gazebo, fireplace and an in-house chef! Is there anything this weekend getaway doesn't have? Located just ahead of Manesar, the resort has four bedrooms and fifteen beds that surround a central courtyard. The famous horse whisperers are close by making for the perfect opportunity to experience animal management. They're always fully booked so make sure to book this life-changing workshop well in advance.
Where: Hasanpur
Capacity: 15 guests
3. Villa Near National Forest& Bird Sanctuary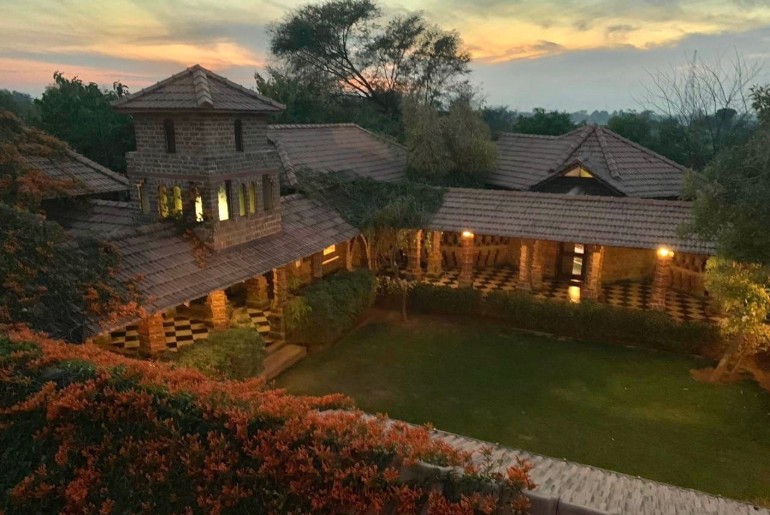 The villa is constructed in a traditional Rajasthani style. It will transport you to deep vacay zone in just 45 minutes from Delhi airport. What's special is its location. It is only 3.7 km from Sultanpur Forest and Bird Sanctuary and 15 km from Najafgarh Bird sanctuary. Escape Delhi NCR pollution and fill your lungs with the smell of… well, clean air for a change! The cleanest you can get in 45 minutes anyway. It creates room for interaction with nature and that's all we city-dwellers crave. The bungalow offers laptop friendly workspaces with a caretaker and gardener for that extra touch of weekend getaway. Guests have reviewed the villa's lack of cellular network as its best feature. No phone means more nature!
Where: Haryana
Capacity: 10 guests
4. Malibu Town
This three-storey villa covers 1000 square meters. It is fully furnished and encourages complete access to the community club's pool, tennis court and restaurants. The property is bathed in sunlight. The first thought that comes to one's mind here is comfort. Everything in the house has been handpicked for design that proves utility. All the furniture, fixtures and amenities were made to custom the comfort of its future guests, i.e. you!
Where: Sector 47 Gurgaon
Capacity: 10 guests
5. Ivy Bridge Farm
This is the Queen of homestays. You won't believe the things it makes possible. Let's start with the tree house. Yes! Tree house! We can't wait to relive our childhood in the lap of nature. Speaking of nature, they have artificial rain! Of course, they have a swimming pool too. A weekend getaway at this place would mean breakfast at the fruit orchard then visiting the Bali style temple followed by a walk around the bamboo grove. In the evening we could play mini golf in the farmhouse and then fight over indoor games, finishing the night with 20 minutes in the cigar lounge. Oh, did we mention the walls are covered in art from around the world?
Where: Bhudka
Capacity: 16 guests
These homestays are just so tempting because of the sheer practicality of it all. This list of the easiest weekend getaway from Delhi NCR has got us chirping with joy. Our plans are made for the next five weeks already and we wouldn't have it any other way. Work becomes play when you feel you're reaping the reward of your labours. Otherwise, burnout might be even closer than these spots! So, pack your bags and gear up for the year-round holiday season.