Generally, people criticise in-flight meals as bland in taste and flavor. But, it's not about the flavour or blandness of food, it's about the human body's reaction to it 30,000 feet in the air. So, when you are opting for meals in air, you have got to be extremely picky. Ideally, you should be eating something light on flights, rather than something heavy. So, think twice before you ask for that pasta on your next flight.
NEVER Ask For Pasta On A Plane
The cooking process of pasta at a height raises questions about food safety. Some food items can handle the ariel cooking process. Because, before serving pasta it needs to be reheated, that means it needs to be overcooked. And the overcooked pasta along with an out-of-proportion sauce pasta can result in an unappetizing and unhealthy spot.
Pasta is quite a tempting and filling meal. But the spice, raw onions, garlic, dense sauces, and overcooked pasta can upset your stomach. Because, of the carbs present in pasta, they can even make you feel cranky, lethargic, pukish, and restless during flights. If you also feel puckish on planes, opt for some munchies, that can surely make you feel better.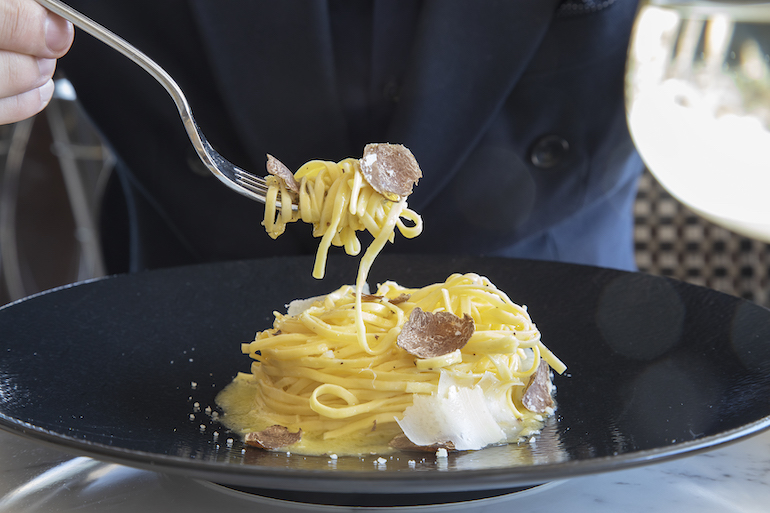 High Altitude Affects Human Taste Buds
In fact, a study was conducted by the Fraunhofer Institute of Building Physics in Germany. The study proved that the low pressure in planes reduces the human taste buds, with a 30% reduction in sensitivity to sweet and salty tastes on board. The director of culinary excellence at LSG Sky Chef Asia Pacific told CNN in 2012, that airlines are more concerned with food safety than taste.
Gross later also said "Our main concern is actually food safety," Gross said. "We produce so much that we can't afford to keep the wrong ones out there. You can imagine how easy it would be for airlines to get sued."
Also read: IndiGo To Let Passengers Exit Plane From Three Doors On Landing At Airport
What To Eat When You're On A Plane?
The best way to have a happy flight journey is to keep yourself hydrated. You can also infuse some fruits, like apples. To have something savory, you can opt for munchies, like popcorn. And for a filling meal, either have something home cooked or sandwiches.
Also read: Here's What You Should Do When You Feel Claustrophobic On A Plane