You must have savoured the many street foods from the lanes of Chandni Chawk. But living in the arteries of Old Delhi can be an experience in itself. But if you do not know where to park yourself, hear us out. Nestled in the labyrinth of Old Delhi and a stone's throw from the Jama Masjid is Haveli Dharampura. It is a 200-year old haveli which is now a restored heritage hotel, a landmark in the narrow Gali Guliyan. Very interestingly, the original owners of the haveli belonged to the Mughal era and its history transcends by a few centuries. Here's why this heritage hotel is a must-visit.
Also read: Randi Ki Masjid In Old Delhi: How The Historic Mosque Got It's 'Crude' Name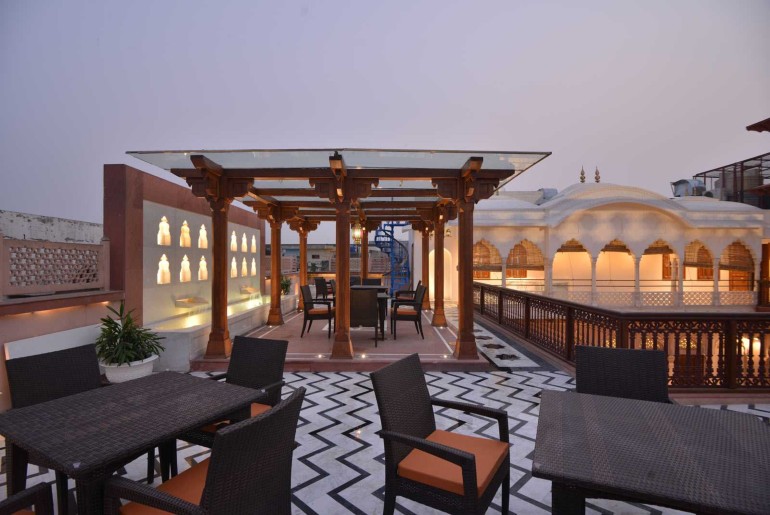 A Heritage Property With A Courtyard & A Fountain
The entire restoration process of Haveli Dharampura took seven years to complete, and the result is immaculate. A building that was once a forgotten family manor, is now an elegant heritage property. The looming brass gates open to a stunning three-storey structure, a central courtyard and a fountain that looks like those in the 18th-century residences. The windows and jharokas have stained glass art. This 56-Year-Old Shop In Old Delhi Serves Bhaang Kulfi For Just ₹50!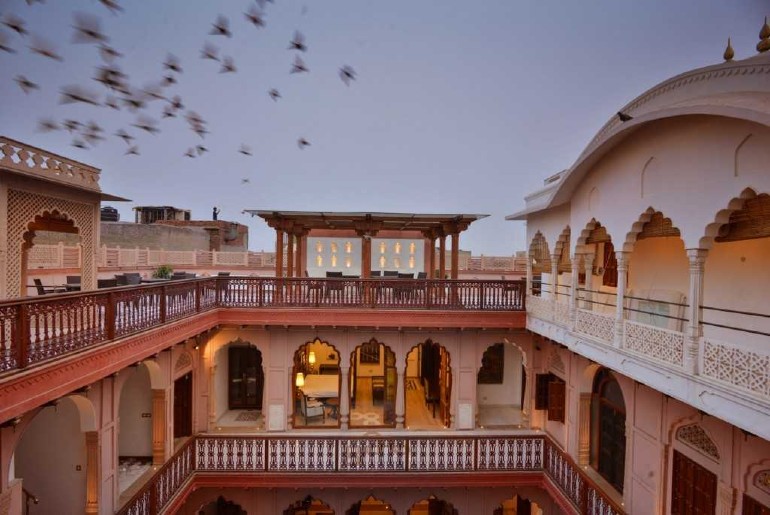 Colourful Interiors From Mughal Era
The floor is covered in stunning tile-work with all shades of colours from mint green torani pink. Sandstone and marble make repeated appearances, much like that, you have seen in a period film.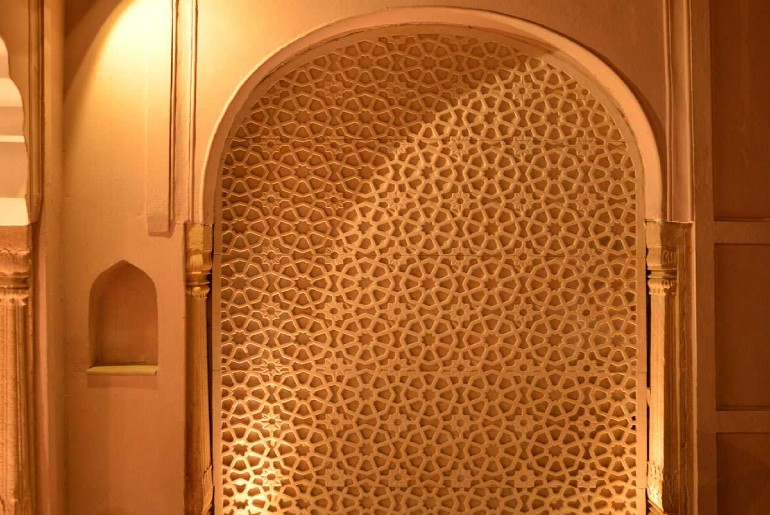 If you skip the elevator for the stairs, you can admire the beautiful jaalis and the carved bannisters along the way.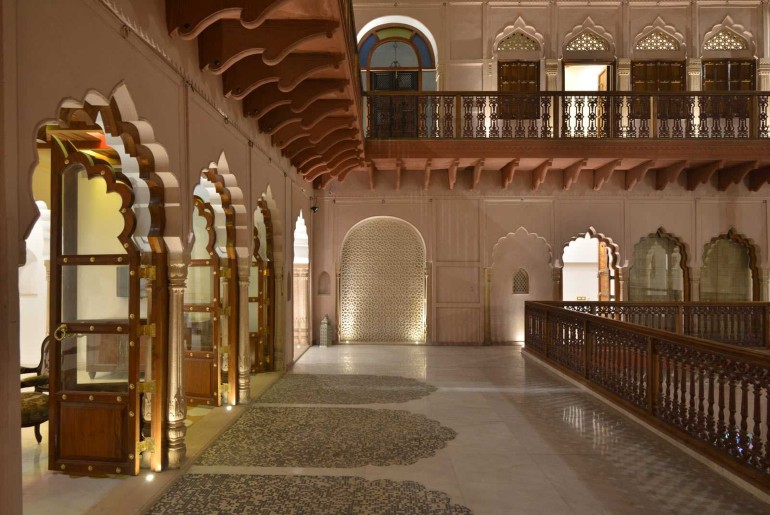 Rooms With Wooden Fans & Carved Bedposts
The rooms are named after Old Delhi gates and have thoughtful design details like wooden fans and carved bedposts. Be ready to be mesmerised by the silver lamp and a filigree shaving mirror in the bathrooms. The art gallery and the spa in the haveli are the cherries on the cake. Old Delhi May Get Glory Tram Trains Back To Tour Chandni Chowk Trackless And Electric!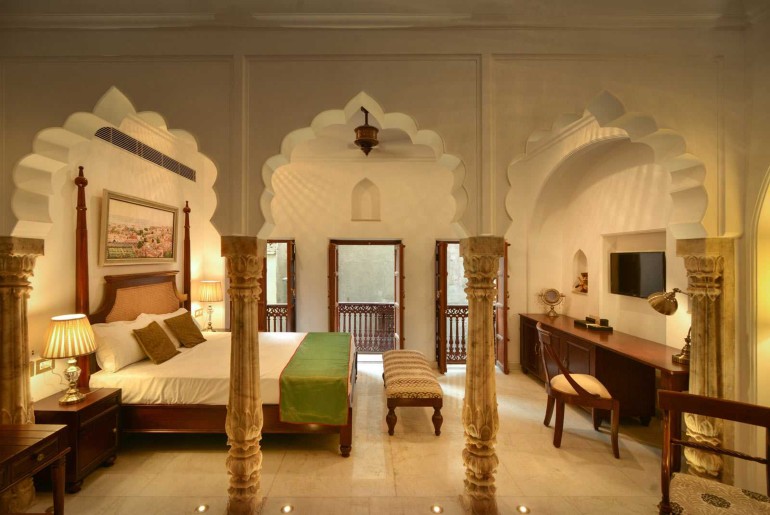 An Atmosphere Of Thumris & Ghazals
The area that used to be the mardana is now a performance space, which will regularly host kathak dancers and sufi singers. The balconies are decorated with dancers performing for the evening and the atmosphere full of thumris and ghazals.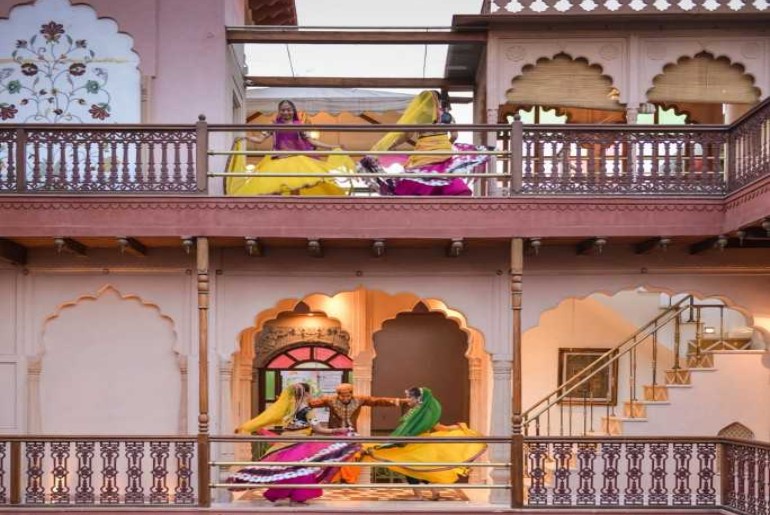 Old Delhi Street Food To Win Your Heart
The food in their old-world restaurant, Lakhori is the right balance of modern and traditional. The restaurant serves Old Delhi street favourites with contemporary twists. The Bedmi with Aloo Suzbi, Paneer Parantha and the Chaat are a must-try. Get Dal Makhani At 1AM In Chandni Chowk At This 77-Year-Old Place For ₹170.
Enjoy your morning tea in the rooftop dotted while enjoying the views of Jama Masjid, Red Fort and Gurudwara Sis Ganj Sahib all coming together to form the skyline.