The summer capital of Jammu and Kashmir, Srinagar, is a popular tourist destination due to its exceptional scenic beauty. Srinagar is home to one of the most beautiful floating markets in the world, that overlooks the captivating Himalayas. There is a rarefied serenity even amid the hustle and bustle of this market, which will linger on your mind for a lifetime. Other than the floating market, a lot more is there to explore in this region. Here's a glimpse into the hidden treasures of the hilly town with Kamiya Jani. And she said that her trip was extra special as it had a local touch, thanks to the driver Sartaj.
A Picturesque Hamlet With A Bridge: Only Locals Are Allowed Here
It is said if you ever want to experience any destination in its true form, you should see it through the eyes of its locals, it adds to the beauty of the place. I headed to Srinagar early morning and my driver Sartaj took me through sights that usually remain unexplored. Sartaj was aware of all the shortcuts.
We came across a narrow wooden pathway amid the greens, which looked very picturesque and offbeat. Only locals are allowed to go to this village. But I was lucky. Sartaj took me there. Every family here has its own boat and around this very spot the Bollywood movie starring Aditya Roy Kapoor and Katrina Kaif, Fitoor, was shot. There is a scene when Katrina Kaif runs out of the hut and meets Aditya Kapoor right on the bridge.
Also Read: Kalaroos Caves In Kashmir Could Possibly Be Secret Tunnels To Russia
The Floating Market Of Srinagar
This is India's oldest floating market which starts around 5 AM in the morning and shuts around 7 AM. There is a floating market in Bangkok and I have been there too,  but the feels here are very different. It's peaceful rather than noisy. This is not just a market, this place is the story. Srinagar's floating market sells a wide variety of vegetables like cauliflower, aubergine, Kohlrabi, turnip, tomatoes and lotus stem. These vegetables are known for their organic tastes since they are cultivated only by using natural fertilizers. The vegetable cultivators assemble early in the morning at a place called 'Gudhar', which means gathering.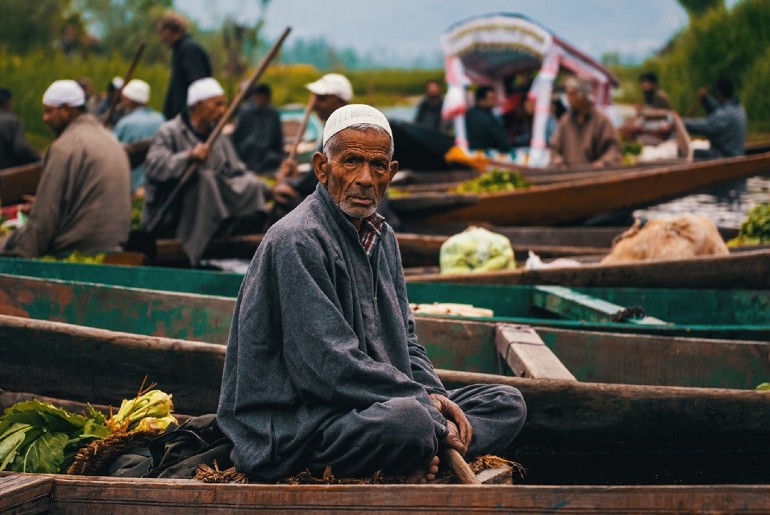 Apart from the floating boats that sell a wide array of pretty flowers and vegetables, you will spot many floating shacks as well on this lake. These shacks sell traditional handicrafts, curios, iconic Kashmiri shawls and ponchos.
Gorging On The Delicious Local Breakfast
If it wasn't for Sartaj, I would never get the opportunity to try special Kashmiri bread which is also known as Czot. I had salty tea and crispy bread ( a typical Kashmiri breakfast) from a roadside eatery and the combination was amazing. A wise man had once said, "First fill your empty stomach and then do the rest of the work." Then we proceeded to explore Pari Mahal.
Pari Mahal- The House Of Fairies
Pari Mahal means 'house of fairies'. This is a seven-terraced garden located on the top of Zabarwan mountain range. The eldest son of  Shah Jahan- Dara Sukoh loved this place. He would learn astrology over here.
It is also said, if you stand at the peak of this palace, you can see the entire Srinagar.
We got unexpected rains, which were not very welcoming. But Sartaj had already informed that the climate of Kashmir, wife's mood and lotus flower are never to be trusted. My tour guide was really entertaining. Our next destination was Chashme Shahi, only 5 minutes away from Parimahal.
Also Read: Gulshan Books In The Middle Of Dal Lake In Kashmir Is The Perfect Haven For A Bookworm
Pure Water Of Chashme Shahi
It is believed that it's a natural spring and its water has medicinal properties. Due to this belief, tourists from around the world visit here and drink the water from this natural spring. We have heard that the first Prime minister of India, Pandit Jawaharlal Nehru has also tasted the water of Chashme Shahi.
I tried the sips of the water, and they were sweeter than mineral water. The climate was good, and therefore I planned to have a saffron-almond kulfi too.
Also Read: Curly Tales Takes You On A Virtual Tour Of Jammu
Asia's Second Largest Tulip Garden
Uttarakhand now has the largest tulip garden in the world and Asia. The second-largest in the continent is in Srinagar. Indira Gandhi Tulip memorial has 50 different species of tulips. People say that it's more beautiful than the tulip garden in Amsterdam. I was lucky to be there at the right time because the garden is open for 30 days in the entire year.
The Authentic Wazwan Meal
First Floating market and then Tulip garden, people travel out of India to enjoy such experiences. But why? We have our own in India. India is known as a golden bird when it comes to beauty. To try out the authentic Wazwan meal, I headed to the Mughal Darbar. Not just the food, the style in which the place serves the food is authentic too. Wazwan meal comprises of 7 to 36 dishes which include different types of meat and fruit dishes, kebab, tabak maaz, aab gosh, rogan josh, rista, and goshtaba. The traditional Wazwan meal is truly enjoyed and relished, if you eat it with your hands.
Relaxing At Chai Jaai
After the delicious meal, it was time for some soothing tea. I had the opportunity to drink the special tea of Kashmir in Chai Jaai.  Kashmiris are really proud of this tea. It's not just a tea, it's their pride. When in Srinagar, you must have the salty tea or 'noon chai'.  Here they put little salt along with sugar in the tea. I had never imagined that I would find such a cute cafe in Srinagar, near the Jhelum river, surrounded by the mountains, You can spend hours at Chai Jaai, which serves 60 different types of tea.
Also Read: Experience Kashmir Through The Banihal-Baramulla Railway
As a woman traveller, it is very important to think about my safety, to read about the place I am visiting and to understand the current scenarios of the destination. We have heard a lot about Kashmir, about it being unsafe, but I didn't feel any of it. It felt great to be in this mountainous state, enjoying the roads with scenic vistas all around. To conclude, I must say, if there is a heaven on earth, it's definitely in Kashmir.