Being a true blue dessert lover, I am a big fan of cheesecakes. And if you ask me where to try the best cheesecakes in India, it has to be in Naggar. The heritage town in Himachal is located around 45 minutes away from Manali. Apart from the medieval-era Naggar castle and stunning mountain views, the place has something more to offer as well. Is it authentic Himachali food? Hell yes!! But Naggar is also a paradise for cheesecakes and soothing English teas!
View this post on Instagram
The quiet lane near Naggar Castle is dotted with pretty European cafes. They offer delish English breakfasts, pancakes, cheesecakes, freshly brewed coffee, English teas, tiramisu, plum cakes and much more. And they are way different from the English bakeries nestled elsewhere in the country. Their baked delicacies are highly authentic and comforting to the taste buds. And there is a reason why they are baked to such perfection. Read on to know more!
Also Read: We Ditched Manali And Visited This Hidden Village In Himachal Which Left Us Spellbound
Naggar For Me Is The Cheesecake Capital In Himachal
After a tiring day of trekking, I was craving something mouthwatering and a place named the Wool Cafe caught my eye. It is just a two-minute walk from Naggar Castle. The decor of the two-storey cafe is a blend of western and Himachali art. In the upper storey, there is an outdoor seating too overlooking the mountains. We chose to sit on the patio to enjoy our desserts with a view. We ordered a banana pancake, a cheesecake, a coffee and a mocktail. Sipping coffee in the mountains is a magical experience, and nothing can be better when it is coupled with some scrumptious desserts. And I must say, the cheesecake at the bakery was simply out of this world.  It was super fluffy with the right kind of sweetness and my eyes almost closed in awe while gulping it down spoon by spoon.
View this post on Instagram
I got so smitten by the cheesecake at Wool Cafe that the next day I went to another German cafe in the same area to try another cheesecake. It too was highly delectable, though I had loved the one at Wool Cafe more. But cheesecakes at Naggar were phenomenally satisfying and I can literally go back to the place for trying them all over again. As after returning from there, I couldn't find a single cheesecake as mind-boggling as them. Bakeries in Naggar have literally made my cheesecake expectations touch the roof!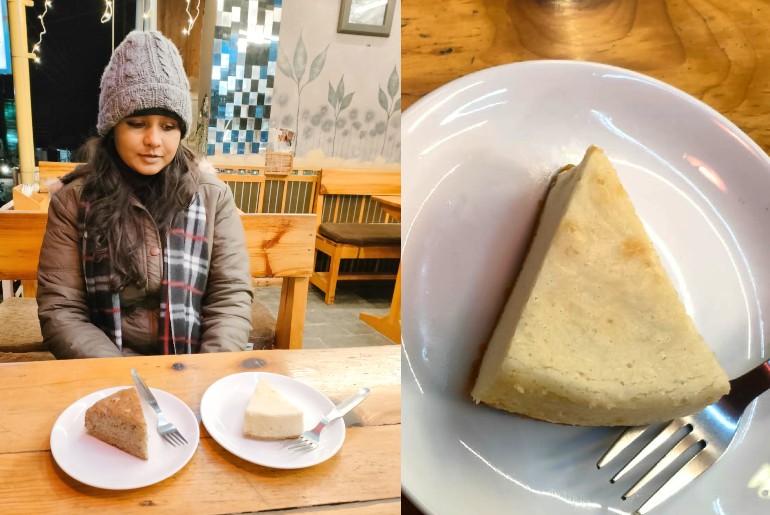 Also Read: This Himachali Man Runs A Dhaba Beside A Waterfall And Serves Local Village Food!
Most Bakeries In Naggar Were Initially Developed To Cater To The Taste Buds Of Foreigners, Said Local
A native told us that earlier mostly foreigners used to visit Naggar to explore the local life out there. There is also a money exchange kiosk at Naggar making the point all the more relevant. Thus, these cafes had come into existence to cater to the taste buds of those foreigners. After around 2012, the place started gaining momentum among Indian tourists too. To read my entire travel diary on Naggar, click here.