It's not every day where you get a call from your friend asking you to come along with him to Baku, Azerbaijan to attend his cousin's grand wedding. So, what do you do? You obviously make a trip out of it. Baku isn't everyone's typical vacation choice but isn't that what makes it even more exciting? Exploring a hidden gem that is barely documented!  The capital city of Azerbaijan is the true off the beaten track destination that is only known by the intrepid travelers.
I am Sachi Kumar, a digital geek, a travel blogger, a street-food enthusiast who gives up everything at every chance I get to travel. Come along, as I take you through my three- day itinerary to Baku- one of the fastest changing cities in the world.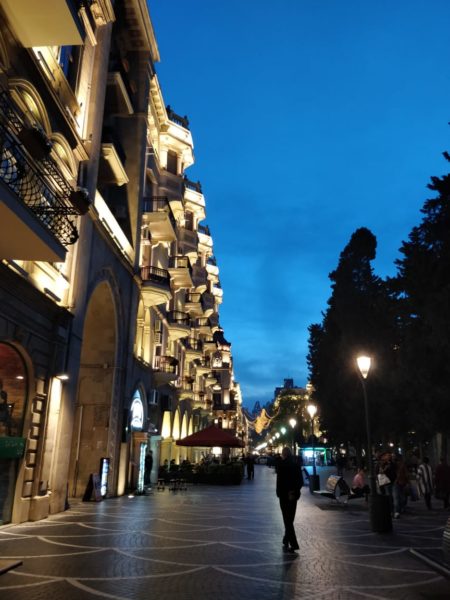 Where Is Baku And How To Get There?
Baku is the largest and the capital city of Azerbaijan. A three-hour flight from Dubai will take you to this paradise. Tickets for flight would cost around AED 1000- AED 1300 depending on season. We flew on Fly Dubai, which takes you approximately three hours to reach. The airline operates direct flights to Baku from Dubai, you will fly into Baku International Airport. The airport is about 30 kilometres from the centre of the capital and it's best to take a taxi to your hotel.
A Brief Itinerary
I love short flights – and the flight from Dubai to Baku was an easy three hours. We opted for Fly Dubai, which costed us approximately AED 1000 for a direct return ticket. We got tipped by our friends to use the app Bolt(more on this below) to commute in the city. Language isn't really a problem, as most of them speak in English. The ride wasn't quite inspiring, but as we enter the city, we realized Baku is the architectural love child of Paris and Dubai.
Day 1
Nizami Street

After 25 minutes on road, we get to our AirBnb, met the sweetest hosts, checked and opened the windows only to realize we were bang in the middle of Nizami street. It's just the first day so we both agreed to check out Nizami street, grab a drink, some food and people watch (because who doesn't like doing this, right?).
Fountain Square
Nizami street within Fountain Square is the most happening street in town, it has the hipster cafes, international restaurants and lots of places to shop at. We started to get the feel of Baku at this point. The cobblestone streets, see and touch of the contemporary architecture and of course relaxing by the fountains docked at every nook and corner of the Fountain Square.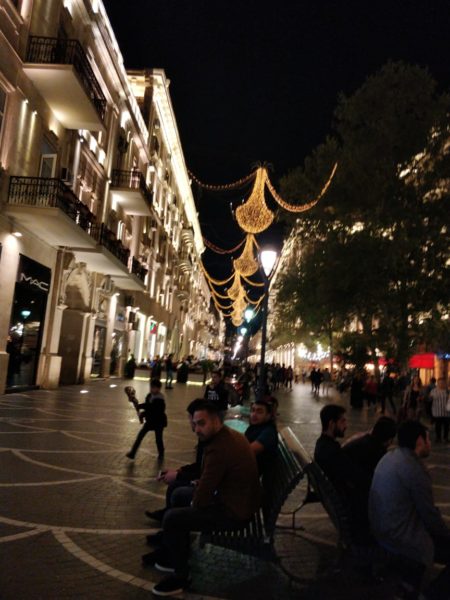 Food Shopping At Nizami Street
As for cafes, there's plenty to choose from, but I totally recommend Dolma restaurant. The cafe boasts such lovely interiors, almost felt like I was back in the 15th century. They serve traditional Azeri food and also have a selection of vegetarian meals at affordable prices. An average meal for two would cost around AZN 30 ( AED 70).
I'm not much of a shopper, but I love grocery shopping. Nothing like checking out local ingredients and staples eaten by locals themselves. Lucky for us, we discovered Pomegranate wine – one of the specialities in Baku and that's when we get a call from our AirBnb hosts to hang out. Perfect! Funny enough, we actually ended up hosting our AirBnb hosts in their OWN home.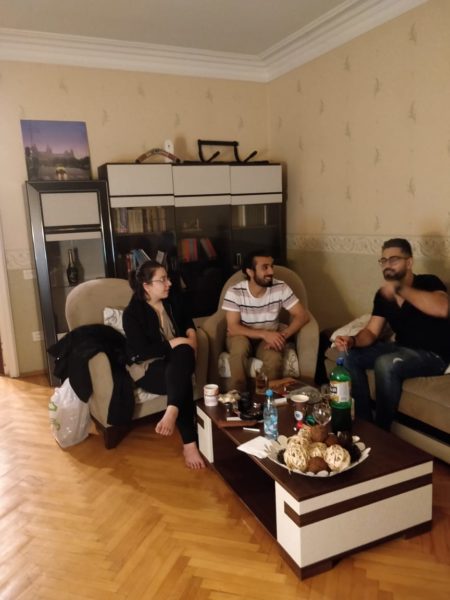 A couple of beers, pomegrante wine, and connecting over our differing cultures. Our day wrapped up with us explaining to them about the variety of Indian spices that they never knew existed. What a day!
Day 2
Old City
We woke up to a bright sunny day with light winds and we said to each other "today, let's get lost in the streets of the old city". Baku old city is an UNESCO World Heritage site. The walls of the Old City mark the boundaries of where the city used to extend. Walking through the entangled streets was so refreshing. We grabbed a coffee, conversed with locals and simply enjoyed the vibe.
Flame Towers
One of the must-visits in old city is the Maiden Tower. One of the most iconic buildings in the country, this is the picture you will even spot in one of their notes. Climb the tower and soak in the panoramic views of the city views from the top (AZN 10). Old city has a lot to offer- aged buildings, a palace complex, mosques, catching views of merchants playing a game of chess and some great places to grab a bite (my favourite part, of course).
Waterfront Promenade
For sunset, we decided to head to the waterfront promenade. From here you can see a glimpse of the iconic Flame Towers, Baku Eye, the Caspian Sea, and many other prominent landmarks of the city. We sipped in the sunset along with beautiful Azerbhaijani tea, grab one while you're there, you won't regret it.
Day 3
Heydar Aliyev Center
We had to pack our bags to head to the wedding resort but the little explorers in us couldn't get enough of Baku so we decided to check out the Heydar Aliyev Center. This is another cool thing to do while you're in Baku. Pen this down in your itinerary. Visiting this futuristic building whose architect is the deceased Iraqi-British woman Zaha Hadid is a must. With its dreamlike and almost impossible curved walls, this building is a perfect combination of innovation and modern art. Its the perfect place to take pictures at too. Entry is priced at AZN 15.
Ateshgah Fire Temple
Its surroundings are filled with statues, like giant rabbits and snails, and of course the classic I Love Baku sign to take pictures at. With a bit more time on our hand we decided to head to the Ateshgah Fire Temple. Fascinated by Zoroastrianism and their belief in fire worship, there was no chance we would miss out on this. The altar is situated right at the natural gas vent, a well from which beat eternally burning gas accompanied by four smaller flames on the rooftop corners of the pavilion. I would recommend getting a guided tour if you are a history enthusiast, just like me.
Bilgah Beach
While, time wasn't on our side this time, we packed our bags and headed to Bilgah beach resort to commence the wedding celebrations. Bilgah beach, too, is a must-visit. One of the cleanest beaches that isn't too crowded, the Caspian sea offers one of the best summer experiences in Baku.
Other Places You Must Not Miss In Baku 
If we had more time we would have visited the other places on our list but there's always a next time! Here are few recommendations:
Check out Highland Park at sunset or once it's dark. It offers an amazing view of the city's skyline and the Flame Towers.
Wander through the Carpet museum: In Azerbaijan, carpet weaving occupies a special place in the history of its national culture.
Check out the miniature book museum: One of its kind, the museum was opened to inspire younger generations to read more.
Visit Hyder Mosque: especially at night when it's all lit
Take a day trip to the mud-volcanoes of Gobustan. A great place to observe natural phenomena such as spitting mud volcanoes and Palaeolithic carvings. 
Transport
If you are visiting Baku for few days and are not planning on doing day trips, I would suggest against hiring a car. This is only because Baku experiences peak traffic hours and it is best to go around in taxis. We used the app Bolt (Taxify) and Yandex to get around – super affordable and convenient.  Uber also works but Bolt and Yandex is cheaper. Short taxi rides costed us around 2-3AZN (1.20 – 1.70USD), so moving around by taxi is also a feasible to way to check all the places to visit in Baku. It costed us around 10AZN (5.90USD) to get to the city where our AirBnb was located.
Food
Let me tell you Azerbhaijani food is a treat for heavy meat eaters. You need to try Lyulya/Lule kebabs (mince-meat skewers), dolmas (steamed grape leaves stuffed with minced meat) and kebabs. They are heavenly. We particularly enjoyed our meal in this whitewashed restaurant with French windows that was tugging at us and we couldn't resist.
Our meal for two barely costed us AZN 25 ( AED 54). Don't worry vegetarians, there is plenty of options for you too! Try vegetarian dolmas, qutab (flatbreads stuffed with spinach), fresh curd, vegetarian piti (soup), local cheeses, and pilaf (rice, seasoned with local flavours).
The star of the show here, however, is the open tandoor oven at the entrance, where the restaurant's resident baker tends to the breads cooking inside. Simply delicious! I would tell you the name of the restaurant but this place didn't have a signboard. But if I had to direct you this restaurant, walk a little ahead of Maiden Tower and you ask anyone for local food and they should be able to guide you to this restaurant.
Stay
Baku has accommodations to suit every budget, from backpacker hostels all the way to ultra-luxury 5 star hotels. We loved our Airbnb because it was bang in the middle of one of the most popular streets ( Nizami streets). It's super cozy, almost feels like your own home and the hosts were awesome too. Click here to check it out!
We also stayed one night at Sahil hostel. One of the busiest hostels in town, it is really cheap, located in the heart of the Old Town and very clean. This is also a nice place if you enjoy meeting other travelers. This is one of the most picturesque areas of Baku, so you're Instagram feed is in for a treat!
Visa
Citizens of most countries need to apply for an E-visa prior to visiting Azerbaijan. You can check the full country list here. It is a pretty straightforward process but it helps to have hotel bookings and a rough itinerary before applying for a visa. The visa fee is priced at around AED 85 (23 USD).
This article is by Curly Tales contributor, wheresachi