Delhi metro resumed services on September 7, after being shut for around five months due to the coronavirus lockdown. On the first day, it started services on Yellow Line and Rapid Metro. On September 9, operations started on Blue and Pink Lines as well. A day later, services started along Red, Green and Violet Lines too. These trains were operating from 7 AM to 11 AM and 4 PM to 8 PM. Finally, on September 12, services resumed across all the lines, following the pre-COVID timings from 6 AM to 11 AM. On the same day, I travelled from Saket to Botanical Garden Noida, changing from Yellow Line to Magenta Line at Hauz Khas. I started off from Saket at around 7:45 PM and it was my first metro journey after the COVID-19 situation. Here are the modifications that I have experienced.
1. Only Three Persons Are Allowed Inside The Lift Now
Before COVID-19, lifts at Delhi metro stations were often packed with 5-6 people. But now the metro authorities have limited the number of people inside the lifts to only three. The same guideline was outlined on the space right in front of the lift's entry. Social distancing markings were there inside the lift.
2. Metro Staff Is Checking Temperature, Asking For Aarogya Setu App And Providing Sanitizer At Entry Point
Before entering the station,  I had to put my hand under a sanitising machine and my temperature was checked. A friend who was coming from Dwarka told me that he was told to show the Aarogya Setu app too during entry with an active internet connection. When I was returning from Noida, I was asked to show the smartcard at entry. There was a man who failed to show the metro card. The cops told him to apply for it online right then.
3. There Are Counters For Baggage Sanitisation
At both Saket and Noida, there were counters for sanitising bags. At the counter, a person was sitting who was disinfecting the bags of each entrant with a long sanitising stick. He was sanitising bags of all sizes. I had a small sling bag. He sanitised that as well.
Also Read: Delhi Metro To Allow Only 50 People Per Coach
4. From Mobile To Purse, Everything Has To Be Kept Inside One Bag For Baggage Scanning
Prior to passing my bag through the baggage scanning machine, I was told to keep all my belongings inside my bag, including the mobile, the purse and the sanitizer.
5. No Body Frisking Is Being Conducted
Delhi Metro Rail Corporation ( DMRC) has banned body frisking during entry for the very first time to reduce physical contact. However, I was told to stand for a few seconds while crossing the DMFD door (Door Frame Metal Detector).
Also Read: Metros Across India Set To Resume Services But Should You Travel?
6. Ticket Counters Are Closed, Tokens Not Allowed
Delhi metro has already issued updated guidelines stating that tokens are not allowed for transactions now. Therefore, the ticket counters are closed for the time being. People are present for recharging the metro cards. Auto top-up machines are also assisting passengers to get their cards automatically recharged through phones.
7. Passengers Need To Keep One Step Empty On Escalators
Before getting on the escalator, I noticed an advisory that stated, "COVID-19 alert: Only one passenger per step and leave one step empty between two passengers". Red markings were put on the steps not to be used.
8. There Are Social Distancing Markings On The Platforms
The platforms have circular markings in white with bold red borders. Each of them has the same message written, 'Ensure Social Distancing'. The day I travelled, it was just five days after the resumption of metro services and since it was past 7 PM, the station was almost empty with just 5-6 people.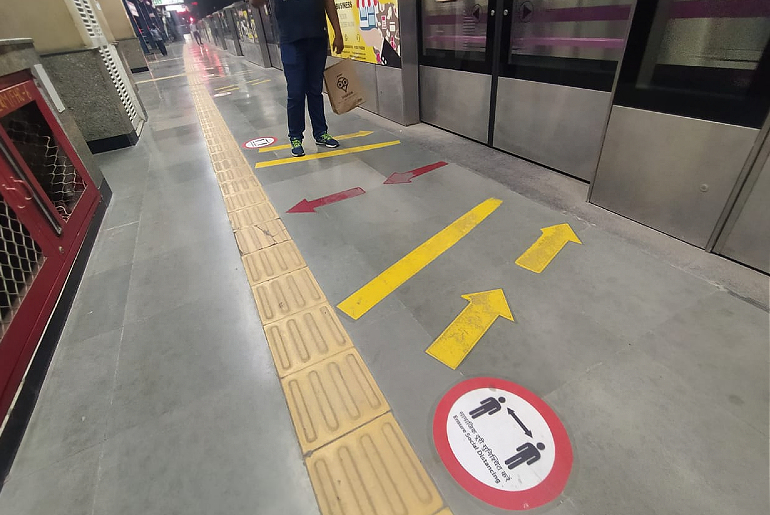 Also Read: Delhi Metro Is Spreading Awareness Through Bollywood Songs
9. For The 12 Stations From Chirag Delhi To Botanical Garden, I Was The Only Person Sitting Inside The Entire Coach
At first, I travelled from Saket to Hauz Khas on the Yellow Line. At Hauz Khas, I changed from Yellow Line to Magenta Line to reach Botanical Garden. Hauz Khas to Botanical Garden makes a total of 14 stations. When I boarded the metro at Hauz Khas, only one lady was sitting inside the coach and she got down after two stations at Chirag Delhi. For the rest of the 12 stations, I travelled alone. In the adjoining coach too, there were only three people. I was super socially-distanced from others. On the return journey, the next day around the same time, only me and my friend were in the coach, along with another person, who had boarded the train after a few stations. There were 'do not seat here' markings on alternate seats.
10. All Metro Employees Are Wearing Face Masks And Face Shields
All the Delhi metro employees and cops on duty at the stations are wearing face masks and face shields. From the staff appointed at the gates to the ones supervising crowds on the platforms, each and every one of them was seen wearing mandatory masks and face shields.
Also Read: You Will Soon Be Able To Use Your Debit And Credit Cards To Travel In Delhi Metro
When I stepped out of my house, I was confused about whether to travel by metro and take a cab. But one of my acquaintances told me about the stringent social distancing measures being followed at the stations. I was convinced by his explanation and therefore went forward to take the journey. Throughout my travel, I was wearing my face mask and tried to avoid touching surfaces as much as possible. I also sanitised hands at frequent intervals. Meanwhile, did you know that AI-driven orange robots are cleaning up Dubai's metro stations?