Love being 'high'? Here are some beautiful treks you can take from Mumbai this upcoming weekend –
1. Trek To Harihar Fort
It was Shakespeare who once said, "One touch of nature makes the whole world kin" and surely the Harihar region of Igatpuri is a kin place to be at. It's time for you folks to lace up your boots and head out on the trail. Witness the beauty and diversity of nature with the land beneath your feet. Taking you to the Trimbakeshwar Ranges in Maharashtra, this enthralling trek will take you through the Harihar and Anjaneri regions of Igatpuri. Harihar, a fort built in 1600 during the Yadava period, is a breathtaking location to go to for a trek, with varied terrain ranging from plains and forests to carved stone steps until you reach the peak. The ideal time for you to start the trek would be around 10 in the morning and reach the top of the fort by 1 pm, explore the fort for a while and then descend before the sunset.
Also read: Head To This DIY Trek To The Harihar Fort At Igatpuri
2. Trek To Matheran
If you're looking for some breath-taking trekking experiences and panoramic views, One Tree Hill trek is your answer! Matheran has about 38 viewpoints in total and One Tree Hill is one of them. One tree hill is this undisturbed and serene trek which can rarely we said about the other treks in Matheran. What makes this trek so unique? The fact that it can be done in any season and also gives you the most serene experience every time. The reason why the trek is called the one tree hill trek is that when you reach the top, you get to see this peculiar hill with just one tree on it.
Also read: Take A Trek To One Tree Hill In Matheran
3. Trek To Kalavantin Durg
Kalavantin Durg is known to be the world's most dangerous fortress and a trek here will definitely scare you to death. Located between Matheran and Panvel in Maharashtra, it stands tall at an elevation of 2,300 feet. It is only 50 km away from Mumbai which makes for a good long drive on a weekend. The trek here requires absolute strength, patience, and stamina to reach the top. The Fort is also known as Prabalgad Fort, it has steep slopes, a staircase with no ropes or railings to support your climb which makes it the most dangerous trek.
Also read: Trek To The World's Most Dangerous Fort Which Is Not For The Faint-Hearted
4. Sandhan Valley Hanging Tent Trek
Seeking an adventure? Now you can go camping atSandhan Valley Hanging Tent trek, near Nashik, that will allow you to spend time in a 300ft deep in a valley. Try extreme camping by spending the night at Sandhan Valley Hanging Tent trek's hanging tents. Just 3 hours from Mumbai city near Bhandardara, is this extreme campsite which is not meant for the weak-hearted. Do you think you have it in you? You'll have to stay inside a tent in which the only thing separating you from a deep valley will be air! Basically, you will be hanging mid-air.
Also read: Do You Fancy Going Into A Tent That's 300ft Under A Deep Valley?
The Sandhan valley trek can be booked through various adventure and tour companies. These companies organize the treks depending on availability of dates.
Cost per person: ₹3500 – ₹3750
5. Needle Hole Point In Matheran
Famous for some ecstatic views of Deccan trap, Needle Hole Point is a natural rock formation with a hole & looks like an elephant's trunk near Mahabaleshwar. At a distance of 15 minutes (7 Km) from Mahabaleshwar is needle Hole Point. A favourite amongst tourists and visitors, the beauty of the point is the rock formation due to which it gets its name. It is a sliver hole between 2 rocks giving it a structure of a needle hole and that of a standing elephant makes it a natural phenomenon and something beautiful to look for. Oh! It has a panoramic view that shouldn't be missed.
Also read: Needle Hole Point From Mahabaleshwar Has The Most Beautiful Views Of The Deccan Traps
6. Kalsubai Trek 
Kalsubai is situated at an elevation of 1646 metres and it is the highest point of Maharashtra. This trek is suggested for highly experienced and professional trekkers and not someone who is trying out for the first time. This trek will be an overnight journey and you can most definitely plan your trip with some trekking organisation or event managers that plan trips to hilly regions. Kalsubai will be an exceptional experience and the view from the top will be an amazing one.
7. Harishchandragad 
Harishchandragad Trek is similar to Kalsubai trek. The difficulty level here is moderate and it can be overwhelming for trekkers for the first time. The Harishchandragad trek can also be an overnight trek too. It is the second-highest peak of Maharashtra and hence the view from the top will be impeccable. If you want a trek that will surprise you with waterfalls, steep slopes, beautiful valleys, lush greenery and clouds!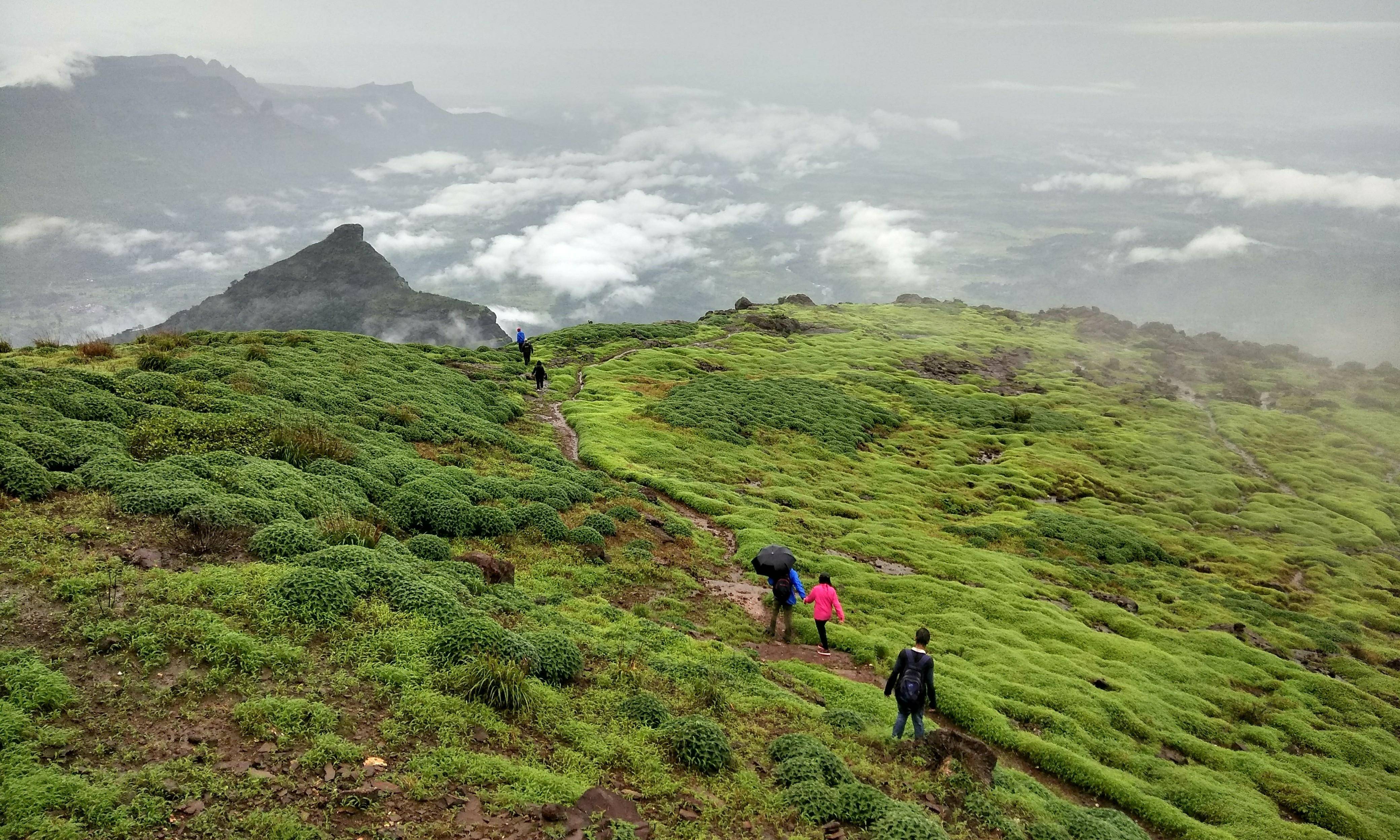 8. Garbett Point
Terk to Garbett is the most amazing and refreshing experience. And if you are not a professional trekker and don't want to take a very difficult path, then Garbett will be a good option. Make sure you have some professional trekkers with you just to guide the path. The road does not have sharp edges or steep slope. for first-time trekkers, it can be a little overwhelming, but if you want to look at the positive side, you don't have to trek down. You have an option of taking mini cabs once you reach Matheran.
9. Irshalgad
Irshalgad is situated between Panvel and Matheran which is literally on the outskirts of Mumbai. You can also start from the trek Karjat station. This trek is fairly a moderate one and it is a one day trek. You can be a first-timer Trekker and you will easily love it. Irshalag is a small point but the journey will be an equally good one and also the view from Irshalgad top is mesmerising. In monsoon, the pathway can be muddy and slippery, make sure you have a pair of shoes that have a good grip.
10. Vikatgad Trek 
Vikatgad is located in Raigad District of Maharashtra and it is standing tall at 2100 feet from the ground. This trek is a medium level trek and first-time trekkers can easily take this one. The easiest is to reach Matheran and start walking along the railway track. There are other routes also to reach here, but this one is the easiest. On your way here, you will find a lot of caves and massive rock structures in Vikatgad. Vikatgad is a fairly difficult and a long trek. You can visit the temple that is on the top and the view from here us also mesmerising.