Indian Railway Catering and Tourism Corporation is back yet again with an exclusive package at a very low cost to explore various parts of India. This time, IRCTC launched a package of 6-days to wander in the streets and temples of Varanasi, Allahabad, and Gaya. The package name is 'Kashi with Prayagraj and Gaya Ex Coimbatore' and the journey of the 6-day trip commences from Coimbatore.
All You Need To Know About 'Kashi with Prayagraj And Gaya Ex Coimbatore'
The 5 nights/ 6 days trip by IRCTC starts on 14 July 2022 from Coimbatore Airport. The flight tickets, cabs to explore the destinations, hotel accommodations, meals, and the guide to tag along the tourists are under this package of IRCTC. And this journey ends on 19 July 2022 and everything from departure from Coimbatore to dropping off at Varanasi Airport is under the responsibility of IRCTC. The cost of this trip starts from ₹33700.
Also read: IRCTC Is Offering A 3-Day Luxury Cruise At Steal Prices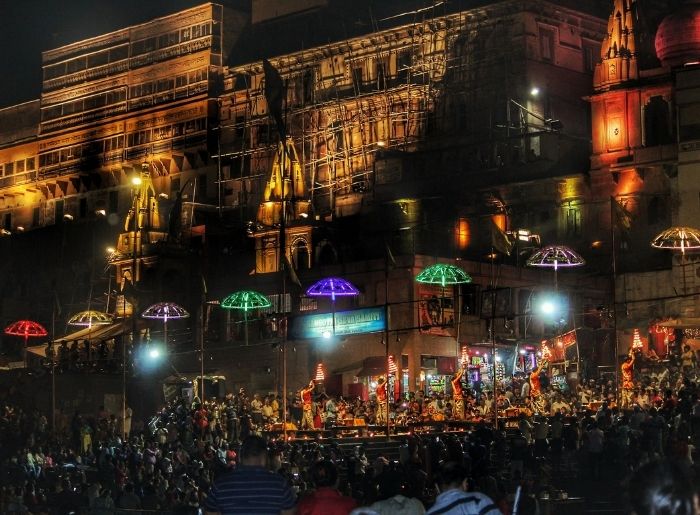 Itinerary Of This Low-Cost Package By IRCTC
The first day of the trip begins from the Coimbatore Airport where the tourists will board the flight at 9:30 am and reach Varanasi by 4:30 pm and check in at the hotel. Due to the journey, day 1 is going to be quite relaxing. After checking in to the hotel the tourists will be visiting to witness the magical Ganga Aarti and then spend the night in Varanasi.
The second day of the trip starts with leaving for Allahabad which is about a 3-hours drive from Varanasi. From there, the tourists will be exploring the Allahabad Fort, Sangam, and Patalpuri Temple, and then come back to Varanasi again for staying overnight.
Day 3 is all about exploring the corners of Varanasi city. The guide will take the travellers to Kashi Vishwanath Temple, Annapurna Temple, and Sarnath. After exploring Varanasi the entire day, everyone will reach back to their hotels to sleep and relax the night.
View this post on Instagram
Also read: IRCTC Launched A 4-Day Tirumala Darshan Package At Just ₹9400
Day 4 starts early at 7 am as the tourists will cover a distance of almost 250 km in a 5-hour car ride to reach Bodh Gaya. The day will pass in exploring Gaya and then they will reach back to Bodh Gaya for staying overnight.
The fifth day of the journey starts with visiting the Bodh Gaya Temple and then leaving for Varanasi. The tourists will spend their night in Varanasi itself.
The last and final day of the trip begins with breakfast and then checking out from the hotel. Travellers will be dropped off at the Varanasi airport to board the flight at 11:45 am and then reach Coimbatore by 4:40 pm.