In the northeastern corner of India, lies Arunachal Pradesh, the gateway to serenity. Well known as the 'Land of Dawn-lit-Mountains', Arunachal Pradesh is the first Indian soil that greets the rising sun. If you are a travel freak, this nature's eye candy is perfect to explore. And as a solo backpacker tourist, it is the safest to get lost in the wilderness of Arunachal.
How Safe Is Arunachal?
First off, Arunachal is huge and has a wide mixture of tribes, landscapes, cultures, and cuisines. It might take you weeks to fully explore its rusticity but your way is going to be safe and smooth. So don't be discouraged. The locals exude innocence and happiness. The routes are mostly populated with Indian army officials- an added factor to ensure your safety. Language is another factor to keep in mind for a safe travel experience. And here's the good news. The locals in Arunachal Pradesh can understand both English and Hindi. So as a backpacker tourist riding alone, you are on the safer side.
Also read: Arunachal Pradesh Unravels New Tourist Destinations And We Cant Wait To Explore Them
What To Explore?
If you decide to explore the borderlands, high-altitude peaks, pastures, and wetlands will readily welcome you. A day trip to Bum La pass will ensure you enjoy the serene beauty of mesmerizing lakes.  You can also spend your days traveling towards Bhutan to visit Zemithang village or visit the large and sacred Gorsam Stupa. Backpacking in Arunachal will also allow you to witness the true essence of Buddhism. So do not miss out on your chance at exploring the pure and the divine. Arunachal will keep you safe!
Also read: Go On This 12-Day Trans Arunachal Road Trip To Explore The Hidden Treasures Of The State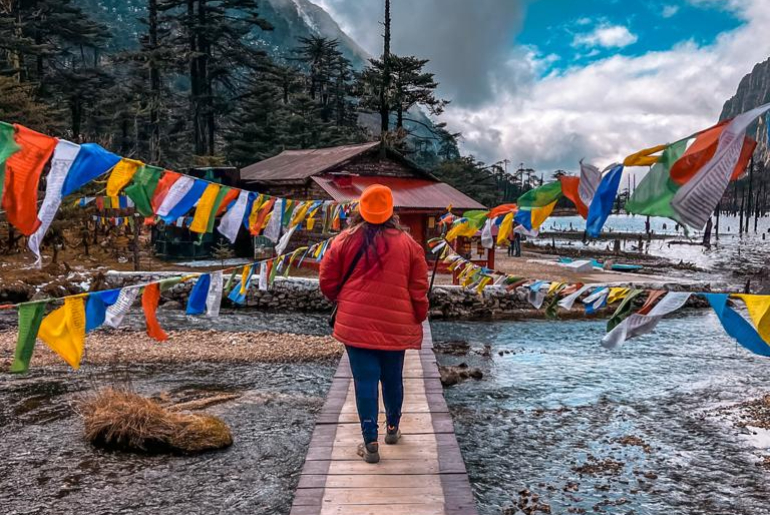 Valid Documents And A Little Bit Of Caution
Arunachal Pradesh will offer you all the safety but you have to have your valid documents. As a backpacker tourist, you will need an inner line permit to enter the state. Apart from it, Arunachal is 90 percent hills. You have to be cautious while travelling as the journey might tire you out. And if you are a female solo backpacker then here's a tip! Use your days to do the travelling and your nights to rest. And let's not forget how difficult roads lead to beautiful destinations. Cheering on you all, Bon voyage!
Also read: 5 Monasteries In Northeast India That You Should Visit At Least Once 
View this post on Instagram